Literature Review on Depression
Depression alters one's mood, making one feel sad and lose interest in people, events, and objects, and thus may cause physical and emotional problems. It may involve treatment in the long run if it persists, which includes medication and psychotherapy. This paper will focus on a detailed summary of other researchers' work addressing the issue of depression using several databases and carry out a curative study on depression in full text. The following literature review is based on selected articles meeting the criteria of inclusion.
According to Lim et al. (2018), depression in the general population is a common mental health condition. It is highly associated with sadness, low self-esteem, poor concentration, anxiety, interest loss, and a feeling of being a quilt. The study also shows that the World Health Organization (WHO) predicted that depression will be ranked as the second global disease burden by 2020. The research also covered the nomothetic and idiographic measures of depression, which means that the assessed item is common to every person at different degree levels. In contrast, the idiographic measure is based on the distinct features and views of the patient. The study concludes that during the patient assessment on the defined objective of treatment, idiographic measures are preferred due to being more relevant.
An investigation done by Bernaras et al. (2019) states that depression is the main cause of disability-related illness in the world. The research focused on depression among children and adolescents since these two groups are agilely associated with high incidence. It also analyses the theories that construct and explain depression and provides an overview of disorders among children and adolescents. In this study, the authors conclude that depression in terms of the mental distinction between adults and children has no difference, and thus, the theory of explanation is highly taken into account to elaborate a better understanding of depression. The research further stated that treatment and prevention should be multifactorial (Bernaras et al., 2019). Besides, it is estimated that universal programs can be more efficient considering their wide application. The research results are limited in providing a good conclusion and fail to demonstrate any solid long-term efficacy.
Bernaras et al.(2019) in their examination found that biological factors such as tryptophan have a strong influence on the appearance of a depressive disorder. The increase seen in the prevalence of depression is explained by having negative interpersonal relations and the relationship with one's surroundings accompanied by social-cultural changes. Additionally, the authors conclude that many instruments can be applied in elevating depression, but it is more important to have a continued test to diagnose the condition at the early stages. Regarding the prevention programs, the study suggested that they should be implemented at early initial ages, and finally, most depression treatments are more rigorous and effective.
Additionally, Health Quality Ontario (2017) suggests that the most diagnosed disorders in Canada on depression are major depressive and generalized anxiety disorders that are mostly associated with high disorders and economic hardship. It is important to note that the treatment of the two conditions is known to include pharmacological and psychological preventions. The highly used psychological interventions include cognitive-behavioral therapy (CBT), supportive therapy, and interpersonal therapy.
The study supports the fact that depression is the world's second-largest health problem based on illness-induced disability. The three most used psychotherapeutic treatments which are well explained in this research include CBT, interpersonal therapy, and supportive therapy. CBT focuses on helping patients understand how automated thoughts on beliefs, expectations, and attitudes have a major contribution to anxiety and sadness. Interpersonal therapy aims to identify and solve problems through the establishment and maintenance of a satisfying relationship. Lastly, supportive therapy is an unstructured approach that relies on the basic interpersonal skills of the therapist.
Research conducted by Lu (2019) on adolescent depression on the topic of national trends, health care disparities, and risk factors shows that in the US, depression is a major cause of suicide among adolescents in aged between 10 and 19. Suicide is marked as the third major cause of death in the US, and research reflects that depression is the major factor in these cases. According to Lu (2019), depression is mostly underdiagnosed among adolescents, although mental health treatment is available. Lu (2019) states that if depression is not treated at the early age of an adolescent, it can have substantial negative effects on health and social results in late adolescence and adulthood.
Findings from the study revealed a growing number of untreated adolescents with major depression from 2011 to 2016 from the National Survey on Drug Use and Health (NSDUH) data. The research outcomes highlighted some of the major causes of depression among young people. Such factors include some sociodemographic, school, and family parameters, and the underutilization of mental health services. The study findings also highlight the importance of family and school in the treatment of depression. Finally, it was proved that adolescents with less family attention were more vulnerable to depression and less likely to receive mental and medical treatment.
The treatment of depression among adults in the United has been covered by a study done by Olfson et al. (2016). Based on the national survey conducted from 2001 to 2003, it was approximated that 49.5 percent of adults with a history of depression had not received any treatment, and about 48.4 percent had not received mental treatment over the past year (Olfson et al., 2016). According to the study, the US Preventive Service Task Force (USPSTF) has recommended adult screening on depression and a follow-up on the treatment that should be provided through a clinical setting arrangement.
The study findings showed that although there is the increased use of antidepressants, there still exists a gap in the treatment of depression. The number of adults who received screening for depression did not receive treatment that year. The research also showed that there was a low hood on receiving treatment to racial /ethnic minority groups. Regarding the application of antidepressants, the patient who had less serious depression had a high likelihood of receiving antidepressants than seriously depressed patients.
Antipsychotics, anxiolytics and mood stabilizers were mostly used to treat patients with higher than lower degrees of distress. Olfson et al. (2016) stated that this type of medication was mostly kept to treat patients with more complicated and resistant to treatment conditions. Antipsychotic treatment is suitable for patients with resistance to the use of antidepressants. Anxiolytics largely aid in managing anxiety problems that do not respond to the use of antidepressants. Finally, mood stabilizers help in the adjustment of agitations related to depression.
Research by Stark et al. (2018) on the issue of depression perspective in older primary care patients, treatment, and depression management opportunities showed that depression in old age is very common and has health-related consequences on the elderly. Research findings showed that symptoms like sadness and withdrawal are associated with older people. The consequences of depression can lead to death through suicide, social isolation, loss of family and work, and low esteem. The causes of the condition, as stated by Stark et al. (2018), are classified based on changing life events and internal factors.
According to Stark et al. (2018), depression does not only occur at young age people but is also a threat to older people. In age-related causes, the increased incidence of deaths among relatives can cause loneliness and boredom. Treatment of depression among older adults is possible. The main obstacles to the successful recovery from depression among the elderly, according to research, include beliefs on there is no treatment for depression among older people as well as fear of stigmatization. Similarly, it is believed that people should only care about their problems.
Research on adolescent depression, in particular, the one conducted by Lu (2019), has greatly contributed to literature work. Vrijen et al. (2016) have concentrated their research on predicting depression through the slow identification of facial happiness during early adolescent stages. As seen from previous research, depression remains a major concern in mental health problems. The study proved how facial emotions in the early ages of depression could predict depressive disorders and symptoms.
Research findings suggested that facial emotion identification prejudice may be a symptom corresponding trait marker for depressive disorder and anhedonia. The associations were found only based on multi-emotional models. The study found that individuals who portray sadness in comparison to happy ones are more likely to develop depression or anhedonia symptoms. The emotion identification effects on depressive disorders are mainly seen as carried by the symptoms of anhedonia but not symptoms of sadness. There is a relationship between symptoms of anhedonia and facial emotion identification (Vrijen et al., 2016). On the elimination of adolescents, the research findings were stronger on the predictive value on the identification of facial reactions for individuals with depressive disorders related to anhedonia and despair and may inversely be connected with facial identification of emotions.
Furthermore, depression and depressive symptoms among outpatients showed that the features are very common in people with mental disorders and gave a considerable number of effects on patient quality of health. The results of previous studies vary from the consideration presented in the research by Wang et al. (2017). In this study, it was found that the number of outpatients from otolaryngology clinics was higher, marking 53.0 %. The research also highlighted that depression was a mediator among conditions in otolaryngology.
The outcomes also have shown that there is a psychoneuroimmunology link between medical illness and depression. Besides, stroke burdens were found to cause depression among patients and their caregivers. For patience with stroke, it was found that novel rehabilitation interventions might reduce depression. A medical professional often overlooks depression or depressive symptoms due to not having been offered specific mental health training. In this research, it was found that outpatients between the age of 30 and 40 had related depression prevalence as compared to outpatients between the age of 80 and 90 years old. The result contradicts research done by Benaras et al. (2019) on depression among children and adolescents, which focused on the rise of the incidence of suicide cases caused by depression. Yang's study showed that depression levels declined with age. The author presents different results as he stresses that there was no pattern on depression centering his argument on age.
Depression has been a global problem that has raised concerns among employees and employers. According to McCart and Nesbit (2020), the number of days of absenteeism in jobs results from depression is higher than those related to diseases like heart attack and hypertension all put together. According to the study, billions of dollars are spent on medical care, mortality due to suicide, and the loss of productivity as a result of depression. McCart and Nesbit (2020) have discussed a connection between disorders caused by depression and such chronic conditions as the unemployment period and the total income.
In the employment setting, research has shown that some reasons make it difficult to diagnose depression. In the workplace, employees can avoid diagnosis because of the lack of skills by physicians, stigma, unavailability of treatment and providers, restrictions on drugs, psychotherapeutic care, and limitations due to third-party coverage. The study results from most organizations lack a way of huddling the employee's depression. Education institutions were found to be having programs that help depressed personnel. Other organizations stated that depression is a personal issue, and unless an employee asks for help, the services are not openly offered.
Among pregnant women, depression has been found to affect both the mother and the unborn child. Looking at both depression and anxiety during the period of antenatal and post-natal, there is a notable effect of depression among these groups. According to Smith et al. (2019), there is a preference in pregnant women for non-pharmacological treatment options; instead, they prefer the use of therapies and complementary medicines to manage the symptoms.
Martínez-Paredes and Jácome-Pérez (2019) conducted a similar study on depression among pregnant women, which confirmed that depression in this group is common psychiatric mobility. Diagnosis of depression is based on guidelines by the DSM-5 to validate scales like the Edinburgh Postnatal Depression Scale. According to medical professionals, the research also shows negative effects on the treatment, diagnosis, and recognition of the fetus. The study concluded that depression is a common condition among pregnant women, though it is underlooked as its symptoms are linked to pregnancy.
Several personal and mental effects are caused by depression among patients of total knee arthroplasty. Findings of the research have indicated that patients with higher education levels have less depression and are happier before surgery. Results have also illustrated that people with depression and anxiety were found to improve at a low rate than other groups. It also stated that patients with greater health were seen to have a considerable improvement in mental health. The conclusion of the research showed that the main determinant of physical, mental, and functional outcomes was depression.
Depression remains to be among the top five illnesses in the world, and research works have reflected that age does not matter, with everyone being at risk of developing the condition. In most studies, it is indicated as the main cause of suicide and death among children and adolescents. There are ways to help individuals suffering from despair such as the use of antidepressants among people with low depression levels. Likewise, early detection and treatment of the disorder can help individuals in their late adolescent stages and adulthood. Families can offer their support instead of contributing and worsening this condition.
Bernaras, E., Jaureguizar, J., & Garaigordobil, M. (2019). Child and adolescent depression: A review of theories, evaluation instruments, prevention programs, and treatments .  Frontiers in Psychology, 10 (543), 1-24.
Health Quality Ontario. (2017). Psychotherapy for major depressive disorder and generalized anxiety disorder: A health technology assessment. Ontario Health Technology Assessment Series, 17 (15), 1-167.
Lim, G. Y., Tam, W. W., Lu, Y., Ho, C. S., Zhang, M. W., & Ho, R. C. (2018). Prevalence of depression in the community from 30 countries between 1994 and 2014 . Scientific reports , 8 (1), 1-10.
Lu, W. (2019). Adolescent depression: National trends, risk factors, and healthcare disparities . American Journal of Health Behavior, 43 (1), 181-194.
McCart A, & Nesbit, J. (2020). S trategies to support employees with depression: Applying the Centers for Disease Control health scorecard . Journal of Depression and Anxiety, 9 (5), 1-4.
Martínez-Paredes, J. F., & Jácome-Pérez, N. (2019). Depression in pregnancy . Revista Colombiana de Psiquiatría (English ed.) , 48 (1), 58-65.
Moghtadaei, M., Yeganeh, A., Hosseinzadeh, N., Khazanchin, A., Moaiedfar, M., Jolfaei, A. G., & Nasiri, S. (2020). The Impact of depression, personality, and mental health on outcomes of total knee arthroplasty . Clinics in Orthopedic Surgery, 12 (4), 456-463.
Olfson, M., Blanco, C., & Marcus, S. C. (2016). Treatment of adult depression in the United States . JAMA Internal Medicine, 176 (10), 1482-1491.
Smith, C. A., Shewamene, Z., Galbally, M., Schmied, V., & Dahlen, H. (2019). The effect of complementary medicines and therapies on maternal anxiety and depression in pregnancy: A systematic review and meta-analysis . Journal of Affective Disorders , 245 , 428-439.
Stark, A., Kaduszkiewicz, H., Stein, J., Maier, W., Heser, K., Weyerer, S., Werle, J., Wiese, B., Mamone, S., König, H., & Bock, J. O. (2018). A qualitative study on older primary care patients' perspectives on depression and its treatments-potential barriers to and opportunities for managing depression . BMC Family Practice, 19 (1), 1-10.
Vrijen, C., Hartman, C. A., & Oldehinkel, A. J. (2016). Slow identification of facial happiness in early adolescence predicts the onset of depression during eight years of follow-up. European Child & Adolescent Psychiatry, 25 (11), 1255-1266.
Wang, J., Wu, X., Lai, W., Long, E., Zhang, X., Li, W.,… & Wang, D. (2017). Prevalence of depression and depressive symptoms among outpatients: a systematic review and meta-analysis . BMJ Open , 7 (8).
Cite this paper
Select style
Chicago (A-D)
Chicago (N-B)
PsychologyWriting. (2022, September 28). Literature Review on Depression. Retrieved from https://psychologywriting.com/literature-review-on-depression/
PsychologyWriting. (2022, September 28). Literature Review on Depression. https://psychologywriting.com/literature-review-on-depression/
"Literature Review on Depression." PsychologyWriting , 28 Sept. 2022, psychologywriting.com/literature-review-on-depression/.
PsychologyWriting . (2022) 'Literature Review on Depression'. 28 September.
PsychologyWriting . 2022. "Literature Review on Depression." September 28, 2022. https://psychologywriting.com/literature-review-on-depression/.
1. PsychologyWriting . "Literature Review on Depression." September 28, 2022. https://psychologywriting.com/literature-review-on-depression/.
Bibliography
PsychologyWriting . "Literature Review on Depression." September 28, 2022. https://psychologywriting.com/literature-review-on-depression/.
An official website of the United States government
The .gov means it's official. Federal government websites often end in .gov or .mil. Before sharing sensitive information, make sure you're on a federal government site.
The site is secure. The https:// ensures that you are connecting to the official website and that any information you provide is encrypted and transmitted securely.
Publications
Account settings
My Bibliography
Collections
Citation manager
Save citation to file
Email citation, add to collections.
Create a new collection
Add to an existing collection
Add to My Bibliography
Your saved search, create a file for external citation management software, your rss feed.
Search in PubMed
Search in NLM Catalog
Add to Search
Coping and depression in old age: a literature review
Affiliation.
1 Department of Psychiatry, Vestre Viken Hospital Trust, Lier Norway. guhane @ vestreviken.no
PMID: 23392253
DOI: 10.1159/000346633
Background/aims: The interest in the relation between coping and depression in older persons is growing, but research on the concepts and instruments of coping in relation to depression among older persons is scarce and systematic reviews are lacking. With this background, we wanted to gain a systematic overview of this field by performing a systematic literature search.
Methods: A computer-aided search in MEDLINE, CINAHL, PsycINFO, Embase, PubMed and www.salutogenesis.fi was conducted. We systematically searched for studies including coping and depression among persons 60 years of age and above. The included studies were evaluated according to predefined quality criteria.
Results: Seventy-five studies, 38 clinical and 37 community settings, were included. Of these, 44 were evaluated to be of higher quality. Studies recruiting samples of older persons with a major depressive disorder, moderate or severe cognitive impairment or those who were dependent on care were scarce, thus the research is not representative of such samples. We found a huge variety of instruments assessing resources and strategies of coping (55 inventories). Although we found the relation between resources and strategies of coping and depression to be strong in the majority of studies, i.e. a higher sense of control and internal locus of control, more active strategies and positive religious coping were significantly associated with fewer symptoms of depression both in longitudinal and cross-sectional studies in clinical and community settings.
Conclusion: Resources and strategies of coping are significantly associated with depressive symptoms in late life, but more research to systematize the field of coping and to validate the instruments of resources and strategies of coping in older populations is required, especially among older persons suffering from major depression and cognitive decline.
Copyright © 2013 S. Karger AG, Basel.
Similar articles
Cognitive coping and depressive symptoms in the elderly: a longitudinal study. Kraaij V, Pruymboom E, Garnefski N. Kraaij V, et al. Aging Ment Health. 2002 Aug;6(3):275-81. doi: 10.1080/13607860220142387. Aging Ment Health. 2002. PMID: 12217096
Differences in coping style and locus of control between older and younger patients with head and neck cancer. Derks W, Leeuw JR, Hordijk GJ, Winnubst JA. Derks W, et al. Clin Otolaryngol. 2005 Apr;30(2):186-92. doi: 10.1111/j.1365-2273.2004.00938.x. Clin Otolaryngol. 2005. PMID: 15839873
[Pain and depression: cognitive and behavioural mediators of a frequent association]. Radat F, Koleck M. Radat F, et al. Encephale. 2011 Jun;37(3):172-9. doi: 10.1016/j.encep.2010.08.013. Epub 2010 Oct 8. Encephale. 2011. PMID: 21703432 Review. French.
Maternal depression and developmental disability: research critique. Bailey DB Jr, Golden RN, Roberts J, Ford A. Bailey DB Jr, et al. Ment Retard Dev Disabil Res Rev. 2007;13(4):321-9. doi: 10.1002/mrdd.20172. Ment Retard Dev Disabil Res Rev. 2007. PMID: 17979207 Review.
The clinical significance of subsyndromal depression in older primary care patients. Lyness JM, Kim J, Tang W, Tu X, Conwell Y, King DA, Caine ED. Lyness JM, et al. Am J Geriatr Psychiatry. 2007 Mar;15(3):214-23. doi: 10.1097/01.JGP.0000235763.50230.83. Epub 2007 Jan 9. Am J Geriatr Psychiatry. 2007. PMID: 17213374
What Determines That Older Adults Feel Younger Than They Are? Results From a Nationally Representative Study in Germany. Heimrich KG, Prell T, Schönenberg A. Heimrich KG, et al. Front Med (Lausanne). 2022 Jun 28;9:901420. doi: 10.3389/fmed.2022.901420. eCollection 2022. Front Med (Lausanne). 2022. PMID: 35836953 Free PMC article.
The role of religiosity and religious participation in the relationship between depressive symptoms and cognitive impairment among older Indian adults. Muhammad T. Muhammad T. Sci Rep. 2022 Jul 13;12(1):11915. doi: 10.1038/s41598-022-14744-3. Sci Rep. 2022. PMID: 35831311 Free PMC article.
Psychometric Properties of the Short-Form Geriatric Depression Scale (GDS-SF) and Its Associated Factors among the Elderly in Bangladesh. Sultana N, Nguyen TTP, Hossain A, Asaduzzaman M, Nguyen MH, Jahan I, Nguyen KT, Duong TV. Sultana N, et al. Int J Environ Res Public Health. 2022 Jun 28;19(13):7935. doi: 10.3390/ijerph19137935. Int J Environ Res Public Health. 2022. PMID: 35805593 Free PMC article.
Cortisol Reactivity to a physical stressor in Patients with Depression and Alzheimer's disease. Beserra A, Oliveira B, Portugal E, Dutra P, Laks J, Deslandes A, Moraes H. Beserra A, et al. Dement Neuropsychol. 2022 Jan-Mar;16(1):61-68. doi: 10.1590/1980-5764-DN-2021-0066. Dement Neuropsychol. 2022. PMID: 35719259 Free PMC article.
Religious Coping Styles and Depressive Symptoms in Geriatric Patients: Understanding the Relationship through Experiences of Integrity and Despair. Desmet L, Dezutter J, Vandenhoeck A, Dillen A. Desmet L, et al. Int J Environ Res Public Health. 2022 Mar 23;19(7):3835. doi: 10.3390/ijerph19073835. Int J Environ Res Public Health. 2022. PMID: 35409519 Free PMC article.
Publication types
Related information
Linkout - more resources, full text sources.
S. Karger AG, Basel, Switzerland
Other Literature Sources
scite Smart Citations
Genetic Alliance
MedlinePlus Health Information

NCBI Literature Resources
MeSH PMC Bookshelf Disclaimer
The PubMed wordmark and PubMed logo are registered trademarks of the U.S. Department of Health and Human Services (HHS). Unauthorized use of these marks is strictly prohibited.
Have a language expert improve your writing
Run a free plagiarism check in 10 minutes, generate accurate citations for free.
Knowledge Base
Methodology
How to Write a Literature Review | Guide, Examples, & Templates
How to Write a Literature Review | Guide, Examples, & Templates
Published on January 2, 2023 by Shona McCombes .
What is a literature review? A literature review is a survey of scholarly sources on a specific topic. It provides an overview of current knowledge, allowing you to identify relevant theories, methods, and gaps in the existing research that you can later apply to your paper, thesis, or dissertation topic .
There are five key steps to writing a literature review:
Search for relevant literature
Evaluate sources
Identify themes, debates, and gaps
Outline the structure
Write your literature review
A good literature review doesn't just summarize sources—it analyzes, synthesizes , and critically evaluates to give a clear picture of the state of knowledge on the subject.
Table of contents
What is the purpose of a literature review, examples of literature reviews, step 1 – search for relevant literature, step 2 – evaluate and select sources, step 3 – identify themes, debates, and gaps, step 4 – outline your literature review's structure, step 5 – write your literature review, free lecture slides, frequently asked questions, introduction.
Quick Run-through
Step 1 & 2
When you write a thesis , dissertation , or research paper , you will likely have to conduct a literature review to situate your research within existing knowledge. The literature review gives you a chance to:
Demonstrate your familiarity with the topic and its scholarly context
Develop a theoretical framework and methodology for your research
Position your work in relation to other researchers and theorists
Show how your research addresses a gap or contributes to a debate
Evaluate the current state of research and demonstrate your knowledge of the scholarly debates around your topic.
Writing literature reviews is a particularly important skill if you want to apply for graduate school or pursue a career in research. We've written a step-by-step guide that you can follow below.

Writing literature reviews can be quite challenging! A good starting point could be to look at some examples, depending on what kind of literature review you'd like to write.
Example literature review #1: "Why Do People Migrate? A Review of the Theoretical Literature" ( Theoretical literature review about the development of economic migration theory from the 1950s to today.)
Example literature review #2: "Literature review as a research methodology: An overview and guidelines" ( Methodological literature review about interdisciplinary knowledge acquisition and production.)
Example literature review #3: "The Use of Technology in English Language Learning: A Literature Review" ( Thematic literature review about the effects of technology on language acquisition.)
Example literature review #4: "Learners' Listening Comprehension Difficulties in English Language Learning: A Literature Review" ( Chronological literature review about how the concept of listening skills has changed over time.)
You can also check out our templates with literature review examples and sample outlines at the links below.
Download Word doc Download Google doc
Prevent plagiarism. Run a free check.
Before you begin searching for literature, you need a clearly defined topic .
If you are writing the literature review section of a dissertation or research paper, you will search for literature related to your research problem and questions .
Make a list of keywords
Start by creating a list of keywords related to your research question. Include each of the key concepts or variables you're interested in, and list any synonyms and related terms. You can add to this list as you discover new keywords in the process of your literature search.
Social media, Facebook, Instagram, Twitter, Snapchat, TikTok
Body image, self-perception, self-esteem, mental health
Generation Z, teenagers, adolescents, youth
Search for relevant sources
Use your keywords to begin searching for sources. Some useful databases to search for journals and articles include:
Your university's library catalogue
Google Scholar
Project Muse (humanities and social sciences)
Medline (life sciences and biomedicine)
EconLit (economics)
Inspec (physics, engineering and computer science)
You can also use boolean operators to help narrow down your search.
Make sure to read the abstract to find out whether an article is relevant to your question. When you find a useful book or article, you can check the bibliography to find other relevant sources.
You likely won't be able to read absolutely everything that has been written on your topic, so it will be necessary to evaluate which sources are most relevant to your research question.
For each publication, ask yourself:
What question or problem is the author addressing?
What are the key concepts and how are they defined?
What are the key theories, models, and methods?
Does the research use established frameworks or take an innovative approach?
What are the results and conclusions of the study?
How does the publication relate to other literature in the field? Does it confirm, add to, or challenge established knowledge?
What are the strengths and weaknesses of the research?
Make sure the sources you use are credible , and make sure you read any landmark studies and major theories in your field of research.
You can use our template to summarize and evaluate sources you're thinking about using. Click on either button below to download.
Take notes and cite your sources
As you read, you should also begin the writing process. Take notes that you can later incorporate into the text of your literature review.
It is important to keep track of your sources with citations to avoid plagiarism . It can be helpful to make an annotated bibliography , where you compile full citation information and write a paragraph of summary and analysis for each source. This helps you remember what you read and saves time later in the process.
To begin organizing your literature review's argument and structure, be sure you understand the connections and relationships between the sources you've read. Based on your reading and notes, you can look for:
Trends and patterns (in theory, method or results): do certain approaches become more or less popular over time?
Themes: what questions or concepts recur across the literature?
Debates, conflicts and contradictions: where do sources disagree?
Pivotal publications: are there any influential theories or studies that changed the direction of the field?
Gaps: what is missing from the literature? Are there weaknesses that need to be addressed?
This step will help you work out the structure of your literature review and (if applicable) show how your own research will contribute to existing knowledge.
Most research has focused on young women.
There is an increasing interest in the visual aspects of social media.
But there is still a lack of robust research on highly visual platforms like Instagram and Snapchat—this is a gap that you could address in your own research.
There are various approaches to organizing the body of a literature review. Depending on the length of your literature review, you can combine several of these strategies (for example, your overall structure might be thematic, but each theme is discussed chronologically).
Chronological
The simplest approach is to trace the development of the topic over time. However, if you choose this strategy, be careful to avoid simply listing and summarizing sources in order.
Try to analyze patterns, turning points and key debates that have shaped the direction of the field. Give your interpretation of how and why certain developments occurred.
If you have found some recurring central themes, you can organize your literature review into subsections that address different aspects of the topic.
For example, if you are reviewing literature about inequalities in migrant health outcomes, key themes might include healthcare policy, language barriers, cultural attitudes, legal status, and economic access.
Methodological
If you draw your sources from different disciplines or fields that use a variety of research methods , you might want to compare the results and conclusions that emerge from different approaches. For example:
Look at what results have emerged in qualitative versus quantitative research
Discuss how the topic has been approached by empirical versus theoretical scholarship
Divide the literature into sociological, historical, and cultural sources
Theoretical
A literature review is often the foundation for a theoretical framework . You can use it to discuss various theories, models, and definitions of key concepts.
You might argue for the relevance of a specific theoretical approach, or combine various theoretical concepts to create a framework for your research.
Like any other academic text , your literature review should have an introduction , a main body, and a conclusion . What you include in each depends on the objective of your literature review.
The introduction should clearly establish the focus and purpose of the literature review.
Depending on the length of your literature review, you might want to divide the body into subsections. You can use a subheading for each theme, time period, or methodological approach.
As you write, you can follow these tips:
Summarize and synthesize: give an overview of the main points of each source and combine them into a coherent whole
Analyze and interpret: don't just paraphrase other researchers — add your own interpretations where possible, discussing the significance of findings in relation to the literature as a whole
Critically evaluate: mention the strengths and weaknesses of your sources
Write in well-structured paragraphs: use transition words and topic sentences to draw connections, comparisons and contrasts
In the conclusion, you should summarize the key findings you have taken from the literature and emphasize their significance.
When you've finished writing and revising your literature review, don't forget to proofread thoroughly before submitting. Not a language expert? Check out Scribbr's professional proofreading services !
This article has been adapted into lecture slides that you can use to teach your students about writing a literature review.
Scribbr slides are free to use, customize, and distribute for educational purposes.
Open Google Slides Download PowerPoint
A literature review is a survey of scholarly sources (such as books, journal articles, and theses) related to a specific topic or research question .
It is often written as part of a thesis, dissertation , or research paper , in order to situate your work in relation to existing knowledge.
There are several reasons to conduct a literature review at the beginning of a research project:
To familiarize yourself with the current state of knowledge on your topic
To ensure that you're not just repeating what others have already done
To identify gaps in knowledge and unresolved problems that your research can address
To develop your theoretical framework and methodology
To provide an overview of the key findings and debates on the topic
Writing the literature review shows your reader how your work relates to existing research and what new insights it will contribute.
The literature review usually comes near the beginning of your thesis or dissertation . After the introduction , it grounds your research in a scholarly field and leads directly to your theoretical framework or methodology .
A literature review is a survey of credible sources on a topic, often used in dissertations , theses, and research papers . Literature reviews give an overview of knowledge on a subject, helping you identify relevant theories and methods, as well as gaps in existing research. Literature reviews are set up similarly to other  academic texts , with an introduction , a main body, and a conclusion .
An  annotated bibliography is a list of  source references that has a short description (called an annotation ) for each of the sources. It is often assigned as part of the research process for a  paper .  
Cite this Scribbr article
If you want to cite this source, you can copy and paste the citation or click the "Cite this Scribbr article" button to automatically add the citation to our free Citation Generator.
McCombes, S. (2023, January 02). How to Write a Literature Review | Guide, Examples, & Templates. Scribbr. Retrieved February 27, 2023, from https://www.scribbr.com/dissertation/literature-review/
Is this article helpful?
Shona McCombes
Other students also liked, what is a theoretical framework | guide to organizing, what is a research methodology | steps & tips, how to write a research proposal | examples & templates, what is your plagiarism score.
Find out if your paper is original. Our plagiarism detection tool will check...
Wonder how much time you need to deliver your speech or presentation?
Don't know how to format the bibliography page in your paper?
Use this converter to calculate how many pages a certain number...
Want to know how well you've performed this semester?
Create a strong thesis statement with our online tool to clearly express...
Literature Review Sample on Adolescent Depression as a Mental Disorder of Modern Era
A literature review is a kind of academic work that aims to cover information, evaluate, and summarize knowledge on a specific subject by collecting already written items dedicated to a literature review topic of the selected investigation and analyzing them in accordance with the chosen issue. As the style of the work requires particular knowledge regarding a scientific problem, the paper has to be conducted in an academic manner relying mostly on arguments, key points, discussions, and conclusions of the selected references. A literature review can be either a stand-alone work type or a section included in a research paper, essay, thesis, or other variants of academic genres.
The significance of this type of research paper consists of revealing and assembling the main notions and ideas of various authors. Aside from merely collecting the published discoveries in certain scientific areas, literature review purports to summarize and systematize the gathered concepts into a clear, coherent, and comprehensible paper. Such a method of developing a scientific thought allows researchers to reevaluate and reinterpret discoveries concerning a specific issue that helps other investigators not to start their works from the beginning but to base them on the already proved arguments. Besides, literature reviews are useful regarding teaching students how to collect the needed pieces of information, search for credible sources, and summarize their most important aspects.
'Adolescent Depression as a Mental Disorder of Modern Era' Review Sample
Depression is a form of mental disorder that implies the presence of such symptoms like irritation, constant, prevailing, and unexplained sadness, changes in appetite, weight, a decreased interest in life, boredom, lack of motivation to lead an active lifestyle. The fact that other symptoms relate closely to one another creates a firm dependence of mental health on physiological conditions. The significance of investigating adolescent depression has been set as a central part of this work because contemporary scientific methods allow other researchers to discover the most successful solutions to the issue. This review aims to gather and analyze the information on the origins of teen depression, its impact on society, and variants suggesting how to deal with this global problem.
Etiology of Adolescent Depression
The etiology of adolescent depression relies on the same psychological and physiological backgrounds as adult depression that enables scholars to claim that there is no vivid difference between these two manifestations of oppressed mental state. According to Clayborne, Varin, and Colman: "Depression is highly prevalent in adolescence, with conservative estimates suggesting up to 12.5% of 12- to 17-year-olds experience symptoms of a major depressive episode in a 12-month period" (72). Thus, the problem is considered a large-scale and global phenomenon that occurs on a daily basis in all regions of the world notwithstanding cultural peculiarities, economy, and geographical position. Nevertheless, due to recent research, "depression and anxiety disorders in children and adolescents can be prevented. A number of recent systematic reviews and meta-analyses support the efficacy of existing preventive programs" (Cardamone-Breen et al. para. 9). Proceeding from this statement, it is essential that either adult or adolescent depression is a mental disorder that can be averted. Whereas physiological constituent can be only treated as a result of biological processes in the human organism, a psychological component is regarded as entirely preventable. Physiological origins of this mental issue can be explained by appealing to the biological processes engendering the decrease of vital hormones like endorphin, serotonin, or adrenaline that may result in the appearance of oppressed physical states.
Try a quicker way
The Need for Preventative Programs to Deal with Depression
As new investigations claim, preventative programs and services dealing with the consequences of depression do allow experts to alleviate the most severe symptoms of depression and even cure a patient completely. Owing to the findings discovered by Neufeld et al., "14-year-old adolescents who had contact with mental health services in the past year had a greater decrease in depressive symptoms than those without contact (adjusted coefficient −1·68, 95% CI −3·22 to −0·14; p=0·033)" (120). Specifically, teens under the age of sixteen are claimed to be treated easier than more psychologically developed adolescents. As the investigations report, when children visit mental health services, they are less likely to be subject to depressive states. Subsequently, similar preventative health care programs are being founded not only to deal with the initial stages of depressive syndromes but also to treat the consequences.
The Role of Substance Addiction as a Cofactor of Depression
Furthermore, the problem of adolescent depression can be aggravated by substance addiction that is closely related to the issue of mental health disorders. A new statistical study of the correlation between addictions and depressive syndromes affirms that adolescents with depressions have extremely high risks of being addicted to drugs (Mason et al. 1-2). Having investigated 248 urban adolescents, the researchers concluded that health care programs for teens are helpful in most cases of early treatment. Provided that a child appeals to similar programs at the earliest stages of substance addiction, the chance to solve the issue depends on the time spent with psychiatrists and experts in narcology. The earlier psychological assistance is supplied, the more successful is the treatment. However, even though the connection between substance addiction and depressive states among adolescents is reported to be evident, yet scholars agree that the lack of socialization, parental care, and relationships with peers are contributing to the emergence of mental health disorders more significantly.
In the statistical experiment conducted by Breton and other researchers with the purpose of defining how many adolescents are prone to depressive states or already possessing them, the results appeared to be astonishingly positive because the majority of examined children were proved to having no depression. Thus, the investigation demonstrates that: "Among the 283 adolescents from the community, 70 (25%) were found to have light-to-severe depression and the other 213 (75%) had no depression. Among the 119 adolescents from the clinical population, 71 (60%) were found to have severe depression" (Breton et al. 11).
Without a doubt, the numbers in various statistics are severely dependent on the territory where the experiment took place because different political regimes, societal states, climatic conditions on par with many other influential factors are having a serious impact on similar results. Adolescents, being not psychologically and physiologically formed, tend to absorb the ambient conditions within which they are educated. Subsequently, in the cases when children are upbrought in the unpleasant psychological environment, the studies show that the risks of being subject to depressive states become higher.
Depression and Suicidal Inclinations
Apart from the already-mentioned aspects regarding depression in adolescents, it is substantial to underline the connection of melancholic conditions with the appearance of suicidal thoughts. The newest research warns that adolescents, who spent more time on social media and electronic devices like smartphones, were more likely to report mental health disorders, and adolescents who spent more time on non-screen activities (in-person social interaction, print media, sports/exercise, and attending religious services) were less likely (Twenge et al. 3). Grounding hypotheses on the functioning of modern social media, scholars have reached a consensus that the time spent using smartphones, computers, and other anti-social activities are negatively contributing to the emergence of depressive syndromes, whereas outdoor activities including sports are alleviating the onsets of mental disorders. Owing to recent advancements in technological evolution, adolescents tend to employ gadgets to communicate with each other instead of meetings in reality. This situation often results in subdued and despondent mental conditions.
Peer Victimization and Its Impact on Adolescent Depression
Another issue concerning the etiology of depression in the adolescent period is peer victimization that occurs in all schools without exceptions. According to some researchers: "Adolescent peer victimization was associated with immediate and delayed elevations in anxiety and depression. The early intervention aimed at identifying and supporting victimized adolescents may prevent the development of these disorders" (Stapinski et al. 105-106). Investigations confirm that bullying at schools is one of the most rewarding issues that is causing inequalities among peers. Besides, such inequalities are directly leading to the appearance of depressions among those teenagers who become the target of victimization. The authors of scientific articles on psychology are certain that bullying affects the perception of normality and justice aiming to reduce the feeling of importance in a teenager's attitude towards oneself. The lack of positive self-esteem and the absence of acceptance among peers is a crucial factor that brings forward many other problems ensuing from the realization of non-adoption.
Sleep problems, oppressed psychological state, and other concomitant issues are thought to be triggered by either peer or domestic violence exposure. Kliewer and Lepore summarize the data collected during the experiment on cognitive processes of adolescents who have witnessed violence: "Participants were 362 early adolescents (Mage = 12.45 years, SD = 0.59; range 11–14 years; 48.9 % male; 51 % Latino/a; 34 % black) from urban communities enrolled in a middle-school-based intervention study on the east coast of the United States" (507). In terms of this research, the majority of respondents have affirmed the fact of either observing violence or being an object of violence. As a result, scholars come to terms that there is a direct relation between witnessing violence and the aggravation of depressive syndromes.
Familial Bonds as Protective Measures
Different investigations have concluded that love and acceptance within families protect children from depressive states. As Cupito, Stein, and Gonzalez substantiate: "Past studies document that Latino familial cultural values (i.e., familism, affiliative obedience, and filial obligation) protect against depressive symptoms and promote academic resilience in adolescence" (1638). Nonetheless, the same research claims that even though Hispanic families are famous for traditional values, the problem is that there is gender discrimination, regarding which, female adolescents report being obliged to more household activities and possessing fewer freedoms than males. Gender disparities are one of the most spread issues causing teen depressions among the oppressed individuals. In the research based on 179 Latino adolescents, 52.9% of which comprise females in the age of fourteen, the authors of the article underline the aspect of gender inequalities in various cultures implying patriarchal standpoints. At any rate, the statistical data convince scholars of the necessity of educational programs for ethnic groups who live under unpleasant circumstances. In addition, the newest studies illustrate that there is an urgent need for establishing institutions that are helping discriminated individuals to cope with the aftermaths of gender stereotypes and biased attention.
The overviewed works evidence the negative impact of domestic violence, school bullying, victimization, lack of socialization, acceptance, and understanding of parents for adolescent's part. All the listed factors are significantly contributing to the proliferation of their depression, poor academic success, and performance at school, substance addiction, and the progression of suicidal inclinations. Owing to the innovative technological progress, gadgets are becoming more popular among teenagers, so the depression in the current era is a modernized mental disorder provoked by anti-socialization and the lack of evaluation amongst peers. The literature review has combined academic papers with relatively similar concepts to prove the need for establishing official institutions specializing in psychological assistance. Consequently, this literature review has been conducted with an aim to investigate and assemble the selected pieces of information regarding the cause and effect of adolescent depressive states that is expected to bring into action more scientists involved in the studies and prevention of similar issues.
The present literature review sample demonstrates how the key concepts and purposes of this type of academic work are functioning. Use the given literature review topic as an example and piece of referral information. Precisely this work type should combine a specialized methodological search for a strictly limited circle of papers dedicated to a single subject. One of its main aims consists of summarizing the selected data to illustrate a distinguished standpoint that is likely to be helpful for future investigations. Adolescent depression is a ubiquitous and serious issue for experts in psychology to deal with, seeing that numbers of accompanying problems like suicide, violence, and substance addiction are causing not only mental problems but often bring lethal outcomes both for children and adults. This sample aims to cover the significant information on the selected subject to reveal its highlights and thereby induce scholars to activate more investigations.
Works Cited Breton, Jean-Jacques, et al. "Protective Factors Against Depression and Suicidal Behaviour in Adolescence." Can J Psychiatry, vol. 60, no. 2, ser. 1, Feb. 2015, pp. 5–15. 1. Cardamone-Breen, Mairead, et al. "A Single-Session, Web-Based Parenting Intervention to Prevent Adolescent Depression and Anxiety Disorders: Randomized Controlled Trial." J Med Internet Res, vol. 20, no. 4, Apr. 2018. Clayborne, Zahra, et al. "Systematic Review and Meta-Analysis: Adolescent Depression and Long-Term Psychosocial Outcomes." Journal of the American Academy of Child & Adolescent Psychiatry, vol. 58, no. 1, 2018, pp. 72–79. Elsevier. Cupito, Alexandra, et al. "Familial Cultural Values, Depressive Symptoms, School Belonging and Grades in Latino Adolescents: Does Gender Matter?" Journal of Child and Family Studies, vol. 24, no. 6, June 2015, pp. 1638–1649. Kliewer, Wendy, and Stephen Lepore. "Exposure to Violence, Social Cognitive Processing & Sleep Problems in Urban Adolescents." Journal of Youth and Adolescence, vol. 44, no. 2, Feb. 2015, pp. 507–517. Mason, Michael, et al. "Adolescent Depression and Substance Use: the Protective Role of Prosocial Peer Behavior." Journal of Abnormal Child Psychology, Dec. 2018, pp. 1–10. Springer. Neufeld, Sharon, et al. "Reduction in Adolescent Depression after Contact with Mental Health Services: a Longitudinal Cohort Study in the UK Author Links Open Overlay Panel." The Lancet Psychiatry, vol. 4, no. 2, Feb. 2017, pp. 120–127. Stapinski, Lexine, et al. "Peer Victimization during Adolescence: Concurrent and Prospective Impact on Symptoms of Depression and Anxiety." Anxiety, Stress, & Coping, vol. 28, no. 1, Oct. 2013, pp. 105–120. Twenge, Jean, et al. "Increases in Depressive Symptoms, Suicide-Related Outcomes, and Suicide Rates Among U.S. Adolescents After 2010 and Links to Increased New Media Screen Time." Clinical Psychological Science, vol. 6, no. 1, 2018, pp. 3–17.
Writing Help
Literature Analysis/Review
© 2008 - 2023 Writera Limited. All Rights Reserved.
Writing help
Essay writing service
Free writing tools
Essay writing app
Essay writing book
Student blog
Literature Review On Depression
Introduction.
Depression is basically a kind of heterogeneous illness that has multifactorial causes. The main perspective of depression is biopsychosocial. There are several kinds of episodes of depression that are given treatment fairly and effectively according to the severity of the causes of depression. There are several terms related to depression such as mental disorder, mood disorder, bipolar disorder, etc. To have a better understanding of the problem of depression as well as its causes, a detailed literature review has been conducted here. The literature review is mainly focusing on the analysis of the problem of depression among people of different age groups as well as the major causes of different kinds of depression incidents found among different individuals.
In addition to this, the diagnosis of depression incidents as well as their treatments is also discussed in the literature to provide a good understanding of the problem of depression as well as the major causes of depression. This study in the form of the literature review is quite important in the field of scientific studies related to mental disorders as well as in the medical field for the diagnosis of depression-related disorders among individuals of different age groups. With the help of the literature review the other researchers which are doing research studies in the same field. This research study is very much important for physicians, doctors, medical researchers, psychologists, and medical students which are studying in the field of neurology.
The main purpose of the literature review is to have a good understanding of the incidence of depression as well as its major causes. The review aims to investigate the nature of problems of depression among different individuals in different ways. In addition to this, the analysis of the major causes of depression is also the major aim of this literature review. The main purposes of the literature review are mentioned below under the following points:
Having a good understanding of the concept of depression
Investigation different forms of depression as well as their consequences.
Investigation the diagnosis of depression to find out the major causes.
Analyzing the importance of appropriate treatment for depression-related problems.
Understanding Depression :
Nature of depression as a severe illness :, major reasons for the increasing rate of depression :, symptoms of depression :, essay writing help on literature review on depression to the students.
To conduct the literature review on the topic of depression and its causes, a deep search has been done for the literary sources. For the searching purpose, the database we have maintained as well as on the internet has been accessed with some related keywords. The major keywords which have been used by us are Depression a mental disorder, the Concept of depression, depression and its causes, Understanding the problem of depression among individuals, depression, its causes, and symptoms among individuals, etc. All the literature used for the review is quite recent. The literature used under the following literature review is published between 2000 and 2011.
All the research articles and books used here have good relevance with the subject take under consideration for the literature review purpose. The selection of the relevant articles is done based on specific criteria. The inclusion and exclusion of the articles are done based on this criterion. In this regard, firstly relevancy of the particular books or articles with the topic of literature review, the date of publication, and the effectiveness of the written material are the major criteria for including or excluding different study materials. The articles which are having compliance with these criteria are included in the literature review and the rest are excluded.
Depression should be understood in the form of paradoxes. According to Beck and Alford (2009), depression is considered a clinical syndrome. Depression is considered as an exaggeration of the mood which is experienced by a normal person. Depression is completely different from the normal mood of the individuals in both terms qualitative and quantitative (Beck and Alford 2009). Depression is not only a kind of disease but is also a form of reaction. Depression is mainly caused due to the stress experienced by the individuals due to some psychological factors. In some other circumstances, conflicts among individuals also give rise to the situation of depression.
The term "depression" is used in everyday language for the description of several experiences that range from temporary and slightly noticeable decreases in the mood to an impaired and life-threatening disorders. It is common among women and people with other chronic conditions. If depression is left untreated, it can disrupt family life, personal life and can severely disrupt work. However, many of these consequences can be avoided as depression can be treated if people who are depressed seek treatment.
There are several ill-effects of depression that affect most aspects of life such as, health, work, social activities, satisfaction with life and work, etc. In comparison to adults who are not depressed, adults who are depressed are less physically healthy. Furthermore, adults who are depressed are likely to remain absent from work and experience the limitations in their professional work that they do compare to adults who are not depressed (Depression: A treatable disease 2000).
Consult with USA Essay Writers to Write your College Essay
Horvitz (2002) mentions that in most situations, depression and chronic conditions go hand in hand. It can be said that depression is quite a common as well as a dangerous complication that is seen in every chronic condition. There are several symptoms of depression, such as depressed mood, unhappiness, sadness, etc. It is quite an understood phenomenon that almost all people at one or another stage of life feel depressed, but ongoing depression should be avoided. There are some harmful symptoms and characteristics of ongoing major depression, such as disinterest in usual activities, extreme fatigue, etc. The population with depression is comprised of a large proportion of adults who are of young age, women, and low-income individuals.
When comparing the rate of depression in men and women, it is found out that women are more susceptible to depression than men. Higher rates of depression in women can be attributed to both social as well as biological factors. Women who are age between 25 to 44 suffer from depression most frequently. Social factors, such as the dual responsibility of handling family and work create stress and depression among women.
Both men and women view depression differently. Women consider depression to be a health problem, while most men take depression as emotional weakness. Therefore, they hide their feelings as they are socially conditioned. If depression is left untreated, it can prove life-threatening. People who are depressed limit their social activities and tend to remain cut off from their family, friends, and community. As they are less satisfied with their life, they are not able to solve their problems with efficiency with which normal people without depression can solve. Depressed people are less satisfied with their family and friendship life (Depression: A treatable disease 2000).
Robbins (2008) states that it is necessary to recognize symptoms of the depression at initial stages themselves as nine characteristic symptoms of depression are depressed mood, loss or gain of weight, lack of interest in usual day-to-day activities, excessive sleep or insomnia, feeling of worthlessness, fatigue, less concentration or indecisiveness, thoughts of suicide, and feeling of retardation.
According to Thomas G. Plante (2006), depression is a kind of illness that is basically heterogeneous in nature. The explanatory mechanism of depression is very much critical to be understood as it has different subtypes (Plante 2006). There is not a single cause of depression but are multiple factors are responsible for the incidence of depression among individuals. There are several episodes of depression. People suffering from depression are given psychosocial therapies or antidepressant medications for the treatment of depression.
When someone suffers from chronic depression the people suffering from depression are given a combination of both mediation can psychotherapy. The impact of depression occurs in both the short term and long term. The chronicity of depression as well as its functional impact on work as well as the social life of the individuals depends on the nature of the particular kind of depression as well as the severity of depression.
According to Karen L. Swartz (2007), depression mainly arises from anxiety, sadness, grief, and elation. Depression is mainly caused as a result of such kinds of emotions. Depression is not exactly a mood disorder but has some sort of similarity with a mood disorder. Depression is a kind of family affair that has its links to bipolar disorder. Several genetic mutations give rise to depression among children. As per the nature of depression, it has been seen that when a person's parents or grandparents suffer from severe depression, they have a greater degree of risk for depression (Swartz 2007).
According to Beck and Alford (2009), the nature of depression is subject to different opinions of psychologists. According to some authorities, depression is a kind of psychogenic disorder while as per some other depression is mainly caused due by some organic factors. In the field of mental health, depression is considered the most critical problem for the physical as well as mental health of individuals. This has been seen that majority of the humans are suffering from the problem of depression other than some different diseases (Beck and Alford 2009).
Perry et al (2007) compare public attributions, stigma, and attitude in the context of depression among children and adults. The author states that childhood depression is more harmful and dangerous than the depression of adults. Treatment of depression as a form of severe illness is recommended and people for all types of treatment in addition to coerced care. Although, people are unable to recognize depression as a form of mental illness and remain unwilling to seek the services of an expert. Media links depression with violence and leads to the building of the perception that depression is dangerous to society and instills fear in minds of people.
The article suggests a lack of awareness among people and mental health literacy about depression in adults and children. The author attributes childhood depression to a genetic problem, certain types of chemical imbalance, or how the child is raised. Stress is also one of the major causes of depression in children and adults. It is recommended that children and adults with depression should seek treatment from psychiatrists, physicians, and psychiatric hospitals. Examination of the full spectrum of problems related to mental health and reasons that are responsible for different adult and child problems can provide guidance to treat depression in children and adults.
Hire an Essay Writer to Write your Complete Essay on Time
Power and Orto (2004) mentions that depression is anger turned inward and is associated with severe disability and illness. Most people when become aware of the responses to their illness or disability, do not actually experience clinical depression. All people, who go through depression which is the outcome of severe illness or disability-induced losses, perform all the activities such as, play, work, etc. but all these activities seem to be hollow in nature. All those people who are suffering from more depression withdraw from all these activities and feel very tired to participate in all these activities.
Horvitz (2002) states that panic attacks are also the outcome of depression. These types of panic attacks that come out of depression can be identified by extremely unpleasant systems, such as, sweating, rapid heartbeat, shortness of breath, etc. The author states that depression is one of the most common outcomes of chronic illness. It is estimated almost one-third of the population that that is suffering from serious medical ailment experiences one or other symptoms of depression.
As illness can lead to affect mobility and independence of the person, it changes the way or how the person with illness sees himself and relates him with others. Chronic illness can trigger clinically significant depression. It is necessary for the doctor and the patient to decide whether the symptoms of illness are just a normal response to the stress due to a chronic medical situation, or the reaction is so intense that it requires additional treatment and specific medicines for doing away with depression.
Any condition that is chronic in nature can lead to the triggering of depression, but the risk of occurrence of depression is more when illness is very severe. Specifically, when illness is associated with pain, social isolation, or personal disability, there is a risk of the occurrence of depression in the patient (Horvitz 2002).
There are several major causes of depression that can be viewed through having deep insight into literary sources. According to Eric et al (2003), depression is the most critical chronic condition for which the claimants have been increasing day by day. There are several reasons which are increasing prevalence rates of major depression. It has been seen that with the increase of the age people becomes more depressed.
Glassman et al (2011) state that there is a vast improvement in the healthcare system and the antidepressants industry is also gaining millions of dollars. Despite these developments, the change in the lifestyle of people over the past century reflects diminishing physical activity in the society which is now service-oriented, industrialized, and technologically advanced. In past, people used to do physical activity which kept their brain areas active. Physical activity is important for maintaining mental health.
Today's society has set standards that are much higher than before due to which people tend to raise their children perfectly and make millions of dollars. Factors that are responsible for an increased rate of depression are low economic status, demanding professional work, obesity, increasing divorces, poor relationships, diseases and illnesses, such as, cancer and other chronic illness, jobs becoming more stressful and demanding, etc. Poor relationships generate sad emotions and feelings of loneliness among people (Glassman et al 2011).
Kantor (2007) discusses the problem of depression saying that depression has become a modern disease as lifestyles are becoming more demanding, require more money, and need more time. This has brought limits to people's minds, emotions, and life. It, thus, brings in emotional, physical, and mental suffering to adults and young ones. Teenagers of today's society are at high risk of experiencing depression as society has set certain standards for them which are greater, that leads to building up of stressful factors.
Depression has a strong correlation with physical health and can also occur as a side-effect of strong medications. As there is an increase in the number of cases of ailments and illnesses related to cancer and other chronic diseases, depression is seen to be quite common in people of today's society. People suffering from depression for a long time are at excess risk for cardiac morbidity and mortality.
Houpt (2010) mentions the role of alcoholism, overeating, and Obsessive-compulsive disorder for the problem of being at a higher risk of occurrence of depression. Stress is also an environmental risk factor for going into a state of depression. The presence of external and internal stressors, in our society such as social status, finances, physical and emotional trauma, increasing consumption of chemical substances, etc. play a significant role in bringing up depression in the people of modern society (Houpt 2010).
People suffering from depression show several kinds of symptoms. According to Eric et al (2003), the major symptoms of depression which are observed in a usual form are less engagement in physical activities, taking in less healthy diets as well as more alcohol abuse (Finkelstein, Bray, Chen, Larson, Miller, Tompkins, Keme and Manderscheid 2003).
All these are the major symptoms that are seen among people suffering from depression incidents. Physical complications among individuals are also among the major symptoms of depression. Due to the increasing degree of depression among the individuals, mental disorder increases to a great level.
Consult Essay Writing Expert & Get Premium Essay Topics
Plante, T. G. 2006. Mental Disorders of the New Millennium. Greenwood Publishing Group.
Swartz, K. L. 2007. Depression and Anxiety. Johns Hopkins Health.
Finkelstein, E. A., Bray, J. W., Chen, H., Larson, M. J., Miller, K., Tompkins, C. Keme, A., and Manderscheid, R. 2003. Prevalence and Costs of Major Depression Among Elderly Claimants With Diabetes. Diabetes Care 26(2), pp. 415-420.
Beck, A. T., and Alford, B. A. 2009. Depression: causes and treatments. 2nd ed. University of Pennsylvania Press.
Robbins, P.R. 2008. Understanding Depression. McFarland.
Perry, B. L., Pescosolido, B. A., Martin, J. K., McLeod, J.D. and Jensen, P. S. 2007. Comparison of Public Attributions, Attitudes, and Stigma regarding Depression among Children and Adults. American Psychiatric Association 58(5), pp. 632-635.
Power, P.W. and Orto, A.E.D. 2004. Families living with chronic illness and disability: interventions, challenges, and opportunities. Springer Publishing Company.
Depression: A treatable disease. 2000. Online. Available at: http://www.agingsociety.org/agingsociety/pdf/depression.pdf [Accessed on: 23 September 2011].
If you are still not confident that you can complete a dissertation in a limited time then you can seek a dissertation writing service . By seeking help from experts, you can be done with an hour.
Students Assignment Help is giving the cheapest quality assignments to help with writing assignment to the students. This help is provided to the students in the form of Literature essay assignment writing . Those who are not able to manage their essay writing work in one hour and get stuck in between can ask the professional essay creators to frame a good quality essay by keeping the deadline in mind.
College essay writing services can provide emergency essay writing help in every type of essay. So get your essay work done through certified professionals by paying a little extra money for last-minute help in writing the work of assignments.
Explore More Relevant Posts
Public Speaking Speech Topics
Process Analysis – Definition, Topics, Introduction & Conclusion
Gender in Leadership & Management – Literature Review
University Admission Essay Topics
Senior Capstone Project Ideas High School
Nursing Capstone Project Ideas
English Extended Essay Topics
Argumentative Essay Topics About Animals
Environment Essay Topics
Multicultural Society – Argumentative Essay Ideas & Topics
Causal Analysis Essay Topics
Biology Essay Topics
One Word Definition Essay Topics
World Peace Essay Title
Business Management Essay Topics
Art History Essay Topics
Immigration Essay Topics
Ethics Essay Topics for USA Students
Health Essay Topics 2021 for College Students
Sports Essay Topics 2021 for US College Students
Critical Thinking Essay Topics
5 Paragraph Essay Topics Ideas
Controversial Essay Topics
Childcare Descriptive Essay Topics
Funny Persuasive Speech
Persuasive Health Essay Topics
Persuasive Speech Essay Topics Ideas
Argumentative Essay Topics
Art History Compare and Contrast Essay Topics
Civil War Essay Topics
Definition Argumentative Essay Topics
Descriptive Essay Topics
English Essay Topics
History Essay Topics
Philosophical Essay Topics
Psychology Essay Topics
Scholarship Essay Topics
Sociology Essay Topics
Thematic History Essay Topics
Top Narrative Essay Topics For Students
Get Free Assignment Quote
Enter Discount Code If You Have, Else Leave Blank
Paper Writer Free >
Essays Examples >
Essay Topics >
Sample Literature Review On Nursing: Depression
Type of paper: Literature Review
Topic: Depression , Psychology , Therapy , Treatment , Medicine , Brain , Feeling , Love
Words: 1100
Published: 2021/02/01
Introduction "I'm fed up of my life!", "I want to be alone!", "I'm good for nothing". All these feelings are the signals of depression. There are times when people feel low, disheartened and dejected. Sometimes these feelings occur without any proper reason. Having this kind of feelings in severe density for a long period of time is called depression (NHS Choices, 2013). The objective of this paper is to understand depression and how Electroconvulsive therapy applies to depression. The paper is divided into three sections. The first section discusses depression, its symptoms and causes. The second section deliberates how Electroconvulsive therapy applies to depression. The third section concludes the paper.
Depression-Meaning, symptoms and causes
This section is divided into three sub-sections. The first section discusses about depression. The second section enlists its symptoms. The third section highlights causes of depression.
What is Depression?
Depression makes life difficult for the people. It affects in day to day activities. People started loosing confidence in them, loose interest in work, hobbies, meeting with friends & family, feels isolated & worthless and wanted to spend more time alone. When depression becomes severe and prolong, it started hampering health as well. Depression, can also be called as major depression, clinical depression or major depressive disorder, is a medical sickness that affects the person's thought process, behaviour and feeling (MediLexicon International Ltd, 2015).
Symptoms of Depression:
Depression is not just feeling sad or unhappy; it is a serious mental illness which can cause severe health issues, both mental and physical, if not gets treated on time. As per Dr Kenny (2014), a person is suffering from depression when he is reported to have the symptoms for last two weeks during most of the times of the day; and have minimum one core symptoms and at least five symptoms from the list below:
Core symptoms:
Feeling down at most of the times of the day. Looses interest in normal activities which otherwise the person uses to enjoy. Some of the other common symptoms: Problem of having a peaceful sleep or deviation in the usual time and duration of the sleep. Depression also affects in food intake of the person. Either the person gains too much weight or looses too much Fatigue or tired Restlessness, disturbance and annoyance Difficulty in concentrating things Feeling worthless, helpless and guilty Feeling to kill themselves or the thought as life is not worthy to live .What causes depression? According to Smith, Saisan and Segal (2015), Depression is very complicated, it is not just the chemical imbalance of brain; but it is caused by the combination of genetic, mental and societal factors. Knowledge of causes of depression would help in the treatment of depression. Below are the eight common causes or factors which are more prone to depression in an individual.
Unemployment
Broken relationship Financial crisis Childhood trauma Medical illness Genetic characteristics Physical or sexual abuse Lack of support, isolation or loneliness The examples given above are some of the common causes of depression; however it varies from individual to individual to react in a given circumstance. Some people cope up in these situations, some become depressed.
How Electroconvulsive Therapy (ECT) Applies to Depression?
There are several treatment for depression i.e. antidepressant drugs, counselling, changing of lifestyles and other psychotherapies. According to Goldberg (2014), ECT which is also referred as "electroshock therapy" is considered to be the most effective treatment for people who are otherwise difficult to treat. ECT is often taken wrongly as brutal and painful therapy. However the reality is that this therapy is painless as general anaesthesia is used for the treatment. It is considered as a life saving treatment for severe depression. ECT is a process in which electric charges gets transferred to the brain on purpose to cause seizure (Mayo Foundation for Medical Education and Research, 2012). This seizure in the brain influences the brain chemicals and helps in brain cells work better. Better functioning of brain cells and brain chemical also helps to improve the person's mood which stops the symptoms of depression or other mental illness. In one of the research it was found that nine patients who were not responded to antidepressants or other therapies; showed good response when ECT is applied and found that depressed person is now showing decrease in connectivity in some parts of the brain (Szalavitz, 2012). Researchers found that ECT causes to decrease in the connections of "left dorsolateral prefrontal cortex" which is linked to negativity, pessimistic thoughts, ponderings and anxiety. Basically, ECT influences the connections of different part of the brains while in depression. ECT has been used to treat severe depressed patients for about 70 years now and it is still the best treatment for the patients who are suffering from severe depression. It is also use to treat people with severe mania, severe depression, patient with schizophrenic syndromes, treatment-resistant epilepsy and those who are not improving with medication or in suicidal condition (Lisanby, 2012). As per British Association for Counselling and Psychotherapy (2013), in a survey conducted by ECT Accreditation Service in the year September 2004-February 2006 on patients who has gone through ECT, reported that more than 70% of the patients confirmed that ECT had been beneficial for them. Now the question arises whether ECT is safe? According to SANE Factsheet (2014), ECT is considered to be safe therapy and no long term brain damage is reported so far. One of the most common side effects of ECT is short term memory loss. However, this problem generally deteriorates with time. Some of its other side effects include nausea, confusion, drowsiness, headache and aching of muscles.
Hence, depression is not just feeling low syndrome, it is a serious medical ailment which affects the human being both physically and emotionally. There are many symptoms of depression, for e.g. sleep disorder, restlessness, tiredness, feeling worthless, suicidal feeling, mostly feeling low and looses interest in the activities which earlier use to please him/her. A person is said to be depressed if he is suffering from the depression symptoms with at least last two weeks. The factors which causes depression varies from individual to individual as every individual behave differently in the given situation. There are many treatments for depression, however, Electroconvulsive Therapy or ECT is considered as one of the most effective therapy. ECT is used to treat severe depressed patients who are not able to recover from medication or other therapies. It is used by transferring electric current to the brain that causes seizure.
British Association for Counselling and Psychotherapy (2013). Electroconvulsive Therapy (ECT). Retrieved from http://www.mind.org.uk/information-support/drugs-and-treatments/electroconvulsive-therapy-ect/key-issues/#.VSOOSdyUdBk Goldberg J. (2014). Electroconvulsive Therapy (ECT) for Depression. Retrieved from http://www.webmd.com/depression/electroconvulsive-therapy Dr Kenny T. (2014). Depression. Retrieved from http://www.patient.co.uk/health/depression-leaflet Lisanby S. H. (2012). Treating Depression with Electroconvulsive Therapy. Retrieved from http://www.doctoroz.com/article/treating-depression-electroconvulsive-therapy Mayo Foundation for Medical Education and Research (2012). Electroconvulsive Therapy (ECT). Retrieved from http://www.mayoclinic.org/tests-procedures/electroconvulsive-therapy/basics/definition/prc-20014161 MediLexicon International Ltd (2015). What is depression? What causes depression? Retrieved from http://www.medicalnewstoday.com/articles/8933.php NHS Choice (2013). Clinical Depression. Retrieved from http://www.nhs.uk/Conditions/Depression/Pages/Introduction.aspx SANE Factsheet (2014). Electroconvulsive Therapy (ECT). Retrieved from http://www.sane.org/information/factsheets-podcasts/445-electroconvulsive-therapy-ect Smith M., Saisan J. and Segal J. (2015). Depression Symptoms and Warning Signs. Retrieved from http://www.helpguide.org/articles/depression/depression-signs-and-symptoms.htm Szalavitz M. (2012). How Electroconvulsive Therapy Works for Depression. Retrieved from http://healthland.time.com/2012/03/21/how-electroconvulsive-therapy-works-for-depression/
Share with friends using:
We use cookies to improve your experience with our site. Please accept before continuing or read our cookie policy here .
DON'T MISS YOUR CHANCE!
Apply a discount code
Get 11% Off
No thanks, I don't want to save money
Thank you for visiting nature.com. You are using a browser version with limited support for CSS. To obtain the best experience, we recommend you use a more up to date browser (or turn off compatibility mode in Internet Explorer). In the meantime, to ensure continued support, we are displaying the site without styles and JavaScript.
View all journals
Explore content
About the journal
Publish with us
Sign up for alerts
Similar articles being viewed by others
Slider with three articles shown per slide. Use the Previous and Next buttons to navigate the slides or the slide controller buttons at the end to navigate through each slide.

Theta burst stimulation for the acute treatment of major depressive disorder: A systematic review and meta-analysis
28 May 2021
Jeffrey D. Voigt, Andrew F. Leuchter & Linda L. Carpenter

Efficacy, tolerability, and cognitive effects of deep transcranial magnetic stimulation for late-life depression: a prospective randomized controlled trial
18 June 2018
Tyler S. Kaster, Zafiris J. Daskalakis, … Daniel M. Blumberger

Distinct trajectories of response to prefrontal tDCS in major depression: results from a 3-arm randomized controlled trial
21 December 2020
Stephan A. Goerigk, Frank Padberg, … Andre R. Brunoni

Brain-derived neurotrophic factor as a possible predictor of electroconvulsive therapy outcome
24 May 2019
Elisabeth Maria van Zutphen, Didi Rhebergen, … Annemieke Dols

Magnetic seizure therapy (MST) for major depressive disorder
05 September 2019
Zafiris J. Daskalakis, Julia Dimitrova, … Daniel M. Blumberger

Gradient of electro-convulsive therapy's antidepressant effects along the longitudinal hippocampal axis
29 March 2021
Lucien Gyger, Francesca Regen, … Bogdan Draganski

Recovering from depression with repetitive transcranial magnetic stimulation (rTMS): a systematic review and meta-analysis of preclinical studies
10 November 2020
Luisa De Risio, Marta Borgi, … Francesca Zoratto

Distinct and shared patterns of brain plasticity during electroconvulsive therapy and treatment as usual in depression: an observational multimodal MRI-study
10 January 2023
Tobias Bracht, Sebastian Walther, … Niklaus Denier

Comparative efficacy and cognitive function of magnetic seizure therapy vs. electroconvulsive therapy for major depressive disorder: a systematic review and meta-analysis
21 August 2021
Miao Chen, Xuhui Yang, … Sha Liu
Review Article-Invited
Open Access
Published: 03 April 2019
Prognosis and improved outcomes in major depression: a review
Christoph Kraus   ORCID: orcid.org/0000-0002-7144-2282 1 , 2 ,
Bashkim Kadriu   ORCID: orcid.org/0000-0002-3809-9451 2 ,
Rupert Lanzenberger   ORCID: orcid.org/0000-0003-4641-9539 1 ,
Carlos A. Zarate Jr. 2 &
Siegfried Kasper   ORCID: orcid.org/0000-0001-8278-191X 1  
Translational Psychiatry volume  9 , Article number:  127 ( 2019 ) Cite this article
56k Accesses
175 Citations
26 Altmetric
Metrics details
Human behaviour
Predictive markers
Scientific community
Treatment outcomes for major depressive disorder (MDD) need to be improved. Presently, no clinically relevant tools have been established for stratifying subgroups or predicting outcomes. This literature review sought to investigate factors closely linked to outcome and summarize existing and novel strategies for improvement. The results show that early recognition and treatment are crucial, as duration of untreated depression correlates with worse outcomes. Early improvement is associated with response and remission, while comorbidities prolong course of illness. Potential biomarkers have been explored, including hippocampal volumes, neuronal activity of the anterior cingulate cortex, and levels of brain-derived neurotrophic factor (BDNF) and central and peripheral inflammatory markers (e.g., translocator protein (TSPO), interleukin-6 (IL-6), C-reactive protein (CRP), tumor necrosis factor alpha (TNFα)). However, their integration into routine clinical care has not yet been fully elucidated, and more research is needed in this regard. Genetic findings suggest that testing for CYP450 isoenzyme activity may improve treatment outcomes. Strategies such as managing risk factors, improving clinical trial methodology, and designing structured step-by-step treatments are also beneficial. Finally, drawing on existing guidelines, we outline a sequential treatment optimization paradigm for selecting first-, second-, and third-line treatments for acute and chronically ill patients. Well-established treatments such as electroconvulsive therapy (ECT) are clinically relevant for treatment-resistant populations, and novel transcranial stimulation methods such as theta-burst stimulation (TBS) and magnetic seizure therapy (MST) have shown promising results. Novel rapid-acting antidepressants, such as ketamine, may also constitute a paradigm shift in treatment optimization for MDD.
Depression: a major and relentless burden
Major depressive disorder (MDD) is the most common psychiatric disease and a worldwide leading cause of years lived with disability 1 , 2 . In addition, the bulk of suicides are linked to a diagnosis of MDD. Despite the high prevalence rate of MDD and ongoing efforts to increase knowledge and skills for healthcare providers, the illness remains both underdiagnosed and undertreated 3 . Many novel strategies with potentially broad impact are not yet ready for 'prime time', as they are either in early experimental stages or undergoing regulatory processes for approval. This review sought to: (1) provide a synopsis of key factors associated with outcomes in MDD, and (2) synthesize the existing literature on novel treatment strategies for depression. A literature search was conducted using the search terms 'depression', 'antidepressant', 'outcome', 'predictor', '(bio)marker', 'treatment-resistant depression (TRD)', and 'chronic depression' in addition to combinations of these terms. The search was conducted in PubMed, Scopus, and Google Scholar with no restrictions on time period and concluded in October 2018. Notably, we defined 'outcomes' loosely, as either disease course (i.e., treatment resistance, chronic depression) or response/remission to treatment.
Prognostic variables for treatment outcomes in MDD
Clinical variables.
Clear evidence of an inverse relationship between duration of episode and treatment outcome (either response or remission) underscores the importance of early intervention in MDD 4 (Table 1 ). In particular, replicable prospective and retrospective studies indicate that shorter duration of untreated disease—both in terms of first and recurrent episodes—is a prognostic factor indicating better treatment response and better long-term outcomes 5 , 6 , 7 , 8 , 9 , 10 , although not all studies have found such an association 11 . Another important clinical variable is time to antidepressant response. For instance, one meta-analysis found that early improvement was positively linked to antidepressant treatment outcome in 15 of 16 studies 9 . Early response to antidepressant treatment appears to occur independently of treatment modality 12 , 13 or outcome parameters 14 , 15 . Another study found that early improvement in work productivity was a significant positive predictor of higher remission rates after three and seven months of treatment 16 . Similarly, imaging studies found that early response to treatment correlated with default mode network deactivation in the posterior cingulate 17 , as well as thickening of gray matter in the anterior cingulate cortex (ACC) 18 . Interestingly, two recent meta-analyses found that initial improvement was linked to response and outcome but failed to be associated with treatment resistance 19 , 20 . This suggests that TRD—defined loosely here as non-response to at least two adequate antidepressant trials—and chronic depression (roughly defined here as non-response to any treatment) may have similar response slopes in the earliest treatment stages.
In addition, lower baseline function and quality of life—including longer duration of the current index episode—have been associated with lower remission rates to various types of antidepressant treatments 21 , 22 . This is in line with results from a previous study that found that baseline function predicted antidepressant response in TRD patients 23 . Worse outcomes in more severely ill patients at baseline were also reported in elderly patients treated in primary-care settings 24 . In contrast, several controlled clinical studies found that elevated baseline severity correlated with improved response and remission rates 25 . Two naturalistic studies with broad inclusion criteria similarly found that remission correlated with higher baseline scores 4 , 26 . However, this discrepancy might be explained by variations in outcome according to parameter. It was noted earlier that studies that defined remission as percent change of baseline values might be biased in favor of higher baseline scores, while absolute endpoints (e.g., remission defined below a cutoff score) favor less sick patients 4 .
Psychosocial variables
The influence of sociodemographic factors such as age, age of onset, gender, and number of previous episodes on treatment outcome has been investigated with mixed results 4 , 27 , 28 . One study found that females had higher remission rates 21 , but this was not confirmed by another prospective study 27 . Others have found that stress related to high occupational levels might impair outcomes 29 . The European "Group for the Study of Resistant Depression" (GSRD) multi-site study found that age at first treatment (i.e., early-onset and early treatment), age, timespan between first and last episode (i.e., duration of illness), suicidality, and education level were all important variables for outcome 30 . Notably, authors of long-lasting longitudinal studies have suggested that recall bias may influence the age of onset variable 31 , 32 ; given the cognitive deficits associated with acute episodes of MDD, retrospective studies must hence address the factor of memory bias in data collection.
Environmental stress and stressful life events (SLEs)
High stress levels significantly influence outcomes in MDD patients who are prone to vulnerable states, such as those with high levels of neuroticism 33 , 34 . A meta-analysis found that history of childhood maltreatment was associated with elevated risk of developing recurrent and persistent depressive episodes, as well as with lack of response or remission during treatment 35 . Another meta-analysis confirmed the detrimental impact of childhood maltreatment (emotional physical or sexual maltreatment or neglect) as a predisposing risk factor for severe, early-onset, and treatment-resistant depression 36 , 37 . Studies also found gender-specific effects; in particular, at lower stress levels females were at higher risk of MDD than males 34 . Moreover, twin studies have suggested a differential reactivity of gender in response to type of SLE 38 . For instance, a treatment study using escitalopram and nortriptyline investigated the association between number of SLEs (e.g., job loss, psychological trauma, loss of a loved one) and antidepressant treatment. Subjects with more SLEs exhibited greater cognitive symptoms at baseline but not significantly more mood or neurovegetative symptoms. These patients also had greater cognitive symptom reduction in response to escitalopram but not nortriptyline 39 . This suggests that SLEs may have a cognitive domain-specific impact in MDD, but more data are needed to elucidate this issue.
Psychiatric and physical comorbidities
Psychiatric comorbidity has been shown to influence outcome in both treated and untreated patients 40 , 41 . Studies have found that elevated baseline anxiety symptoms or comorbid anxiety disorder are associated with worse antidepressant response to first-line selective serotonin reuptake inhibitors (SSRIs) or second-line treatment strategies 42 , 43 . Worse outcomes have also been reported for MDD patients with comorbid drug or alcohol use disorders, post-traumatic stress disorder (PTSD), and "double depression" (depression and dysthymia) 26 , 41 . Data from the Sequential Treatment Alternatives to Relieve Depression (STAR*D) study, which included patients who were seeking medical care in routine medical or psychiatric outpatient treatment, indicate that roughly one-third (34.8%) of all MDD patients are free of any comorbidity; the most frequent comorbid Axis-I disorders are social phobia (31.3%), generalized anxiety disorder (23.6%), PTSD (20.6%), and obsessive-compulsive disorder (14.3%) 21 . A large recent study found that clinically diagnosed personality disorder was associated with negative outcomes (with regard to remission and persistent depressive symptoms) six months after diagnosis in MDD subjects enrolled in primary care 44 . Moreover, meta-analytic studies indicate that comorbid personality disorder increases the likelihood of poorer outcomes 45 , 46 ; it should be noted, though, that negative studies have also been reported 40 .
MDD and several physical diseases—including cardiovascular disease and diabetes—appear to have bidirectional effects on disease trajectory 47 , 48 , yet pathophysiologic links are most likely complex and have to be elucidated. In addition, depression appears to be linked to hormonal diseases, including hypothyroidism 49 . A number of physical disabilities and medical comorbidities have been shown to significantly impact outcome measures in MDD 50 , particularly in elderly subjects 51 . This connection appears to be relevant at any stage of the disease, as number of physical comorbidities did not separate TRD from non-TRD patients 52 . Links between MDD and pain have also been noted; subjects with elevated levels of baseline pain due to chronic conditions had longer depressive episodes, delayed remission 53 and, most importantly, elevated suicide risk 54 , 55 . Interestingly, a prospective, 12-month study of older patients found that elderly patients with atrial fibrillation exhibited better remission rates 56 . Patients with chronic pulmonary diseases had worse outcomes in uncontrolled treatment settings than those without these diseases. This difference was absent in the intervention group, in which depression care managers helped physicians with guideline-concordant recommendations and helped patients adhere to treatment 56 . Further longitudinal studies on shared pathophysiology with physical diseases are needed to confirm such associations.
Neuroimaging markers of treatment outcomes
Structural markers of antidepressant treatment outcomes suggest that hippocampal volumes are related to response and remission 57 , 58 . One study found that low baseline hippocampal volumes were related to impaired treatment outcomes after 3 years 59 ; a meta-analysis confirmed that low baseline hippocampal volumes are associated with negative outcomes 60 . However, negative studies have also been reported 61 , 62 . The volume of other brain regions, including the anterior cingulate or orbitofrontal cortices, have also been shown to be decreased in MDD subjects 63 , but more longitudinal neuroimaging trials with antidepressants are needed to clarify this association. Interestingly, several studies, including one meta-analysis 64 , found significant hippocampal volume increases after ECT 65 , 66 , 67 , although the relationship to antidepressant response has yet to be confirmed 64 , 68 .
The largest functional magnetic resonance imaging (fMRI) study of MDD patients conducted to date reported neurophysiological subtypes based on connectivity patterns within limbic and frontostriatal brain areas 69 . In subset analyses, connectivity patterns plus subtype classifications predicted response to repetitive transcranial magnetic stimulation (rTMS) treatment with higher accuracy (89.6%) than clinical characteristics alone. Other task-based and resting-state fMRI studies found that ACC activity (including pregenual activity) predicted treatment response 70 , a finding corroborated by an expanded electroencephalography study 71 as well as a meta-analysis 60 . While these interesting results suggest that fMRI measures could ultimately help classify biological subtypes of depression, these methods are far from ready for clinical application and results will have to be reproduced. However, given its easy implementation and the short time needed to acquire measurements, fMRI appears to be a promising tool for identifying imaging biomarkers.
Positron emission tomography (PET) studies have identified altered serotonin-1A (5-HT 1A ) receptor and 5-HT transporter (SERT) binding potentials, an index of protein concentration, at baseline and in TRD patients 72 , 73 , 74 , 75 . Most of these results found reduced baseline SERT levels and elevated baseline 5-HT 1A heteroreceptors in MDD patients (depending on PET methodology for 5-HT 1A ); non-remitters had lower 5-HT 1A autoreceptor binding in the serotonergic raphe nuclei 75 , as well as lower SERT 76 . Reduced global 5-HT 1A receptor binding has also been observed after ECT 77 . High costs, technical and methodological challenges, lack of dedicated PET centers with 11 C-radiochemistry, small sample sizes, small effect sizes, and unclear cutoff values have heretofore prevented the broader clinical application of these tools in MDD compared to disorders such as Alzheimer's and Parkinson's disease. An earlier [ 18 F]FDG PET study of unmedicated MDD patients was consistent with the aforementioned fMRI results, demonstrating increased glucose turnover in the orbitofrontal and posterior cingulate cortices and amygdala and decreased turnover in the subgenual ACC and dorsolateral prefrontal cortex 78 . A later study corroborated these results and found that glucose turnover was differentially affected by cognitive behavioral therapy or venlafaxine 79 . Interestingly, several studies detected microglial activation by labeling translocator protein (TSPO) with PET, using TSPO radioligands like 18 F-FEPPA. Microglial activation is closely linked to brain tissue damage, traumatic brain injury, neuroinflammation, and increased metabolic demands. Increased TSPO binding in MDD patients has been observed in the ACC, insula, and prefrontal cortex 80 . In addition, TSPO binding has also been shown to positively correlate with length of illness and time without antidepressant treatment, and to negatively correlate with SSRI treatment 80 . Elevated TSPO levels in unmedicated, acutely ill MDD patients have now been reported in at least two independent datasets 81 , 82 . However, TSPO-positive MDD patients may reflect a specific subtype (i.e., associated with neuroinflammation) and may, thus, respond better to treatments that target neuroinflammation. For a graphical summary of these findings see Fig. 1 .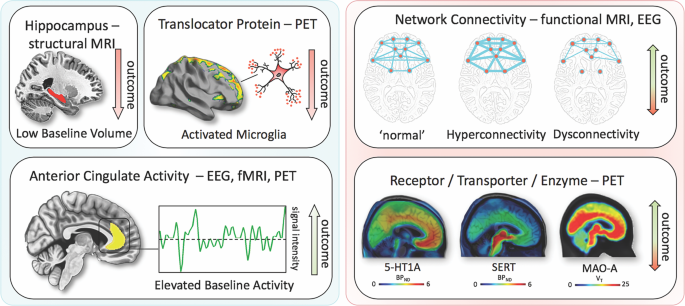 Imaging findings exhibiting unidirectional (left) relationships with outcome in MDD vs. bidirectional (right). fMRI, functional magnetic resonance imaging; PET, positron emission tomography; EEG electroencephalography; 5-HT1A, serotonin-1A receptor; SERT, serotonin transporter; MAO-A monoamine oxidase-A; BP ND , nondisplaceable binding potential; V T , volume of distribution
Blood-based markers of disease outcomes
Consistent with neuroinflammatory processes, elevated levels of C-reactive protein (CRP), tumor necrosis factor alpha (TNFα), and interleukin-6 (IL-6) have been reported in a subset of MDD patients. In particular, elevated levels of CRP, a well-established marker of increased proinflammatory state in blood, was shown to be associated with MDD and increased risk for psychological distress in cross-sectional samples of the general population 83 . A longitudinal study found that lower CRP levels were associated with quicker response to SSRIs, an association not observed for SSRI-bupropion combination therapy 84 . Interestingly, elevated CRP levels have been shown to be more pronounced in female versus male MDD patients 85 . Similar findings have been observed for IL-6 and TNFα. One meta-analysis found that all three were significantly elevated at baseline in MDD patients, but their treatment trajectories differed 86 ; IL-6 levels decreased with antidepressant treatment, but outcomes were indistinguishable. In the same meta-analysis, persistingly high TNFα levels identified TRD patients 86 . Notably, heterogeneity was high within the pooled studies. Another study noted that levels of acute phase protein complement C3 significantly differentiated between atypical and melancholic MDD subtypes 87 . MDD patients have also been shown to have altered levels of peripheral adipokines and bone inflammatory markers; these deficits were corrected with ketamine treatment 88 , 89 .
Given the importance of neuroplasticity in the pathophysiology and treatment of depression, interest has grown in studying brain-derived neurotrophic factor (BDNF), a neurotrophin involved in the structural adaptation of neuronal networks and a prerequisite for neuronal reactions to stressors. BDNF blood levels most likely stem from peripheral tissue. While these peripheral levels are linked to central levels, the question of whether BDNF is actively transported through the blood–brain barrier remains controversial 90 . Compelling evidence suggests that BDNF levels are decreased at baseline in MDD patients and elevated in response to pharmacological 90 , 91 treatments as well as ECT 92 . A meta-analysis found that increased BDNF levels in response to treatment successfully stratified responders and remitters compared to non-responders 93 .
Outcome and genetic and epigenetic links
Heritable risk for MDD is between 30 and 40%, with higher rates in women. A large, collaborative genome-wide association study (GWAS) detected 44 significant loci associated with MDD 94 . Specific analyses identified neuronal genes (but not microglia or astrocytes), gene-expression regulating genes (such as RBFOX1 ), genes involved in gene-splicing, as well as genes that are the targets of antidepressant treatment. The authors suggested that alternative splicing could lead to shifts in the proportion of isoforms and altered biological functions of these proteins 94 .
Hypothesis-driven approaches with candidate genes have provided initial insights into the influence of single-nucleotide polymorphisms (SNPs). It is beyond the scope of this manuscript to review the large number of candidate genes; here, we outline only several representative genes (see Table 1 for meta-analytic evidence of treatment outcomes). These include synaptic proteins involved in stress response, antidepressant binding structures, or neuroplasticity (e.g., CRH receptor 1 ( CRHR1 )), the sodium-dependent serotonin transporter ( SLC6A4 ), and BDNF 95 . The aforementioned multicenter GSRD study also found that combining clinical and genetic variables explained antidepressant response better than SNPs alone in a random forest algorithm 96 . In that study, regulatory proteins such as ZNF804A (associated with response) and CREB1 (associated with remission), as well as a cell adhesion molecule (CHL1, associated with lower risk of TRD), were linked to antidepressant treatment outcomes. Another interesting candidate gene is FK506 binding protein 5 ( FKBP5 ), which was found to moderate the influence of standard treatments in an algorithm lasting up to 14 weeks 97 ; FKBP5 is known to influence HPA axis reactivity 98 , treatment response 99 , and epigenetic mechanisms in response to environmental stressors 100 . Another relevant avenue of research is drug-drug interactions and gene isoforms in the cytochrome P450 pathway (CYP450), which could account for insufficient amounts of a given drug reaching the brain or, conversely, result in exceedingly high plasma values, making subjects more vulnerable to treatment side effects 101 , 102 . Several commercially available kits categorize patients according to their phenotypic status (e.g., CYP2D6, 2C19, CYP3A4). This led to the introduction of phenotype categories—"poor", "intermediate", "extensive (normal)", and "ultrarapid" metabolizers—based on CYP450 isoenzyme status and their relationship to plasma levels at fixed doses 102 . A large naturalistic study of CYP2C19 isoforms found that treatment success with escitalopram was less frequent in "poor" (CYP2C19Null/Null) and "ultrarapid" metabolizers (CYP2C19*1/*17 or CYP2C19*17/*17) 103 .
Clinical subgroups, TRD, and treatment outcomes
While some studies have suggested that depressive subtypes in MDD—including anxious, mixed, melancholic, atypical, and psychotic depression—respond differently to antidepressant treatment, this literature is mixed. For instance, some studies found that melancholic patients initially present with high levels of severity and may respond less well to SSRI treatment than to venlafaxine or tricyclic antidepressants 104 , but other studies did not support this finding 105 . No association was found between subgroups and clinical outcomes in a parallel design, uncontrolled study investigating sertraline, citalopram, and venlafaxine 106 , which found that near equal percentages of patients who met criteria for a pure-form subtype (39%) also had more than one subtype (36%), making these psychopathological subtypes difficult to classify.
It should be noted that treatment success might have more discriminatory power for identifying subgroups than psychopathological subgroup stratification. Although a wide range of definitions exists specifying the number of failed trials necessary to diagnose TRD 107 , the core definition of TRD centers around a lack of improvement in response to consecutive, adequate antidepressant treatments. Resistance occurs at alarmingly high rates and is thought to affect 50–60% of all treated patients 107 . Unsurprisingly, this group of patients has dramatically worse outcomes than those who respond to antidepressants, and factors that are associated with TRD overlap with many of those presented above 28 . Cross-sectional data from the GSRD 108 identified a number of risk factors linked to TRD, including comorbidity (particularly anxiety and personality disorders), suicide risk, episode severity, number of hospitalizations, episode recurrence, early-onset, melancholic features, and non-response at first treatment 28 . Most importantly, TRD is life-threatening, and associated with a two- to threefold increased risk of suicide attempts compared to responding patients, and a 15-fold increased risk compared to the general population 109 . Taken together, the evidence indicates that TRD patients need special attention, as outcomes in these individuals are significantly worse.
Novel and existing strategies to improve treatment outcomes
Early identification, prevention, and early treatment.
Numerous programs for suicide prevention exist 110 , and recognizing acute depressive symptoms is just one of many important facets of such work. Screening tools for early identification of depressed patients can be helpful 111 , and such instruments can start with as few as two items—for instance, the Patient Health Questionnaire-2 112 or Ask Suicide-Screening Questions (asQ'em) 113 —and proceed to more detailed instruments if initial screens are positive. Positive screening should be followed by a diagnostic interview to determine whether patients meet criteria for MDD 111 . In the general population, two large independent studies that used only clinical variables were nevertheless able to accurately predict depression within 1–3 years 114 . In addition, long-term monitoring of vulnerable subjects with known SLEs may further improve the ability to identify at-risk individuals early in their course of illness. As noted above, duration of untreated disease is a negative predictor of treatment outcomes. Because the advantages of early intervention in MDD have been demonstrated 115 , efforts to achieve early treatment might also help slow disease progression in individuals with TRD; however, this hypothesis has not been sufficiently tested.
Modeling environmental impact on predisposition
As noted above, severe SLEs constitute an important risk factor. Elegantly designed studies have demonstrated that genetic predisposition, in concert with SLEs, might account for increased vulnerability to MDD 100 . In this manner, the presence of 'weak alleles' in candidate genes such as BDNF, SERT , and others would be increasingly detrimental in the presence of SLEs 116 , 117 . However, studies have been quite inconsistent and yielded small effect sizes, including a negative result in 252 patients enrolled in the GSRD study 118 . It should be noted that counter-regulatory mechanisms or resilience factors, such as social support, may exist that counter SLEs. Nevertheless, preliminary research suggests that the impact of SLEs on MDD may depend on measurable factors such as gender and the timing of exposure 119 . Both genes and the environment are complex systems with frequent opportunity for interaction and elaborate compensatory mechanisms. While the complexity of genetic susceptibility in MDD can be tackled through enormous collaborative projects 94 , the interactions between genetic susceptibility and environmental factors have yet to be determined. Properly powered gene×environment interaction projects may exceed current research capabilities, and large longitudinal studies will certainly be needed 120 .
Developing markers for subgroup identification and disease course
Pioneering research on biological differences—for instance, between patients with atypical versus melancholic depression—suggests differential HPA axis or autonomous nervous system reactivity 121 , 122 , though the subtype results have been only moderately consistent across time and are prone to low group specificity 123 , 124 , 125 . However, at least one study demonstrated the more reliable stability of extreme types over a 2-year period 87 . Interestingly, one study found that individuals with atypical depression had significantly higher body-mass index, waist circumference, levels of inflammatory markers, and triglyceride levels, and lower levels of high-density lipid cholesterol than those with melancholic depression or controls 126 . Using fMRI and biological variables, another study found that MDD subjects could be divided into low/high appetite groups with distinctive correlations between neuronal activity and endocrine, metabolic, and immune states 127 . Other research groups have tried to overcome conventional psychopathological subgroups and model biotypes using resting-state fMRI 69 . Molecular and functional neuroimaging, as well as epigenetic studies, are promising approaches for separating subgroups and may be better suited to identifying screening markers (see Fig. 2 ) that are exclusively valid in certain subgroups with higher predictive power.
These approaches highlight the feasibility of linking and stratifying psychopathological categories with biological variables, a goal further supported by the Research Domain Criteria (RDoc), which seek to link dimensions of observable behavior with neurobiological systems 128 . In the search for biomarkers, subgroup- or domain-specific classifications using unidimensional variables might improve subgroup stratification 129 . Moreover, applying markers to other categories could boost the utility of existing markers that have failed in any given category (see Fig. 2 for established markers). As a field, the focus is largely on staging and prediction markers, but 'predisposition' or 'recurrence' markers may equally be worth investigating. Presently, however, the relative lack of biologically defined MDD subgroups and their stratification are key obstacles to finding and establishing treament outcome predictors appropriate for broader clinical applications.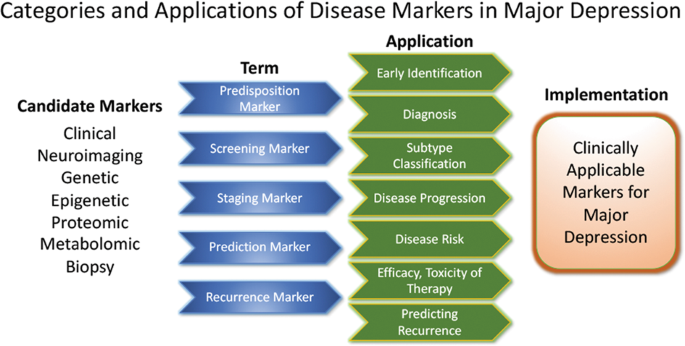 Candidate disease markers can be applied in clinically meaningful ways. While only candidate markers are presently available, sorting these according to their potential applications may facilitate the development of clinically applicable disease markers. The outline follows the classification of markers as suggested by others 200 (modified and reprinted with permission from Springer)
The most important outcome of successful subgroup stratification and staging markers would be that patients and their relatives would receive valuable information at treatment onset about how their disease is likely to improve or worsen. Toward this end, the development of staging methods provides promising solutions. Currently, at least five different methods exist 130 that, to date, have not been evaluated thoroughly enough for clinical implementation. Continuous variables—as obtained by the Maudsley Method and Massachusetts General Hospital Staging Model—appear to provide greater staging advantages than categorical variables. It should be noted here that data indicate that research in severely ill, suicidal, and TRD subjects is safe to conduct in controlled inpatient settings 131 . Presently, patients in various stages of disease and/or treatment history are lumped together and compared in statistical analyses. We propose that staging should be more thoroughly integrated into clinical trial design.
Algorithm- and guideline-based treatments
Despite the availability and distribution of a variety of expert-based guidelines, only a fraction of patients are actually treated according to guidelines 132 (see Table 2 for current guidelines (≤10 years)). New guidelines – particularly for TRD – and more rigorous implementation of guideline-based care are needed. Improvements in currently available treatments have been conducted using treatment algorithms and following sequential treatment strategies, with standardized instructions for therapeutic decision-making. In the past two decades, large, collaborative studies using treatment-based algorithms have introduced standardized, sequential treatments; these include the Texas Medication Algorithm Project 133 , the STAR*D trial 21 , and the German algorithm project 134 . Indeed, evidence suggests that algorithm-based treatments improve treatment outcomes 135 and are cost effective 136 . Here, we considered current clinical treatment guidelines to create a sequential treatment optimization scheme of recommended treatments. While there is no fixed time-frame, first- and second-line treatments are recommended sequentially during the first episode and within 3 months (see Fig. 3 , which also illustrates the need for more third- and fourth-stage treatment options). Figure 4 , illustrates potential reasons for "pseudoresistance" 42 that should be ruled out during this time-frame.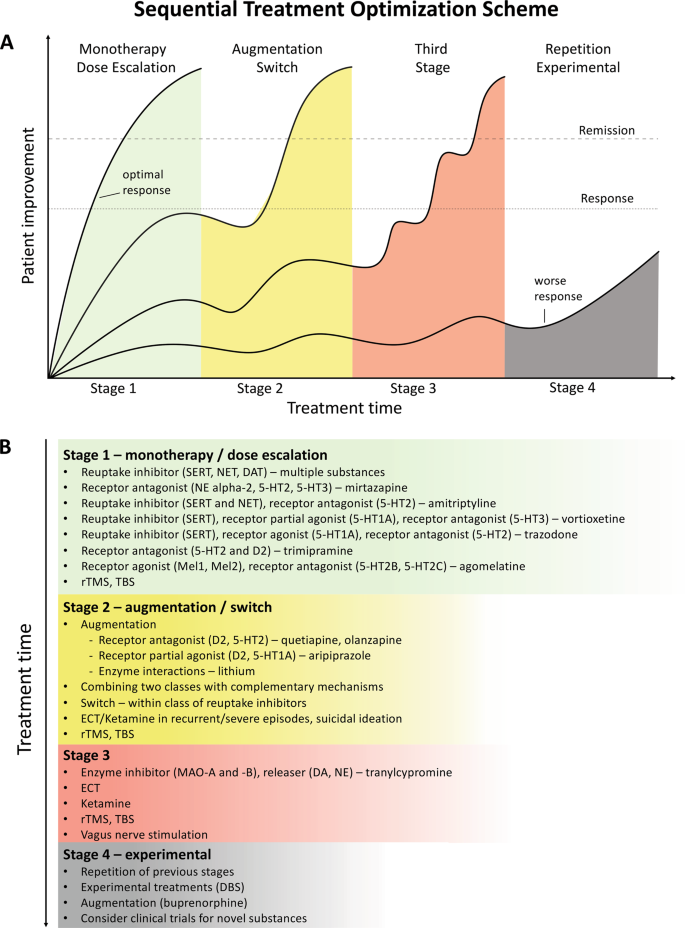 A sequential treatment optimization scheme was generated based on antidepressant treatment guidelines (see Table 2 ). Treatment optimization is possible for patients being treated for the first time but also for patients with insufficient response to first- or second-stage therapies. a Treatment response curves for four common types of patients highlight the importance of sequentially introducing the next step upon non-response to previous steps. b Currently available treatments are listed in neuroscience-based nomenclature 201 with treatment lines corresponding to improvement curves in a . Although current classifications vary, patients classified as having treatment-resistant depression (TRD) are eligible for second- or third-stage therapies. 5-HT1A and similar: serotonin receptor subtypes; DBS: deep brain stimulation; DAT: dopamine transporter; D2: dopamine receptor D2; ECT: electroconvulsive therapy; MAO: monoamine oxidase; NET: noradrenaline transporter; SERT: serotonin transporter; TBS: theta-burst stimulation; rTMS: repetitive transcranial magnetic stimulation; DA: dopamine; NE: norepinephrine.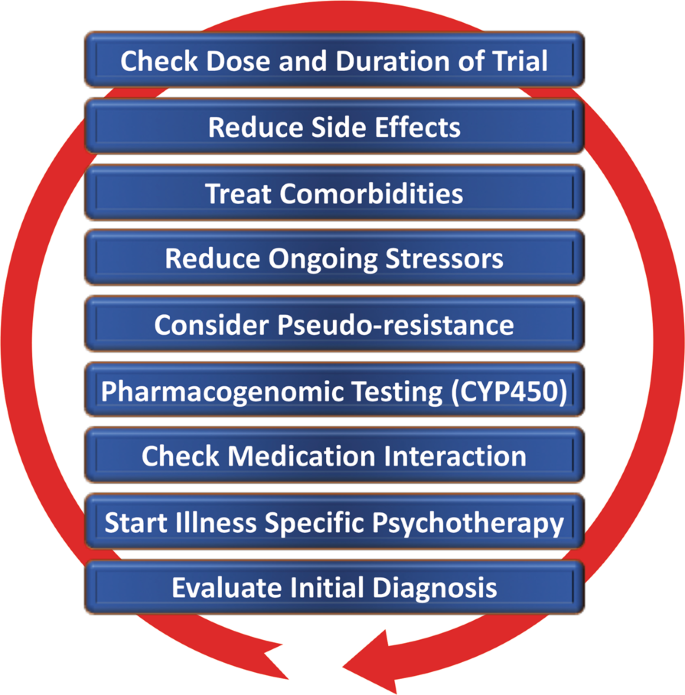 Points—in random order—follow earlier suggestions by Dold and Kasper (2017) 202
Reducing placebo response in clinical trials while harnessing placebo effects in clinical treatment
The issue of placebo response in antidepressant trials has become increasingly important 137 , 138 . Indeed, the contribution of placebo effects to early response needs to be systematically studied in order to disentangle biological therapy-induced effects from psychologically induced effects. Strikingly, in the brain, anatomically similar regions that mediate placebo response are affected by MDD (for a comprehensive review, see ref. 139 ). Several mechanisms contribute to placebo response, including patients' expectations of benefits, behavioral conditions, and the quality of patient-physician interactions 139 . Strategies for reducing placebo response could lead to better discrimination between effective treatments in clinical trials; such strategies include extending trial duration, excluding placebo responders by including a placebo run-in, or using randomized run-in and withdrawal periods 138 , 139 . Others have suggested using more thorough criteria to select study participants 140 . On the other hand, when antidepressant agents are used clinically, placebo effects must be taken advantage of by harnessing patients' expectations and learning mechanisms to improve treatment outcomes 141 .
Novel antidepressant treatments
The recent discovery that glutamatergic-based drugs are uniquely capable of rapidly and robustly treating mood disorders has ushered in a new era in the quest to develop novel and effective antidepressants 142 , 143 , 144 . In this regard, the prototypic glutamatergic modulator ketamine has catalyzed research into new mechanistic approaches and offered hope for the development of novel, fast-acting antidepressants. While ketamine's underlying mechanism of action remains the subject of active investigation, several theories have been propsed 144 . These include N-methyl- d -aspartate receptor (NMDAR)-dependent mechanisms, such as the inhibition of NMDARs on gamma aminobutyric acid (GABA)-ergic interneurons, the inhibition of spontaneous NMDAR-mediated transmission, the inhibition of extrasynaptic NMDARs, the inhibition of lateral habenula neurons, and GABA B receptor expression/function 144 . Substantial evidence also supports additional NMDAR-independent mechanisms, including the stabilization of glutamate release/excitatory transmission, active metabolites such as hydroxynorketamine, regulation of the dopaminergic system, G-alpha subunit translocation, and activation of cyclic adenosine monophosphate, as well as potential sigma-1 and mu-opioid receptor activation 145 . Among those theories, a leading hypothesis remains that NMDAR antagonism increases BDNF synthesis, a process mediated by decreased phosphorylation of eukaryotic elongation factor-2 and the subsequent activation of the mammalian target of rapamycin pathway by BDNF activation of the TrkB receptor 146 , 147 . These putative mechanisms of action are not mutually exclusive and may complement each other to induce potentiation of excitatory synapses in affective-regulating brain circuits, resulting in improved depressive symptoms.
The initial serendipitous discovery that a single, subanesthetic-dose ketamine infusion has rapid-acting antidepressant effects in MDD 148 , a finding subsequently confirmed by numerous randomized trials, has been hailed as one of the most important discoveries in psychiatry in the last decades 149 . The initial proof-of-concept studies demonstrated that a single dose of ketamine (0.5 mg/kg, IV) administered over 40 min led to rapid, robust, and relatively sustained antidepressant effects in TRD—both MDD 150 , 151 , 152 , 153 and bipolar depression 154 , 155 . In research settings, studies of TRD patients found response rates of >70% within 24 h post-infusion 153 , with about 50–70% of participants exhibiting a variable duration of response 156 , 157 . Ketamine has also been shown to be superior to any blinding counterpart 158 . Off-label ketamine use has also been associated with significant and rapid (one to four hours) antisuicidal effects 150 , 159 , 160 , a finding supported by a large, recent metanalysis showing that ketamine exerted rapid (within hours) and sustained (up to 7 days) improvements in suicidal thoughts compared to placebo 161 .
Esketamine hydrochloride
The ketamine enantiomer esketamine received approval by the FDA for TRD and is currently undergoing further Phase III clinical trials. A Phase II, 10-week, clinical trial of flexibly dosed intranasal esketamine (28 mg/56 mg or 84 mg) found that, in TRD patients, this agent demonstrated rapid and clinically relevant improvements in depressive symptoms compared to placebo 162 . Strikingly, 65% of TRD patients met response criteria through Day 57. In another Phase II proof-of-concept, multi-site, 4-week, double-blind study, standard treatment plus intranasal esketamine (84 mg) was compared to standard treatment plus placebo in individuals with MDD at imminent risk of suicide 163 . The authors found a rapid antisuicidal effect, as assessed via the Montgomery-Åsberg Depression Rating Scale Suicide Item score at 4 h.
Other rapid acting and novel antidepressants
Based on the success of ketamine, other rapid-acting or novel antidepressant substances within the glutamatergic/GABA neurotransmitter systems are being developed, several of which are in Phase III clinical trials. A prototype novel substance is AV-101 (L-4-cholorkynurenine). This is a potent selective antagonist at the glycine-binding site of the NMDAR NR1 subunit and has demonstrated antidepressant-like effects in animal models, while human Phase II studies are currently ongoing 164 . Brexanolone is a formulation of the endogenous neurosteroid allopregnanolone, which modulates neuronal activation of GABA A receptors and has met positive endpoints in Phase III, leading to FDA approval for postpartum depression. A comparable substance is under development for MDD 165 . In addition, serotonergic agonists have been studied as our understanding of their mechanism of action (e.g., their effects on glutamate release or plasticity) has increased 166 . Encouraging results have been seen for the serotonin 2A receptor agonist psilocybin 167 , but these findings need to be replicated in larger systematic clinical trials. Initial positive trials of add-on agents—such as buprenorphine 168 , 169 , rapastinel 170 , or scopolamine 145 —have also been conducted. However, it is beyond the scope of this manuscript to review all of these findings, and we refer the interested reader to recent comprehensive reviews of this subject 144 , 145 , 165 , 171 .
Transcranial stimulation paradigms
In contrast to pharmaceutical treatments that exert their efficacy at the molecular level, electrical stimulation techniques target entire neuronal circuits. TMS of the (left) dorsolateral prefrontal cortex has been FDA-approved since 2008 to treat depression in patients who failed to respond to one standard antidepressant treatment. Apart from transient local skin and muscle irritation at the stimulation site and headaches, it is a very safe technique with few side effects. Studies have repeatedly demonstrated the superiority of rTMS over sham procedures, though effect sizes have been moderate 172 , 173 , 174 . Initial studies suggest that rTMS is also effective in TRD but the data are too few to draw definitive conclusions 175 , 176 . Improvements in rTMS techniques known as theta-burst stimulation (TBS) provide significantly shortened treatment times (3 min for TBS versus 37 min for rTMS) and hence allow more patients to be treated per day. A large non-inferiority trial of 414 moderately resistant MDD patients found that TBS was at least as effective as rTMS in reducing depressive symptoms 177 .
Electroconvulsive therapy (ECT)
Regarded as the 'gold standard', ECT has been successfully used for many years to treat severe TRD and exhibits both relatively rapid and sustained onset of efficacy; approximately 50% of all patients reach response criteria at the third treatment, typically within 1 week. It is also one of the most effective antidepressant therapies 178 , yielding response rates of ~80%, remission rates of ~75% 179 , and antisuicidal effects 180 . Remission is achieved by about 30% of patients within six ECT sessions 179 . ECT also reduces the risk of readmission 181 and is likewise safe to use in depressed elderly subjects 182 . The side effects of ECT include intermediate disorientation, impaired learning, and retrograde amnesia, all of which usually resolve 183 . The optimal anatomic location of the stimulus electrodes is a topic of current debate 184 , 185 . Recent evidence suggests that all three methods for electrode placement (bifrontal, bitemporal, and unilateral) show clinically significant effects 186 . While no difference in cognitive side effects was observed, bitemporal placement should be considered the first-line choice for urgent clinical situations. Despite its clinical efficacy, ECT remains underutilized. Its use is declining 187 because it needs to be administered in hospital settings under anesthesia, and partly because of misleading portrayals of the procedure itself. Adjusting the dose of electrical stimuli (e.g., through refined electrode placement or individually adjusted pulse amplitudes) may improve ECT's side effect profile.
Magnetic seizure therapy (MST)
MST uses high doses of rTMS to induce seizures 188 . The electromagnetically induced electrical field generated by MST is unifocal and variable, as there are individual differences in the degree to which the skull provides electrical resistance 189 . As an advantage over ECT, MST is associated with a more superficial stimulation, which exerts less impact on the medial-temporal lobe where cognitive side effects are thought to be elicited. To date, few research sites across the world have used MST, with a concomitant dearth of open-label trials. Nevertheless, the preliminary treatment data suggest that results obtained with MST are similar to those obtained with ECT but with a more favorable side effect profile 190 , 191 .
Vagus nerve stimulation (VNS)
VNS is a surgically implanted pacemaker-like device attached to a stimulating wire threaded along the left vagus nerve. Since 2005, the FDA has approved VNS use for the adjunctive long-term treatment of long-lasting recurrent depression in patients 18 years and older who are experiencing a major depressive episode and have failed to respond to four or more previous adequate standard antidepressant treatment trials. In such cases, it has been shown to have superior long-term effects over conventional psychopharmacological treatment 192 . A recent, large, observational, adjunctive, open-label, naturalistic study followed TRD patients over 5 years 193 . In this group, adjunctive VNS led to significantly better clinical outcomes and higher remission rates than treatment as usual (67.6% vs. 40.9%, respectively).
Deep-brain stimulation (DBS)
DBS involves the neurosurgical implantation of electrodes and has become clinically routine in the treatment of Parkinson's disease and Dystonia. The technique is safe, removable, and does not cause lasting neuronal lesions. In TRD, anatomical targets include the subgenual cingulate, nucleus accumbens, habenula, and medial forebrain bundle. Clinical trials typically only enroll severely ill TRD patients whose current episode has lasted >12 months, whose age of onset is <45 years, and who have failed to respond to at least four adequate prior treatment trials of standard antidepressants, ECT, and/or psychotherapy. Initial open-label or single-blind trials found that DBS had both rapid and sustained antidepressant effects 194 , 195 , 196 . In contrast, one large and one smaller sham-controlled clinical study both failed to achieve their primary endpoints of symptom reduction 197 , 198 . To date, the number of MDD patients treated with DBS has been very small compared to other treatment options, including ECT and TMS. Nevertheless, brain-electrode interfaces are evolving quickly and it is possible that next generation brain-responsive stimulation devices will be able to adjust stimulation on-demand only when abnormal biological marker impulses (e.g., pulse amplitude) are detected 199 .
Conclusions
Although enormous progress has been made in measuring, predicting, and improving outcomes, depression remains a relentless disease that places a heavy burden on both individuals and society. The research reviewed above indicates that early recognition and early adequate treatment at illness onset are preferable to watch-and-wait strategies. The studies reviewed above also underscore the manner in which SLEs, as well as physical and psychiatric comorbidities, contribute to impaired outcomes. Together, these factors contribute toward treatment resistance, which has gained a substantial amount of importance as a patient-stratifying variable.
This paper also reviewed biological markers, where research has grown exponentially to encompass enormous projects with potentially tens of thousands of subjects enrolled in real world studies. In parallel, studies exploring the underlying genetics of depression have evolved from early candidate gene studies of neurotransmitters, stress, or gene-regulatory systems to large GWAS that help reveal potential new pathways and treatment targets. Moreover, the burgeoning field of proteomics has found promising target molecules. Nevertheless, despite the wealth of recent work in this area, no single biomarker has yet been used in clinical applications. A substantial need exists for replication and, because many biomarker studies are currently open-label, for controlled studies. In combination with neuroimaging techniques such as fMRI, genes or blood-based markers have a high potential of future implementation in stratification of MDD or serve as prognostic marker on treatment outcome.
Above, we also outlined efforts to optimize outcomes. We argue that disease-inherent heterogeneity, in concert with inaccurate group stratification tools, might have contributed to the lack of clinically applicable stratification and response prediction markers. Successful subgroup identification, and the ability to use this information in clinical settings, is crucial to improving future treatment paradigms. While recent research has increasingly focused on TRD, we wish to reiterate that no standard definition of TRD presently exists. Thus, based on currently available guidelines, we have outlined a sequential treatment optimization scheme that includes options for TRD; such work highlights the substantial need to develop and improve "third-line-and-beyond" therapeutics. In this context, this manuscript also reviews novel treatments and brain stimulation techniques that have demonstrated rapid antidepressant effects in TRD, including ketamine, esketamine, ECT, MST, TMS/TBS, VNS, DBS, and others. When treating TRD patients, physicians should consider illness severity, the chronicity of past and recent depressive episodes, the side effect profile of available treatment options, as well as previous refractoriness to particular treatment approaches. If acuity supersedes chronicity, one could consider fast-acting interventions such as ketamine or ECT/MST.
This review, though comprehensive, was not able to consider several lines of evidence on outcome prediction and treatment improvement. In particular, we focused on clinical outcomes in humans and were, thus, unable to fully explore the highly valuable advances made in translational science. Similarly, it was beyond the scope of this manuscript to review the richness of results from animal research and their relevance to MDD. Moreover, given the amount of literature, we were not able to incorporate many proteomic, genetic, or psychopharmacological findings.
Taken together, this review outlines important clinical, psychosocial, and biological factors associated with response and remission to antidepressant treatment (see Table 3 ). Recent studies have led to important insights into neurobiological disease markers that could result in improved disease stratification and response prediction in the near future. Key discoveries into novel rapid-acting substances, in concert with improvements in brain stimulation techniques, may also result in significantly improved treatment outcomes in formerly hard-to-treat patients.
Wittchen, H. U. et al. The size and burden of mental disorders and other disorders of the brain in Europe 2010. Eur. Neuropsychopharmacol.: J. Eur. Coll. Neuropsychopharmacol. 21 , 655–679 (2011).
Article   CAS   Google Scholar  
Lim, S. S. et al. A comparative risk assessment of burden of disease and injury attributable to 67 risk factors and risk factor clusters in 21 regions, 1990-2010: a systematic analysis for the Global Burden of Disease Study 2010. Lancet 380 , 2224–2260 (2012).
Article   PubMed   PubMed Central   Google Scholar  
Lecrubier, Y. Widespread underrecognition and undertreatment of anxiety and mood disorders: results from 3 European studies. J . Clin . Psychiatry 68 Suppl 2 , 36–41 (2007).
Riedel, M. et al. Clinical predictors of response and remission in inpatients with depressive syndromes. J. Affect. Disord. 133 , 137–149 (2011).
Article   PubMed   Google Scholar  
Rost, K. et al. Persistently poor outcomes of undetected major depression in primary care. Gen. Hosp. Psychiatry 20 , 12–20 (1998).
Article   CAS   PubMed   Google Scholar  
Ghio, L., Gotelli, S., Marcenaro, M., Amore, M. & Natta, W. Duration of untreated illness and outcomes in unipolar depression: a systematic review and meta-analysis. J. Affect. Disord. 152–154 , 45–51 (2014).
Hung, C. I., Liu, C. Y. & Yang, C. H. Untreated duration predicted the severity of depression at the two-year follow-up point. PLoS ONE 12 , e0185119 (2017).
Article   PubMed   PubMed Central   CAS   Google Scholar  
Bukh, J. D., Bock, C., Vinberg, M. & Kessing, L. V. The effect of prolonged duration of untreated depression on antidepressant treatment outcome. J. Affect. Disord. 145 , 42–48 (2013).
Habert, J. et al. Functional recovery in major depressive disorder: Focus on early optimized treatment. Prim Care Companion CNS Disord. 18 (2016).
Kautzky, A. et al. Clinical factors predicting treatment resistant depression: affirmative results from the European multicenter study. Acta Psychiatr. Scand. 139 , 78–88 (2018).
Furukawa, T. A., Kitamura, T. & Takahashi, K. Time to recovery of an inception cohort with hitherto untreated unipolar major depressive episodes. Br. J. Psychiatry.: J. Ment. Sci. 177 , 331–335 (2000).
Feffer, K. et al. Early symptom improvement at 10 sessions as a predictor of rTMS treatment outcome in major depression. Brain Stimul. 11 , 181–189 (2018).
Martinez-Amoros, E. et al. Early improvement as a predictor of final remission in major depressive disorder: New insights in electroconvulsive therapy. J. Affect. Disord. 235 , 169–175 (2018).
Soares, C. N., Endicott, J., Boucher, M., Fayyad, R. S. & Guico-Pabia, C. J. Predictors of functional response and remission with desvenlafaxine 50 mg/d in patients with major depressive disorder. CNS Spectr. 19 , 519–527 (2014).
Lam, R. W. et al. Predictors of functional improvement in employed adults with major depressive disorder treated with desvenlafaxine. Int Clin. Psychopharmacol. 29 , 239–251 (2014).
Jha, M. K. et al. Early improvement in work productivity predicts future clinical course in depressed outpatients: Findings from the CO-MED trial. Am. J. Psychiatry 173 , 1196–1204 (2016).
Spies, M. et al. Default mode network deactivation during emotion processing predicts early antidepressant response. Transl. Psychiatry 7 , e1008 (2017).
Article   CAS   PubMed   PubMed Central   Google Scholar  
Bartlett, E. A. et al. Pretreatment and early-treatment cortical thickness is associated with SSRI treatment response in major depressive disorder. Neuropsychopharmacol.: Off. Publ. Am. Coll. Neuropsychopharmacol. 43 , 2221–2230 (2018).
Olgiati, P. et al. Early improvement and response to antidepressant medications in adults with major depressive disorder. Meta-analysis and study of a sample with treatment-resistant depression. J. Affect Disord. 227 , 777–786 (2018).
de Vries, Y. A. et al. Predicting antidepressant response by monitoring early improvement of individual symptoms of depression: individual patient data meta-analysis. Br. J. Psychiatry.: J. Ment. Sci. 214 , 1–7 (2018).
Google Scholar  
Trivedi, M. H. et al. Evaluation of outcomes with citalopram for depression using measurement-based care in STAR*D: implications for clinical practice. Am. J. Psychiatry 163 , 28–40 (2006).
Blom, M. B. et al. Severity and duration of depression, not personality factors, predict short term outcome in the treatment of major depression. J. Affect. Disord. 104 , 119–126 (2007).
Kautzky, A. et al. Refining prediction in treatment-resistant depression: results of machine learning analyses in the TRD III sample. J. Clin. Psychiatry 79 , 16m11385 (2018).
Katon, W., Unutzer, J. & Russo, J. Major depression: the importance of clinical characteristics and treatment response to prognosis. Depress Anxiety 27 , 19–26 (2010).
Papakostas, G. I. Surrogate markers of treatment outcome in major depressive disorder. Int. J. Neuropsychopharmacol./Off. Sci. J. Coll. Int. Neuropsychopharmacol. 15 , 841–854 (2012).
Friedman, E. S. et al. Baseline depression severity as a predictor of single and combination antidepressant treatment outcome: results from the CO-MED trial. Eur. Neuropsychopharmacol.: J. Eur. Coll. Neuropsychopharmacol. 22 , 183–199 (2012).
Balestri, M. et al. Socio-demographic and clinical predictors of treatment resistant depression: A prospective European multicenter study. J. Affect Disord. 189 , 224–232 (2016).
Souery, D. et al. Clinical factors associated with treatment resistance in major depressive disorder: results from a European multicenter study. J. Clin. Psychiatry 68 , 1062–1070 (2007).
Mandelli, L. et al. Opinion paper: poor response to treatment of depression in people in high occupational levels. Psychol. Med. 49 , 49–54 (2019).
Kautzky, A. et al. A new prediction model for evaluating treatment-resistant depression. J. Clin. Psychiatry 78 , 215–222 (2017).
Paksarian, D. et al. Stability and change in reported age of onset of depression, back pain, and smoking over 29 years in a prospective cohort study. J. Psychiatr. Res. 88 , 105–112 (2017).
Wells, K. et al. Five-year impact of quality improvement for depression: results of a group-level randomized controlled trial. Arch. Gen. Psychiatry 61 , 378–386 (2004).
Vinkers, C. H. et al. Stress exposure across the life span cumulatively increases depression risk and is moderated by neuroticism. Depress Anxiety 31 , 737–745 (2014).
Kendler, K. S., Kuhn, J. & Prescott, C. A. The interrelationship of neuroticism, sex, and stressful life events in the prediction of episodes of major depression. Am. J. Psychiatry 161 , 631–636 (2004).
Nanni, V., Uher, R. & Danese, A. Childhood maltreatment predicts unfavorable course of illness and treatment outcome in depression: a meta-analysis. Am. J. Psychiatry 169 , 141–151 (2012).
Thompson, A. E. & Kaplan, C. A. Childhood emotional abuse. Br. J. Psychiatry.: J. Ment. Sci. 168 , 143–148 (1996).
Nelson, J., Klumparendt, A., Doebler, P. & Ehring, T. Childhood maltreatment and characteristics of adult depression: meta-analysis. Br. J. Psychiatry.: J. Ment. Sci. 210 , 96–104 (2017).
Article   Google Scholar  
Kendler, K. S. & Gardner, C. O. Sex differences in the pathways to major depression: a study of opposite-sex twin pairs. Am. J. Psychiatry 171 , 426–435 (2014).
Keers, R. et al. Stressful life events, cognitive symptoms of depression and response to antidepressants in GENDEP. J. Affect. Disord. 127 , 337–342 (2010).
Henriksen, C. A. et al. Identifying factors that predict longitudinal outcomes of untreated common mental disorders. Psychiatr. Serv. 66 , 163–170 (2015).
Dennehy, E. B., Marangell, L. B., Martinez, J., Balasubramani, G. K. & Wisniewski, S. R. Clinical and functional outcomes of patients who experience partial response to citalopram: secondary analysis of STAR*D. J. Psychiatr. Pract. 20 , 178–187 (2014).
Dold, M. et al. Clinical characteristics and treatment outcomes of patients with major depressive disorder and comorbid anxiety disorders—results from a European multicenter study. J. Psychiatr. Res. 91 , 1–13 (2017).
Fava, M. et al. Difference in treatment outcome in outpatients with anxious versus nonanxious depression: a STAR*D report. Am. J. Psychiatry 165 , 342–351 (2008).
Angstman, K. B. et al. Personality disorders in primary care: impact on depression outcomes within collaborative care. J. Prim. Care Community Health 8 , 233–238 (2017).
Zeeck, A. et al. Prognostic and prescriptive predictors of improvement in a naturalistic study on inpatient and day hospital treatment of depression. J. Affect. Disord. 197 , 205–214 (2016).
Newton-Howes, G., Tyrer, P. & Johnson, T. Personality disorder and the outcome of depression: meta-analysis of published studies. Br. J. Psychiatry.: J. Ment. Sci. 188 , 13–20 (2006).
Whooley, M. A. et al. Depressive symptoms, health behaviors, and risk of cardiovascular events in patients with coronary heart disease. JAMA 300 , 2379–2388 (2008).
Ducat, L., Philipson, L. H. & Anderson, B. J. The mental health comorbidities of diabetes. JAMA 312 , 691–692 (2014).
Fugger, G. et al. Comorbid thyroid disease in patients with major depressive disorder—results from the European Group for the Study of Resistant Depression (GSRD). Eur. Neuropsychopharmacol. 28 , 752–760 (2018).
Iosifescu, D. V. et al. The impact of medical comorbidity on acute treatment in major depressive disorder. Am. J. Psychiatry 160 , 2122–2127 (2003).
Oslin, D. W. et al. Association between medical comorbidity and treatment outcomes in late-life depression. J. Am. Geriatr. Soc. 50 , 823–828 (2002).
Amital, D. et al. Physical co-morbidity among treatment resistant vs. treatment responsive patients with major depressive disorder. Eur. Neuropsychopharmacol. 23 , 895–901 (2013).
Karp, J. F. et al. Pain predicts longer time to remission during treatment of recurrent depression. J. Clin. Psychiatry 66 , 591–597 (2005).
Ohayon, M. M. & Schatzberg, A. F. Using chronic pain to predict depressive morbidity in the general population. Arch. Gen. Psychiatry 60 , 39–47 (2003).
Racine, M. Chronic pain and suicide risk: A comprehensive review. Prog. Neuropsychopharmacol. Biol. Psychiatry 87 , 269–280 (2018).
Bogner, H. R. et al. The role of medical comorbidity in outcome of major depression in primary care: the PROSPECT study. Am. J. Geriatr. Psychiatry 13 , 861–868 (2005).
MacQueen, G. M., Yucel, K., Taylor, V. H., Macdonald, K. & Joffe, R. Posterior hippocampal volumes are associated with remission rates in patients with major depressive disorder. Biol. Psychiatry 64 , 880–883 (2008).
Phillips, J. L., Batten, L. A., Tremblay, P., Aldosary, F. & Blier, P. A prospective, longitudinal study of the effect of remission on cortical thickness and hippocampal volume in patients with treatment-resistant depression. Int. J. Neuropsychopharmacol. / Off. Sci. J. Coll. Int. Neuropsychopharmacol. 18 , pyv037 (2015).
Frodl, T. et al. Effect of hippocampal and amygdala volumes on clinical outcomes in major depression: a 3-year prospective magnetic resonance imaging study. J. Psychiatry Neurosci. 33 , 423–430 (2008).
PubMed   PubMed Central   Google Scholar  
Fu, C. H., Steiner, H. & Costafreda, S. G. Predictive neural biomarkers of clinical response in depression: a meta-analysis of functional and structural neuroimaging studies of pharmacological and psychological therapies. Neurobiol. Dis. 52 , 75–83 (2013).
Frodl, T. et al. Reduced hippocampal volumes associated with the long variant of the serotonin transporter polymorphism in major depression. Arch. Gen. Psychiatry 61 , 177–183 (2004).
Vythilingam, M. et al. Hippocampal volume, memory, and cortisol status in major depressive disorder: effects of treatment. Biol. Psychiatry 56 , 101–112 (2004).
Schmaal, L. et al. Cortical abnormalities in adults and adolescents with major depression based on brain scans from 20 cohorts worldwide in the ENIGMA Major Depressive Disorder Working Group. Mol. Psychiatry 22 , 900–909 (2017).
Wilkinson, S. T., Sanacora, G. & Bloch, M. H. Hippocampal volume changes following electroconvulsive therapy: a systematic review and meta-analysis. Biol. Psychiatry Cogn. Neurosci. Neuroimaging 2 , 327–335 (2017).
Nordanskog, P. et al. Increase in hippocampal volume after electroconvulsive therapy in patients with depression: a volumetric magnetic resonance imaging study. J. ECT 26 , 62–67 (2010).
Dukart, J. et al. Electroconvulsive therapy-induced brain plasticity determines therapeutic outcome in mood disorders. Proc. Natl Acad. Sci. USA 111 , 1156–1161 (2014).
Gryglewski, G. et al. Structural changes in amygdala nuclei, hippocampal subfields and cortical thickness following electroconvulsive therapy in treatment-resistant depression: longitudinal analysis. Br. J. Psychiatr 214 , 159–167 (2019).
Oltedal, L. et al. Volume of the human hippocampus and clinical response following electroconvulsive therapy. Biol. Psychiatry 84 , 574–581 (2018).
Drysdale, A. T. et al. Resting-state connectivity biomarkers define neurophysiological subtypes of depression. Nat. Med. 23 , 28–38 (2017).
Dunlop, B. W. et al. Functional connectivity of the subcallosal cingulate cortex and differential outcomes to treatment with cognitive-behavioral therapy or antidepressant medication for major depressive disorder. Am. J. Psychiatry 174 , 533–545 (2017).
Pizzagalli, D. A. et al. Pretreatment rostral anterior cingulate cortex theta activity in relation to symptom improvement in depression: A randomized clinical trial. JAMA Psychiatry 75 , 547–554 (2018).
Gryglewski, G., Lanzenberger, R., Kranz, G. S. & Cumming, P. Meta-analysis of molecular imaging of serotonin transporters in major depression. J. Cereb. Blood Flow. Metab. 34 , 1096–1103 (2014).
Spies, M., Knudsen, G. M., Lanzenberger, R. & Kasper, S. The serotonin transporter in psychiatric disorders: insights from PET imaging. Lancet Psychiatry 2 , 743–755 (2015).
Wang, L. et al. Serotonin-1A receptor alterations in depression: a meta-analysis of molecular imaging studies. BMC Psychiatry 16 , 319 (2016).
Miller, J. M. et al. Brain serotonin 1A receptor binding as a predictor of treatment outcome in major depressive disorder. Biol. Psychiatry 74 , 760–767 (2013).
Miller, J. M., Oquendo, M. A., Ogden, R. T., Mann, J. J. & Parsey, R. V. Serotonin transporter binding as a possible predictor of one-year remission in major depressive disorder. J. Psychiatr. Res. 42 , 1137–1144 (2008).
Lanzenberger, R. et al. Prediction of SSRI treatment response in major depression based on serotonin transporter interplay between median raphe nucleus and projection areas. NeuroImage 63 , 874–881 (2012).
Drevets, W. C. Neuroimaging studies of mood disorders. Biol. Psychiatry 48 , 813–829 (2000).
Kennedy, S. H. et al. Differences in brain glucose metabolism between responders to CBT and venlafaxine in a 16-week randomized controlled trial. Am. J. Psychiatry 164 , 778–788 (2007).
Setiawan, E. et al. Role of translocator protein density, a marker of neuroinflammation, in the brain during major depressive episodes. JAMA Psychiatry 72 , 268–275 (2015).
Richards, E. M. et al. PET radioligand binding to translocator protein (TSPO) is increased in unmedicated depressed subjects. EJNMMI Res. 8 , 57 (2018).
Holmes, S. E. et al. Elevated translocator protein in anterior cingulate in major depression and a role for inflammation in suicidal thinking: a positron emission tomography study. Biol. Psychiatry 83 , 61–69 (2018).
Wium-Andersen, M. K., Orsted, D. D. & Nordestgaard, B. G. Elevated plasma fibrinogen, psychological distress, antidepressant use, and hospitalization with depression: two large population-based studies. Psychoneuroendocrinology 38 , 638–647 (2013).
Jha, M. K. et al. Can C-reactive protein inform antidepressant medication selection in depressed outpatients? Findings from the CO-MED trial. Psychoneuroendocrinology 78 , 105–113 (2017).
Kohler-Forsberg, O. et al. Association between C-reactive protein (CRP) with depression symptom severity and specific depressive symptoms in major depression. Brain Behav. Immun. 62 , 344–350 (2017).
Strawbridge, R. et al. Inflammation and clinical response to treatment in depression: A meta-analysis. Eur. Neuropsychopharmacol.: J. Eur. Coll. Neuropsychopharmacol. 25 , 1532–1543 (2015).
Lamers, F. et al. Serum proteomic profiles of depressive subtypes. Transl. Psychiatry 6 , e851 (2016).
Kadriu, B. et al. Acute ketamine administration corrects abnormal inflammatory bone markers in major depressive disorder. Mol. Psychiatry 23 , 1626–1631 (2017).
Machado-Vieira, R. et al. The role of adipokines in the rapid antidepressant effects of ketamine. Mol. Psychiatry 22 , 127–133 (2017).
Schmidt, H. D., Shelton, R. C. & Duman, R. S. Functional biomarkers of depression: diagnosis, treatment, and pathophysiology. Neuropsychopharmacology 36 , 2375–2394 (2011).
Molendijk, M. L. et al. Serum BDNF concentrations as peripheral manifestations of depression: evidence from a systematic review and meta-analyses on 179 associations (N = 9484). Mol. Psychiatry 19 , 791–800 (2014).
Brunoni, A. R., Baeken, C., Machado-Vieira, R., Gattaz, W. F. & Vanderhasselt, M. A. BDNF blood levels after electroconvulsive therapy in patients with mood disorders: a systematic review and meta-analysis. World J. Biol. Psychiatry 15 , 411–418 (2014).
Polyakova, M. et al. BDNF as a biomarker for successful treatment of mood disorders: a systematic & quantitative meta-analysis. J. Affect. Disord. 174 , 432–440 (2015).
Wray, N. R. et al. Genome-wide association analyses identify 44 risk variants and refine the genetic architecture of major depression. Nat. Genet. 50 , 668–681 (2018).
Fabbri, C. et al. Consensus paper of the WFSBP Task Force on Genetics: Genetics, epigenetics and gene expression markers of major depressive disorder and antidepressant response. World J. Biol. Psychiatry 18 , 5–28 (2017).
Kautzky, A. et al. The combined effect of genetic polymorphisms and clinical parameters on treatment outcome in treatment-resistant depression. Eur. Neuropsychopharmacol. 25 , 441–453 (2015).
Stamm, T. J. et al. The FKBP5 polymorphism rs1360780 influences the effect of an algorithm-based antidepressant treatment and is associated with remission in patients with major depression. J. Psychopharmacol. 30 , 40–47 (2016).
Binder, E. B. et al. Polymorphisms in FKBP5 are associated with increased recurrence of depressive episodes and rapid response to antidepressant treatment. Nat. Genet. 36 , 1319–1325 (2004).
Fabbri, C. et al. Pleiotropic genes in psychiatry: Calcium channels and the stress-related FKBP5 gene in antidepressant resistance. Prog. Neuropsychopharmacol. Biol. Psychiatry 81 , 203–210 (2018).
Klengel, T. & Binder, E. B. Gene x environment interactions in the prediction of response to antidepressant treatment. Int. J. Neuropsychopharmacol./Off. Sci. J. Coll. Int. Neuropsychopharmacol. 16 , 701–711 (2013).
CAS   Google Scholar  
Schosser, A. & Kasper, S. The role of pharmacogenetics in the treatment of depression and anxiety disorders. Int. Clin. Psychopharmacol. 24 , 277–288 (2009).
Zeier, Z. et al. Clinical implementation of pharmacogenetic decision support tools for antidepressant drug prescribing. Am. J. Psychiatry 175 , 873–886 (2018).
Jukic, M. M., Haslemo, T., Molden, E. & Ingelman-Sundberg, M. Impact of CYP2C19 genotype on escitalopram exposure and therapeutic failure: A retrospective study based on 2,087 patients. Am. J. Psychiatry 175 , 463–470 (2018).
Bauer, M. et al. World Federation of Societies of Biological Psychiatry (WFSBP) guidelines for biological treatment of unipolar depressive disorders, part 1: update 2013 on the acute and continuation treatment of unipolar depressive disorders. World J. Biol. Psychiatry 14 , 334–385 (2013).
Uher, R. et al. Melancholic, atypical and anxious depression subtypes and outcome of treatment with escitalopram and nortriptyline. J. Affect. Disord. 132 , 112–120 (2011).
Arnow, B. A. et al. Depression subtypes in predicting antidepressant response: A report from the iSPOT-D trial. Am. J. Psychiatry 172 , 743–750 (2015).
Kasper, S. & Montgomery, S. A. Ohio Library and Information Network, Wiley Online Library (Online service). Treatment-resistant Depression , 1 online resource (2013).
Schosser, A. et al. European Group for the Study of Resistant Depression (GSRD)–where have we gone so far: review of clinical and genetic findings. Eur. Neuropsychopharmacol. 22 , 453–468 (2012).
Bergfeld, I. O. et al. Treatment-resistant depression and suicidality. J. Affect. Disord. 235 , 362–367 (2018).
Mann, J. J. et al. Suicide prevention strategies: a systematic review. JAMA 294 , 2064–2074 (2005).
Nimalasuriya, K., Compton, M. T. & Guillory, V. J., Prevention Practice Committee of the American College of Preventive M. Screening adults for depression in primary care: A position statement of the American College of Preventive Medicine. J. Fam. Pract. 58 , 535–538 (2009).
PubMed   Google Scholar  
Kroenke, K., Spitzer, R. L. & Williams, J. B. The Patient Health Questionnaire-2: validity of a two-item depression screener. Med. Care 41 , 1284–1292 (2003).
Horowitz, L. M. et al. Ask suicide-screening questions to everyone in medical settings: the asQ'em Quality Improvement Project. Psychosomatics 54 , 239–247 (2013).
King, M. et al. Predicting onset of major depression in general practice attendees in Europe: extending the application of the predictD risk algorithm from 12 to 24 months. Psychol. Med. 43 , 1929–1939 (2013).
Kupfer, D. J., Frank, E. & Perel, J. M. The advantage of early treatment intervention in recurrent depression. Arch. Gen. Psychiatry 46 , 771–775 (1989).
Lopizzo, N. et al. Gene-environment interaction in major depression: focus on experience-dependent biological systems. Front. Psychiatry 6 , 68 (2015).
Gutierrez, B. et al. The risk for major depression conferred by childhood maltreatment is multiplied by BDNF and SERT genetic vulnerability: a replication study. J. Psychiatry Neurosci.: JPN 40 , 187–196 (2015).
Serretti, A. et al. The impact of adverse life events on clinical features and interaction with gene variants in mood disorder patients. Psychopathology 46 , 384–389 (2013).
Herbison, C. E., Allen, K., Robinson, M., Newnham, J. & Pennell, C. The impact of life stress on adult depression and anxiety is dependent on gender and timing of exposure. Dev. Psychopathol. 29 , 1443–1454 (2017).
Keers, R. & Uher, R. Gene-environment interaction in major depression and antidepressant treatment response. Curr. Psychiatry Rep. 14 , 129–137 (2012).
Gold, P. W. & Chrousos, G. P. Organization of the stress system and its dysregulation in melancholic and atypical depression: high vs low CRH/NE states. Mol. Psychiatry 7 , 254–275 (2002).
Carroll, B. J. et al. A specific laboratory test for the diagnosis of melancholia. Standardization, validation, and clinical utility. Arch. Gen. Psychiatry 38 , 15–22 (1981).
Musil, R. et al. Subtypes of depression and their overlap in a naturalistic inpatient sample of major depressive disorder. Int. J. Methods Psychiatr. Res . 27 (2018).
Angst J., Gamma A., Benazzi F., Ajdacic V., Rossler W. Melancholia and atypical depression in the Zurich study: epidemiology, clinical characteristics, course, comorbidity and personality. Acta Psychiatr. Scand. Suppl. 72–84 (2007).
Ionescu, D. F., Niciu, M. J., Henter, I. D. & Zarate, C. A. Defining anxious depression: a review of the literature. CNS Spectr. 18 , 252–260 (2013).
Lamers, F. et al. Evidence for a differential role of HPA-axis function, inflammation and metabolic syndrome in melancholic versus atypical depression. Mol. Psychiatry 18 , 692–699 (2013).
Simmons, W. K. et al. Appetite changes reveal depression subgroups with distinct endocrine, metabolic, and immune states. Mol. Psychiatry , https://doi.org/10.1038/s41380-018-0093-6 (2018).
Woody, M. L. & Gibb, B. E. Integrating NIMH research domain criteria (RDoC) into depression. Res. Curr. Opin. Psychol. 4 , 6–12 (2015).
Ballard, E. D. et al. Parsing the heterogeneity of depression: An exploratory factor analysis across commonly used depression rating scales. J. Affect. Disord. 231 , 51–57 (2018).
Ruhe, H. G., van Rooijen, G., Spijker, J., Peeters, F. P. & Schene, A. H. Staging methods for treatment resistant depression. A systematic review. J. Affect. Disord. 137 , 35–45 (2012).
Nugent, A. C. et al. Safety of research into severe and treatment-resistant mood disorders: analysis of outcome data from 12 years of clinical trials at the US National Institute of Mental Health. Lancet Psychiatry 3 , 436–442 (2016).
Herzog, D. P. et al. Guideline adherence of antidepressant treatment in outpatients with major depressive disorder: a naturalistic study. Eur. Arch. Psychiatry Clin. Neurosci. 267 , 711–721 (2017).
Trivedi, M. H. et al. Clinical results for patients with major depressive disorder in the Texas Medication Algorithm Project. Arch. Gen. Psychiatry 61 , 669–680 (2004).
Adli, M. et al. How effective is algorithm-guided treatment for depressed inpatients? results from the randomized controlled multicenter german algorithm project 3 trial. Int J. Neuropsychopharmacol. 20 , 721–730 (2017).
Bauer, M. et al. Efficacy of an algorithm-guided treatment compared with treatment as usual: a randomized, controlled study of inpatients with depression. J. Clin. Psychopharmacol. 29 , 327–333 (2009).
Ricken, R. et al. Algorithm-guided treatment of depression reduces treatment costs–results from the randomized controlled German Algorithm Project (GAPII). J. Affect. Disord. 134 , 249–256 (2011).
Khan, A. & Brown, W. A. Antidepressants versus placebo in major depression: an overview. World Psychiatry 14 , 294–300 (2015).
Fava, M., Evins, A. E., Dorer, D. J. & Schoenfeld, D. A. The problem of the placebo response in clinical trials for psychiatric disorders: culprits, possible remedies, and a novel study design approach. Psychother. Psychosom. 72 , 115–127 (2003).
Enck, P., Bingel, U., Schedlowski, M. & Rief, W. The placebo response in medicine: minimize, maximize or personalize? Nat. Rev. Drug Discov. 12 , 191–204 (2013).
Desseilles, M. et al. Massachusetts general hospital SAFER criteria for clinical trials and research. Harv. Rev. Psychiatry 21 , 269–274 (2013).
Finniss, D. G., Kaptchuk, T. J., Miller, F. & Benedetti, F. Biological, clinical, and ethical advances of placebo effects. Lancet 375 , 686–695 (2010).
Henter, I. D., de Sousa, R. T. & Zarate, C. A. Jr. Glutamatergic modulators in depression. Harv. Rev. Psychiatry 26 , 307–319 (2018).
Ionescu, D. F. & Papakostas, G. I. Current trends in identifying rapidly acting treatments for depression. Curr. Behav. Neurosci. Rep. 3 , 185–191 (2016).
Kadriu, B. et al. Glutamatergic neurotransmission: pathway to developing novel rapid-acting antidepressant treatments. Int. J. Neuropsychopharmacol. / Off. Sci. J. Coll. Int. Neuropsychopharmacol. 22 , 119–135 (2018).
Zanos, P. et al. Convergent mechanisms underlying rapid antidepressant action. CNS Drugs 32 , 197–227 (2018).
Li, N. et al. mTOR-dependent synapse formation underlies the rapid antidepressant effects of NMDA antagonists. Science 329 , 959–964 (2010).
Autry, A. E. et al. NMDA receptor blockade at rest triggers rapid behavioural antidepressant responses. Nature 475 , 91–95 (2011).
Berman, R. M. et al. Antidepressant effects of ketamine in depressed patients. Biol. Psychiatry 47 , 351–354 (2000).
Duman, R. S. & Aghajanian, G. K. Synaptic dysfunction in depression: potential therapeutic targets. Science 338 , 68–72 (2012).
Diazgranados, N. et al. Rapid resolution of suicidal ideation after a single infusion of an N-methyl-D-aspartate antagonist in patients with treatment-resistant major depressive disorder. J. Clin. Psychiatry 71 , 1605–1611 (2010).
Iadarola, N. D. et al. Ketamine and other N-methyl-D-aspartate receptor antagonists in the treatment of depression: a perspective review. Ther. Adv. Chronic Dis. 6 , 97–114 (2015).
Ibrahim, L. et al. Rapid decrease in depressive symptoms with an N-methyl-d-aspartate antagonist in ECT-resistant major depression. Progress. neuro-Psychopharmacol. Biol. Psychiatry 35 , 1155–1159 (2011).
Zarate, C. A. et al. A randomized trial of an N-methyl-D-aspartate antagonist in treatment-resistant major depression. Arch. Gen. Psychiatry 63 , 856–864 (2006).
Diazgranados, N. et al. A randomized add-on trial of an N-methyl-D-aspartate antagonist in treatment-resistant bipolar depression. Arch. Gen. Psychiatry 67 , 793–802 (2010).
Zarate, C. A. et al. Replication of ketamine's antidepressant efficacy in bipolar depression: a randomized controlled add-on trial. Biol. Psychiatry 71 , 939–946 (2012).
aan het Rot, M. et al. Safety and efficacy of repeated-dose intravenous ketamine for treatment-resistant depression. Biol. Psychiatry 67 , 139–145 (2010).
Wan, L. B. et al. Ketamine safety and tolerability in clinical trials for treatment-resistant depression. J. Clin. Psychiatry 76 , 247–252 (2015).
Murrough, J. W. et al. Rapid and longer-term antidepressant effects of repeated ketamine infusions in treatment-resistant major depression. Biol. Psychiatry 74 , 250–256 (2013).
Murrough, J. W. et al. Ketamine for rapid reduction of suicidal ideation: a randomized controlled trial. Psychol. Med. 45 , 3571–3580 (2015).
Price, R. B., Nock, M. K., Charney, D. S. & Mathew, S. J. Effects of intravenous ketamine on explicit and implicit measures of suicidality in treatment-resistant depression. Biol. Psychiatry 66 , 522–526 (2009).
Wilkinson, S. T. et al. The effect of a single dose of intravenous ketamine on suicidal ideation: a systematic review and individual participant data meta-analysis. Am. J. Psychiatry 175 , 150–158 (2018).
Daly, E. J. et al. Efficacy and safety of intranasal esketamine adjunctive to oral antidepressant therapy in treatment-resistant depression: A randomized clinical trial. JAMA Psychiatry 75 , 139–148 (2018).
Canuso, C. M. et al. Efficacy and safety of intranasal esketamine for the rapid reduction of symptoms of depression and suicidality in patients at imminent risk for suicide: results of a double-blind, randomized, placebo-controlled study. Am. J. Psychiatry 175 , 620–630 (2018).
Zanos, P. et al. The prodrug 4-chlorokynurenine causes ketamine-like antidepressant effects, but not side effects, by NMDA/glycineB-site inhibition. J. Pharmacol. Exp. Ther. 355 , 76–85 (2015).
Wilkinson, S. T. & Sanacora, G. A new generation of antidepressants: an update on the pharmaceutical pipeline for novel and rapid-acting therapeutics in mood disorders based on glutamate/GABA neurotransmitter systems. Drug Discov. Today 24 , 606–615 (2018).
Article   PubMed   CAS   PubMed Central   Google Scholar  
Vollenweider, F. X. & Kometer, M. The neurobiology of psychedelic drugs: implications for the treatment of mood disorders. Nat. Rev. Neurosci. 11 , 642–651 (2010).
Carhart-Harris, R. L. et al. Psilocybin with psychological support for treatment-resistant depression: an open-label feasibility study. Lancet Psychiatry 3 , 619–627 (2016).
Karp, J. F. et al. Safety, tolerability, and clinical effect of low-dose buprenorphine for treatment-resistant depression in midlife and older adults. J. Clin. Psychiatry 75 , e785–e793 (2014).
Fava, M. et al. Opioid modulation with buprenorphine/samidorphan as adjunctive treatment for inadequate response to antidepressants: A randomized double-blind placebo-controlled trial. Am. J. Psychiatry 173 , 499–508 (2016).
Preskorn, S. et al. Randomized proof of concept trial of GLYX-13, an N-methyl-D-aspartate receptor glycine site partial agonist, in major depressive disorder nonresponsive to a previous antidepressant agent. J. Psychiatr. Pract. 21 , 140–149 (2015).
Garay, R. P. et al. Investigational drugs in recent clinical trials for treatment-resistant depression. Expert Rev. Neurother. 17 , 593–609 (2017).
Kolbinger, H. M., Hoflich, G., Hufnagel, A., Moller, H. J. & Kasper, S. Transcranial magnetic stimulation (TMS) in the treatment of major depression—a pilot study. Human. Psychopharmacol. 10 , 305–310 (1995).
Lisanby, S. H. et al. Daily left prefrontal repetitive transcranial magnetic stimulation in the acute treatment of major depression: clinical predictors of outcome in a multisite, randomized controlled clinical trial. Neuropsychopharmacol.: Off. Publ. Am. Coll. Neuropsychopharmacol. 34 , 522–534 (2009).
Brunoni, A. R. et al. Repetitive transcranial magnetic stimulation for the acute treatment of major depressive episodes: A systematic review with network meta-analysis. JAMA Psychiatry 74 , 143–152 (2017).
Benadhira, R. et al. A randomized, sham-controlled study of maintenance rTMS for treatment-resistant depression (TRD). Psychiatry Res 258 , 226–233 (2017).
Cusin, C. & Dougherty, D. D. Somatic therapies for treatment-resistant depression: ECT, TMS, VNS, DBS. Biol. Mood Anxiety Disord. 2 , 14 (2012).
Blumberger, D. M. et al. Effectiveness of theta burst versus high-frequency repetitive transcranial magnetic stimulation in patients with depression (THREE-D): a randomised non-inferiority trial. Lancet 391 , 1683–1692 (2018).
Fava, M. Diagnosis and definition of treatment-resistant depression. Biol. Psychiatry 53 , 649–659 (2003).
Husain, M. M. et al. Speed of response and remission in major depressive disorder with acute electroconvulsive therapy (ECT): a Consortium for Research in ECT (CORE) report. J. Clin. Psychiatry 65 , 485–491 (2004).
Kellner, C. H. et al. Relief of expressed suicidal intent by ECT: a consortium for research in ECT study. Am. J. Psychiatry 162 , 977–982 (2005).
Slade, E. P., Jahn, D. R., Regenold, W. T. & Case, B. G. Association of electroconvulsive therapy with psychiatric readmissions in US hospitals. JAMA Psychiatry 74 , 798–804 (2017).
Kellner, C. H. et al. Right unilateral ultrabrief pulse ECT in geriatric depression: phase 1 of the PRIDE study. Am. J. Psychiatry 173 , 1101–1109 (2016).
McClintock, S. M. et al. Multifactorial determinants of the neurocognitive effects of electroconvulsive therapy. J. ECT 30 , 165–176 (2014).
Fink, M. & Taylor, M. A. Electroconvulsive therapy: evidence and challenges. JAmA 298 , 330–332 (2007).
American Psychiatric Association. Task Force on Electroconvulsive Therapy. The practice of ECT: recommendations for treatment, training and privileging. Convuls. Ther. 6 , 85–120 (1990).
Kellner, C. H. et al. Bifrontal, bitemporal and right unilateral electrode placement in ECT: randomised trial. Br. J. Psychiatry.: J. Ment. Sci. 196 , 226–234 (2010).
Wilkinson, S. T., Agbese, E., Leslie, D. L. & Rosenheck, R. A. Identifying recipients of electroconvulsive therapy: data from privately insured Americans. Psychiatr. Serv. 69 , 542–548 (2018).
Lisanby, S. H., Schlaepfer, T. E., Fisch, H. U. & Sackeim, H. A. Magnetic seizure therapy of major depression. Arch. Gen. Psychiatry 58 , 303–305 (2001).
Deng, Z. -D., Lisanby, S. H. & Peterchev, A. V. Electric field strength and focality in electroconvulsive therapy and magnetic seizure therapy: a finite element simulation study. J. Neural Eng. 8 , 016007 (2011).
Fitzgerald, P. B. et al. Pilot study of the clinical and cognitive effects of high-frequency magnetic seizure therapy in major depressive disorder. Depress Anxiety 30 , 129–136 (2013).
Kayser, S. et al. Magnetic seizure therapy in treatment-resistant depression: clinical, neuropsychological and metabolic effects. Psychol. Med. 45 , 1073–1092 (2015).
Nahas, Z. et al. Two-year outcome of vagus nerve stimulation (VNS) for treatment of major depressive episodes. J. Clin. Psychiatry 66 , 1097–1104 (2005).
Aaronson, S. T. et al. A 5-Year observational study of patients with treatment-resistant depression treated with vagus nerve stimulation or treatment as usual: comparison of response, remission, and suicidality. Am. J. Psychiatry 174 , 640–648 (2017).
Schlaepfer, T. E., Bewernick, B. H., Kayser, S., Madler, B. & Coenen, V. A. Rapid effects of deep brain stimulation for treatment-resistant major depression. Biol. Psychiatry 73 , 1204–1212 (2013).
Bewernick, B. H. et al. Nucleus accumbens deep brain stimulation decreases ratings of depression and anxiety in treatment-resistant depression. Biol. Psychiatry 67 , 110–116 (2010).
Bergfeld, I. O. et al. Deep brain stimulation of the ventral anterior limb of the internal capsule for treatment-resistant depression: A randomized clinical trial. JAMA Psychiatry 73 , 456–464 (2016).
Dougherty, D. D. et al. A randomized sham-controlled trial of deep brain stimulation of the ventral capsule/ventral striatum for chronic treatment-resistant depression. Biol. Psychiatry 78 , 240–248 (2015).
Holtzheimer, P. E. et al. Subcallosal cingulate deep brain stimulation for treatment-resistant depression: a multisite, randomised, sham-controlled trial. Lancet Psychiatry 4 , 839–849 (2017).
Widge, A. S., Malone, D. A. Jr. & Dougherty, D. D. Closing the loop on deep brain stimulation for treatment-resistant depression. Front Neurosci. 12 , 175 (2018).
Jain, K. K. in The Handbook of Biomarkers . 1–26 (Springer New York, New York, NY, 2017).
Zohar, J. et al. A review of the current nomenclature for psychotropic agents and an introduction to the Neuroscience-based Nomenclature. Eur. Neuropsychopharmacol.: J. Eur. Coll. Neuropsychopharmacol. 25 , 2318–2325 (2015).
Dold, M. & Kasper, S. Evidence-based pharmacotherapy of treatment-resistant unipolar depression. Int J. Psychiatry Clin. Pract. 21 , 13–23 (2017).
Colle, R. et al. BDNF/TRKB/P75NTR polymorphisms and their consequences on antidepressant efficacy in depressed patients. Pharmacogenomics 16 , 997–1013 (2015).
Porcelli, S., Fabbri, C. & Serretti, A. Meta-analysis of serotonin transporter gene promoter polymorphism (5-HTTLPR) association with antidepressant efficacy. Eur. Neuropsychopharmacol.: J. Eur. Coll. Neuropsychopharmacol. 22 , 239–258 (2012).
Download references
Acknowledgements
We thank the 7SE research unit and staff for their support. Ioline Henter (NIMH) provided invaluable editorial assistance. We also thank E. Acevedo-Diaz, Z.D. Deng, and J.W. Evans for scientific input.
Author information
Authors and affiliations.
Department of Psychiatry and Psychotherapy, Medical University of Vienna, Vienna, Austria
Christoph Kraus, Rupert Lanzenberger & Siegfried Kasper
Section on Neurobiology and Treatment of Mood Disorders, Intramural Research Program, National Institute of Mental Health, National Institutes of Health, Bethesda, MD, USA
Christoph Kraus, Bashkim Kadriu & Carlos A. Zarate Jr.
You can also search for this author in PubMed   Google Scholar
Corresponding author
Correspondence to Siegfried Kasper .
Ethics declarations
Conflict of interest.
Funding for this work was supported in part by the Intramural Research Program at the National Institute of Mental Health, National Institutes of Health (IRP-NIMH-NIH; ZIA MH002927). All support given to authors was not related to the design of the manuscript or the ideas stated in this review. Dr. Kasper received grants/research support, consulting fees, and/or honoraria within the last 3 years from Angelini, AOP Orphan Pharmaceuticals AG, AstraZeneca, Eli Lilly, Janssen, KRKA-Pharma, Lundbeck, Neuraxpharm, Pfizer, Pierre Fabre, Schwabe, and Servier. Dr. Lanzenberger received travel grants and/or conference speaker honoraria from AstraZeneca, Lundbeck A/S, Dr. Willmar Schwabe GmbH, Orphan Pharmaceuticals AG, Janssen-Cilag Pharma GmbH, and Roche Austria GmbH. Dr. Kraus has received travel grants from Roche Austria GmbH and AOP Orphan. Dr. Zarate is a full-time U.S government employee. He is listed as a co-inventor on a patent for the use of ketamine in major depression and suicidal ideation; as a co-inventor on a patent for the use of (2 R ,6 R )-hydroxynorketamine, ( S )-dehydronorketamine, and other stereoisomeric dehydro and hydroxylated metabolites of ( R,S )-ketamine metabolites in the treatment of depression and neuropathic pain; and as a co-inventor on a patent application for the use of (2 R ,6 R )-hydroxynorketamine and (2 S ,6 S )-hydroxynorketamine in the treatment of depression, anxiety, anhedonia, suicidal ideation, and post-traumatic stress disorders. He has assigned his patent rights to the U.S. government but will share a percentage of any royalties that may be received by the government.
Additional information
Publisher's note: Springer Nature remains neutral with regard to jurisdictional claims in published maps and institutional affiliations.
Rights and permissions
Open Access This article is licensed under a Creative Commons Attribution 4.0 International License, which permits use, sharing, adaptation, distribution and reproduction in any medium or format, as long as you give appropriate credit to the original author(s) and the source, provide a link to the Creative Commons license, and indicate if changes were made. The images or other third party material in this article are included in the article's Creative Commons license, unless indicated otherwise in a credit line to the material. If material is not included in the article's Creative Commons license and your intended use is not permitted by statutory regulation or exceeds the permitted use, you will need to obtain permission directly from the copyright holder. To view a copy of this license, visit http://creativecommons.org/licenses/by/4.0/ .
Reprints and Permissions
About this article
Cite this article.
Kraus, C., Kadriu, B., Lanzenberger, R. et al. Prognosis and improved outcomes in major depression: a review. Transl Psychiatry 9 , 127 (2019). https://doi.org/10.1038/s41398-019-0460-3
Download citation
Received : 07 November 2018
Revised : 10 January 2019
Accepted : 11 February 2019
Published : 03 April 2019
DOI : https://doi.org/10.1038/s41398-019-0460-3
Share this article
Anyone you share the following link with will be able to read this content:
Sorry, a shareable link is not currently available for this article.
Provided by the Springer Nature SharedIt content-sharing initiative
This article is cited by
Anti-inflammatory effects of β-fna are sex-dependent in a pre-clinical model of lps-induced inflammation.
Stephanie Myers
Kelly McCracken
Randall L. Davis
Journal of Inflammation (2023)
Effects of bilateral sequential theta-burst stimulation on 5-HT1A receptors in the dorsolateral prefrontal cortex in treatment-resistant depression: a proof-of-concept trial
Matej Murgaš
Jakob Unterholzner
Pia Baldinger-Melich
Translational Psychiatry (2023)
Introducing a depression-like syndrome for translational neuropsychiatry: a plea for taxonomical validity and improved comparability between humans and mice
Iven-Alex von Mücke-Heim
Lidia Urbina-Treviño
Jan M. Deussing
Molecular Psychiatry (2023)
Predicting treatment outcome in depression: an introduction into current concepts and challenges
Nicolas Rost
Elisabeth B. Binder
Tanja M. Brückl
European Archives of Psychiatry and Clinical Neuroscience (2023)
A novel 4 immune-related genes as diagnostic markers and correlated with immune infiltrates in major depressive disorder
BMC Immunology (2022)
Quick links
Explore articles by subject
Guide to authors
Editorial policies

Literature Review Examples
Usually, a literature review can be described as an objective, concise, and critical summary of published research literature pertinent to the subject being researched in an article. A literature can be an end in itself (an analysis of what is known about a topic) or a prologue to and rationale for engaging in primary research.
Basic Guidelines
The following are guidelines on how to write a literature review:
Organize the literature review around key topics of concepts. Use headings or topic sentences to convey your organizational principle.
Tell a story about the research. This will assist you with your organization.
Be selective. Incorporate only studies that are pertinent to your subject.
Synthesize and evaluate.
Use a summary to assist the reader to relate every section to the wider topic and to clarify your argument's movement. Where have we just been and where are we heading to?
Organizing Tips
When writing your literature review, place background information, for example, explanations of a theoretical model or clinical situation, at sections where it will be most helpful for your readers. For instance, if various researchers have utilized a similar theoretical approach, define that framework before reviewing those studies.
Split your literature review into segments with appropriate descriptions, following the guidelines of the documentation system you're using. Your outline provides the basis for this division since it has already clustered studies together under headings and subheadings.
Conclude each section in your review with a summary section or paragraph. The summary's length ought to reflect the length of the section. Conclude the whole review with a summary that recaps the most important aspects and findings. This final summary is also the section where you'll make major comparisons, convey your opinion or critique the adequacy of research methods and approaches, and identify inconsistencies. Your critique enables you to end your literature review by posing unanswered questions, proposing approaches upcoming research. If your literature review is an introduction to your study, your critique ought to support the rationale for carrying out the research. You'll then state your research question(s) and hypothesis.
Example of a Literature Review Conclusion
Here is an example of a literature review conclusion:
" The objective of this review was to view the trends in composition studies within the past fifty years and see how commentary on student writing has transformed and is still transforming. It's clear from the research reviewed that evaluative commentary is widely practiced all through composition programs in universities today. Together with this, it's also evident that the field of composition studies in regards to the kinds of commentary that students get on their writing is varied and continues to be examined and analyzed to benefit both composition students and the society at large. Moreover, corrective vs. evaluative commentary is still being discussed, and continues to be problematic in the discourse community of college composition and also high school writing as viewed in Bardine et al.'s research." Assisting students to become better writers is important in our current society with reducing school budgets."
Outlining Your Review
Assuming that you want to compose a literature review concerning the efficiency of short-term group therapy in lowering depression amongst residents of a nursing home. You've now done research and compiled a list of the areas covered by your research:
Pharmacological treatment of depression
The elderly in nursing homes
Measurement tools for depression
Utilization of psychotherapy among the elderly
Depression - causes, behavioral manifestations, and effects
Societal attitudes towards aging
Impacts of group therapy
Side effects of drugs utilized to treat depression
Psychological issues in the elderly
A possible outline for the literature review can be:
Depression in general
Causation theories
Behavioral manifestation
Depression in the elderly, especially in nursing homes (problem and its scope)
Impacts of therapy on depression
Long-term - disadvantages
The outline moves from general to specific. As you proceed down the outline, you'll deal with the material in rising depth, just as the significance of the information to your project rises.
Concerns about Sentence Level
Look at how the following literature review example apa impacts readability: sentence strength, focus, placement of citation, active vs. passive voice, and transition.
" The relationship that exists between motivation and the decision to attain literacy has been examined by Smith (1975), Jones (1983), and Brown (1988). Motivation entails various expectations (Snappe, 1986; Krkel, 1988). A large study done by Amundson (1981) examined the beliefs people entering literacy programs, particularly outcome expectations and self-efficacy regardless of obstacles. Paape (1979), and in a follow-up project Johnson (1985), examined resistance to motivational efforts or the tendency to overlook information about an issue that's difficult to acknowledge. A literacy promotion program needs to overcome the inclination to minimize the problem and to assist people to believe."
" Research suggests that various factors influence an adult' decision to obtain literacy. Individuals need to be motivated to make such a decision (Smith, 1975; Jones, 1983; Brown, 1988). Motivation involves at least two types of expectations (Snappe, 1986: Krakel, 1988). One must believe that literacy will positively affect one's life (outcome expectations) and also one can succeed in the effort to learn new skills regardless of obstacles (Amunon, 1981). Other research reveals that when the problem isn't easy to acknowledge, people tend to overlook information about, that is, to resist motivational efforts 9Paape, 1979; Johnson, 1985). All these findings suggest that a literacy promotion program needs to overcome the tendency to minimize the problem and to assist people to believe."
Comparing the above literature review example paragraphs ought to demonstrate how some rhetorical choices impact readability and clarity.
Some guidelines;
Use headings and topic sentences to inform readers what the subject is and what point the material is contributing to the discussion.
Do not just point to the existence of literature on the topic; compose about methods or results in the studies you discuss.
Test sentences for relevance to the main point.
Put citations where they don't distract from the line of thought you are presenting.
Utilize active verbs that are strong and rich in content.
Make use of transition words.
Your tone should be objective as you summarize the research. Don't allow your objectivity to turn your literature review to an annotated bibliography. Instead, point out as you proceed how studies relate to one another (for example, Smith (1988) and Jones (1990) utilized various samples to study the same phenomenon).
Try to be analytical. Composing a review is an exercise in comparative thinking. Your critique should be in your final discussion, where they will be more efficient and significant to the reader.
Connect paragraphs to one another, and link studies within paragraphs. Try to make your literature review attractive by coming up with the topic sentence of each paragraph in a way that it achieves two things: it hooks in a way to the previous paragraph and also reveals what this new paragraph will be about, for instance; "In contrast to these studies, which have tried to measure the amount of stress a person is subjected to, various researchers are now concentrating on a person's perception of demanding life events."
These connections may need to be made within a paragraph and also among a group of paragraphs, for instance, "Jones (1989) and Smith (1991) were amongst the first persons to investigate the impacts of abuse towards children... Like Jones, Smith also utilized the State-Trait Inventory but incorporated males in his sample" or "Lee's studies of learned vulnerability support this study's view of modification of behavior as situation-specific."
Select verbs that precisely describe what the research did; hypothesized, questioned, developed, executed, measured, tested, and modified have divergent meanings.
Use direct quotes sparingly. They take up more space than sentences constructed to recap the original. Quotations my comprise concept and vocabulary not familiar to the reader.
Utilize verb tenses appropriately. Use the past tense to recap studies and procedures, for instance, "At least a third of those sampled in one study said that they would both reject socially and dread violence from someone exhibiting behaviors associated with various mental illnesses." Use the present perfect tense to suggest that something has happened more than once in the past and may be continuing; for instance, "In the last twenty years, researchers have often concentrated on the effects of posttraumatic stress disorder." Moreover, use the present tense to define theory and instruments , (for instance,"Developmental undertakings are key to Piaget's theory") , to discuss and critique (for instance,"The utilization of self-report has two main drawbacks") , and to generalize (for example"These findings imply that adult learners prefer self-evaluation") . In addition, use the active and passive voice correctly. The active voice ("Jennifer repeated the test with three samples") is not as wordy as the passive voice ("This test was repeated with three samples by Jennifer"). Nevertheless, it's good to use the passive voice when the object is more important than the subject (for instance,"The players from the senior team were shown the video"); when the subject is unknown ("This phenomenon was first defined in line with 18 th century standards") ; when it wouldn't be a good idea to identify the subject ("The first set of data wasn't correctly coded") ; and when putting the object before the subject more lucidly connects to a previous sentence or paragraph ("...screen techniques that increase job satisfaction. These techniques were also assessed..."). Overuse of the passive voice implies that research is happening by itself and the reader will be confused about who's doing what.
Don'ts of Writing a Literature Review
Citing supportive sources only - It is crucial that you also mention those studies that contradict your stance. In other words, mention some dissenting studies and explain why they deviate from your thinking.
Using non-scholarly articles.
Depending on direct quotations - Even though it's okay to include direct quotations, don't depend on them too much.
Composing a narrowly-focused literature review.
If you want to know more about how to write a literature review, the information above will greatly assist you. Remember, a literature review can be termed as discursive prose, not a list summarizing several pieces of literature. Organize your review into segments that present themes or pinpoint trends, including pertinent theory. Your task isn't to list all published material; it's to synthesize and examine it in line with the guiding concept of your research question or thesis.
To see how these tips are brought to life, go through an example of literature review. Contact us today for some literature review samples.
CHS 211 literature review
Contributed By: Nina Machin
What is a literature review?
A literature review is a comprehensive study and interpretation of the literature (articles, studies, journals) for a specific topic (Aveyard 2014).
The primary role of the researcher when conducting a literature review is to try and make sense of all the research. Imagine that a journal article is a single puzzle piece; when you are writing a literature review you are taking all of these different puzzle pieces, trying to get them to fit together to ultimately answer your research question.
According to the Royal Literary Fund, a literature review has four main objectives:
Survey the research in a given field
Synthesize that information
Extract the key components
Critically analyze the information presented.
This is done by looking at new relationships among the data, finding and discussing areas where further research could be conducted, analyzing the limitations placed upon the researchers, and addressing gaps in the research ,
Things to expect from a literature review:
Provide an overview of the data in a given field
Discover or establish new relationships among the data collected
Build upon previous research and look at it in a new manner
Research question
All literature reviews have a research question which helps guide the analysis of sources such as journal articles—both scholarly and peer-reviewed.
Formulating a research question
What is the purpose of a research question.
Researchers use research questions to help guide their research and the writing process itself. A research question should be a focused, concise, complex and arguable question, answered with the help of the sources you gather.
How do I come up with a research question?
Find a research topic
Choose a subject that is interesting to you
Read (a lot). Find articles to see what scholars and other researchers are talking about
Select a topic that can be attainably answered in the given time period
Ask open-ended questions such as "how" and "why"
"How do cultural barriers affect the development of postpartum depressive symptoms in Hispanic women?"
"Why are the combination of anti-depressants and therapy a more effective combination for individuals suffering from depression over other alternative forms of treatment?"
Avoid bias— remain as neutral as possible to any results that may come from your research
To what extent is cognitive behavioral therapy better than medications for treating depression
Avoid questions that can be answered with yes or no
"Is football more dangerous of a sport compared to baseball or tennis"
Developing your question using the PICOT method
The PICOT method can help you in structuring your research question. PICOT stands for
P opulation I ntervention or issue C omparison or context O utcome T ime
In theory, a research question using the PICOT method would address each of these areas of focus.
An example research question following the PICOT method is
To what extent is the development and exacerbatio n of postpartum depression in Latina women shaped by cultural factors during their pregnancies and after ?
P opulation: Latina women
I ssue: of postpartum depressio n
C ontext: development and exacerbation
O utcome: cultural factors
T ime: during their pregnancies and after
The anatomy of a research question
"To what extent does depression affect the quality of school work and social relations in college aged individuals?"
To what extent does depression
This first part of the question addresses the "how" of your research question. This is how you will be looking at the subject of your literature review
the quality of school work and social relations
Next you have your "what" section. What relationship are you trying to establish, or what variables are you looking at?
college aged individuals
Here is the "who" of your question. The "who" includes both the subject that you are looking at as well as the demographic affected by the issue that you are looking at.
Words and phrases to include in a research question
To what extent…?
What is the relationship…?
What factors lead to…?
What are the main (factors, causalities, variables) …?
How does (x) affect…?
Cultural contexts,
Social relations,
Personal beliefs that affect the subject of your research question.
The demographic of your research question can be based on sex, age, income level, geographic location, or ethnic group.
Finding sources
Finding good sources is arguably one of the most important things to your success in writing your literature review. Without solid sources that actually pertain to your topic, you will find writing your review difficult.
The first thing you want to start with are databases. Google will not do the job, as it does not filter for the type of sources you will need. Literature reviews primarily use scholarly or peer-reviewed articles. You can find these types of sources through accessing Google Scholar, University Mathewson-IGT Knowledge Center Database, or Pub Med to begin your search.
How do I figure out what a good resource is?
There is unfortunately no magic trick in finding good sources for a literature review. It takes time and patience to find articles that will help in answering your research question.
However, here are some tips that help in making your search easier:
Choose recent articles . The more recent the better. A general rule of thumb is to look within a ten-year window—however that can easily change based upon the subject of your review.
Ex: If you are looking at the benefits of organic farming practices, you are better off choosing an article from 2012 versus 1995, as more recent articles will be a better reflection of the field currently.
Read the abstracts . Abstracts are the SparkNotes of a journal article. They are beneficial in that that give you a rough idea of what the article is about. However, be careful with relying only on abstracts as they do not tell you all the important findings in an article. They are best used when you are in the initial stages of your research need to choose articles
Read the discussion section. The discussion section is where you will find analysis about the findings of the research. It will help you establish whether or not this article will work as one of your sources for your literature review. Going through the discussion gives you the implications of the research; telling you, the reader, why it was important that the researchers did x, y, and z.
Important note: These suggestions are meant to make your life easier when you are in the preliminary stages of research. However, once you start writing the actual literature review it is crucial that you read the entire article to have a complete understanding of what is going on in the research.
What are the different types of research?
Systematic reviews, quantitative research, qualitative research.
Systematic reviews are also known as literature reviews (something you are doing yourself). They have detailed research methodologies and aim to summarize a body of knowledge. They are best used to assist the researcher in gaining a cohesive image of the problem, as well as provide more sources that can be potentially used in their own literature review.
Quantitative research is known for its use of numerical data and experimental methods. Quantitative research is broken down into several different categories which include randomized controlled trials, cohort and case control studies, and cross-sectional studies.
Randomized controlled trials (RCTs)
RCTs are a form of clinical trials, which aim to look at the effectiveness of treatment or medicine. They are best used if your literature review is comparing whether X is better than Y or if X is effective or not.
Cohort and case control studies
Cohort and case control trials are forms of observational studies; this means that these studies aim to establish a relationship between different variables. They seek to determine if a certain variable is the cause of something else. These are best used if you are trying to find the cause and association between different variables.
Cross-sectional studies
Cross-sectional studies utilize a sample (group of individuals) to answer a survey or questionnaire. Cross-sectional studies are used to provide a glimpse into the characteristics of a sample of the population at a given time. They are best used when you are trying to measure the behaviors, actions or beliefs of a group of individuals.
Qualitative research aims to explore meaning and occurrence of a particular issue within its natural setting. The main concern of qualitative research is to gather information on the experience of an individual in a given setting. This type of research is best used when you aim to explore an issue rather than quantitatively measure it through the use of statistics.
Important note: It is important to know what type of research studies you want to look at as the research method does not provide a one-size-fits-all approach for all literature reviews.
What is a critical appraisal?
A critical appraisal is a structured assessment of the strengths and weaknesses of each of the articles collected during research and an analysis of the article and its relevance to your own literature review.
There are several things that should be kept in mind while doing a critical appraisal
Does the article hold any relevance? Will it help answer my research question?
Is this article well-researched and free of bias?
Is my understanding of the article furthered? Do I understand the choices the researcher made and how it ultimately affected their perception of the data?
Questions to ask yourself while doing a critical appraisal
(adapted from how to write a literature review in health care).
Where did you find the information?
Did you find it in a database? Was it published in a scientific journal? Was it pulled from a news article?
What type of article is it? What are the key findings or results?
Is it a research study or discussion post? Can the results or findings from this information be useful for certain groups or even the general population?
How did the author(s) come to the conclusions stated in their work?
Does their reasoning/logic make sense? Do the conclusions of the research line up with the findings?
When was this written?
Older information shouldn't be immediately disregarded; however, the more recent the better.
Who wrote it?
Was the research carried out by a single individual or a group of researchers? Did they receive funding from an organization that could have influenced their findings? Are there any biases that the researcher(s) could have?
Why was it written?
What group was this information intended to benefit? Who was it written for?
Introduction
In the most basic of terms, the main purpose of the introduction section of a literature review is to introduce the topic. John Swales, a British linguist detailed a set of steps that are commonly seen within the introductory section of a literature review or journal article. These steps have been dubbed as "Swales Moves."
What do I include in my introduction?
The first move is to Establish the territory (the situation)
Establishing the territory is done by demonstrating why the general area of interest you are researching has value to a broad audience (i.e. think the general public interested in health, not just your professor)
Ask yourself what problem you are attempting to address with your literature review (e.g. AIDS education for recent generations that did not experience the AIDS epidemic).
Additionally, you should synthesize areas of previous research that will be relevant in your literature review.
This synthesis should not be a drawn-out in-depth analysis, instead it is brief look at the area of focus and other studies that have also looked at this area of focus.
The second move is to Establish a niche (the problem)
Think of establishing the niche as creating the argument of why the research is important and why it needs to be done.
This is can be done by referencing gaps in previous research, providing concerns about assumptions in the field, or raising a question.
Are there areas in prior research that were overlooked (gap)?
Have researchers not examined the relationship between a problem and variable (x)?
The third and final move is Occupying the niche (the solution)
This is where you will verbatim state the purpose of the study and what new knowledge you aim to find or present through your literature review.
It often follows the format of "this literature review aims to look at…" or "this literature review will…" or "this literature review aims to analyze…". Any variant of the aforementioned phrases will work clarify to your reader what the literature review will be looking at.
For a literature review focused on depression, an example of "occupying the niche" for your introduction would look like:
"The aim of this literature review is to analyze to what extent depression affects the quality of school work and social relations in college-aged individuals"
The methods are the how-to book of a literature review. Methods sections are not meant to be a masterpiece of writing; they are a set of directions that could be followed by another researcher if they wished to replicate your research. The methods also contribute to your ethos as a researcher, demonstrating that you understand how to conduct and analyze data in the ways that are expected for a literature review.
What do I put in my methods section?
Methods sections typically contain the following criteria:
Where you conducted your research
databases, search engines (Google Scholar, PubMed, Medline)
What keywords were used in the search bar
Using an example of depression in college students, potential keywords you would use while searching would be "depression" "college-aged" "effects of depression" "depression in social life" "depression and school."
Inclusion and exclusion criteria
The most important takeaway for this section is to let the audience know what articles you did or did not use.
If you included all articles that pertained to college-aged individuals that would be your inclusion criteria.
However, if you did not use articles that looked at adults over a certain age, or articles that mentioned other mental disorders, that would be a part of your exclusion
Inclusion and exclusion criteria can also include the structure of the study (cohort, RCT, etc.) age of the study, year range, populations studied and region the study was conducted in.
One of the main objectives of the results section is to report the findings of the study ; this should be done in a way where the author's own point of view or their analysis of the data is not provided.
What do I include in my results section?
Charts, figures, tables (if relevant to the topic; they're not always necessary)
Detailed description of the results gathered from the different articles used. Note the most important topics and details from each.
Typically , the structure of the results section goes something like this:
Present a result, explain what is means (without providing too much analysis—save that for the discussion), then present the next result and so forth.
Here are some key rules for the results section:
Present your results in an objective manner.
DO include negative results, or results that contradict what you initially thought. This will show areas for possible further research.
Do NOT include your own interpretation of the data.
Avoid including data that does not directly answer your research question(s).
How do I cite my sources in the results?
If you are writing specifically in APA style, make sure that each of your results has the following elements: 1) has the proper citation 2) paraphrased (do not use direct quotations). There are a few ways you can cite in APA. Notice the different places that you can put the citation, based on how you format the sentence.
In the following examples notice the different ways you can cite.
In Coburn, Gonzales, Luecken, and Crnic (2016) their study demonstrated that overall family stress was positively associated with depressive symptoms at the 6-week mark after giving birth.
Prenatal life stress domains were the main indicators that predicted the development of depressive symptoms (Liu, Giallo, Doan, Seidman, & Tronick, 2016).
In Abrams et al. (2009), researchers noted that providers considered the strong family ethic or "familism" found in Latin families is a barrier that inhibits Latina women from seeking formal help.
More information on in-text citations in APA .
More information on in-text citations in AMA .
How do I break up all my research?
An important aspect of breaking down and organizing your findings results is to identify themes; these will be headings and subheadings when you format your paper. Themes are developed from the main findings of the results; they are concepts or ideas that reoccur throughout your study of the literature.
It is crucial that before you develop themes that you have first read ALL of the articles you intend to use in your literature review, so you have a clear understanding of the information.
For example, if we look back to our earlier example of postpartum depression in Hispanic women, hypothetical themes that could be drawn from the research are as follows:
Negative perceptions of health care professionals
Role of family in the development of postpartum depression
Perception of mental illness in Latin culture
An example of what would NOT be a theme is
These themes are derived from reoccurring topics that appear in the articles found. It is not possible to develop themes until you have read all the articles—they are shaped by the research itself.
How to format headings and subheadings in APA .
How to format headings and subheadings in AMA .
While the results were meant to report the findings of the study, the discussion is intended to interpret and describe the significance of your findings (USC Libraries). In the most basic of terms your discussion tells the reader the connections (or lack of) between the findings of all the various literature (the studies) you reviewed.
What should I include in my discussion section?
Explanation of the major results: This is where you would tell the reader whether or not the results you found are what you expected; make sure to note any surprising findings, or any unexpected patterns and trends.
Lots of analysis: Your results section was a fact dump— you were presenting the reader with a lot of information and there was little to no analysis. Your discussion should be the opposite. Analysis is important because it tells the reader what the information you found means. It's especially important to address any unexpected findings from the articles and interpret what that could potentially mean.
Limitations and weaknesses: A sign of a good researcher is being able to acknowledge areas in your research that may have weaknesses. That includes potential biases that would skew your interpretation of the data, or other outside forces that would affect data collection (think time constraints, man-power, funding).
Areas for further research: Literature reviews do not intend to give a completely comprehensive understanding of a particular topic. Instead, literature reviews are giving the researcher a better understanding of a topic. By stating areas where further research could be done, you the researcher are opening up the possibility for more research to be conducted, as well as recognizing that your literature review did not answer everything.
The conclusion in the most basic of terms is the wrap up of your literature review. The main thing that should be accomplished in the conclusion is to summarize the main points from your review.
Depending on the expectations of your professor or advisor, the content of the discussion can vary. The conclusion section can also include the following elements:
Limitations and weaknesses of the study
Areas for further research
Gaps in the research
The abstract of a literature review is like the summary on the back of a book. It's not meant to divulge all the details of the literature review, but it should give the reader an idea of whether or not it is something that pertains to their interests.
Abstracts should include the following:
Reason for writing your literature review (Why is there a "need" for this research?)
Statement of the research question(s)
Methods used to conduct research (database, keywords)
Results (what were the most important or interesting findings from the entire results section?)
Significance (what takeaways from your research are important? Is there anything from your research that should be implemented into practice?)
USC Libraries (2020, August 6). Organizing your social sciences research paper. http://libguides.usc.edu/writingguide/results
USC Libraries (2020, August 6). Organizing your social sciences research CARS model paper. http://libguides.usc.edu/writingguide/CARS
University of Minnesota (2020). Conducting a systematic review. https://libguides.umn.edu/systematicreviews
The Essay Writing Experts UK Essay Experts
Disclaimer: This is an example of a student written essay. Click here for sample essays written by our professional writers.
View full disclaimer
This essay may contain factual inaccuracies or out of date material. Please refer to an authoritative source if you require up-to-date information on any health or medical issue.
Literature review on depressive disorders
Reference this
Prevalence and Incidence
If you need assistance with writing your essay, our professional essay writing service is here to help!
Risk Factors
Personality, childhood experiences, marital status, social classes and occupation, physical illness, genetic models of depression, endocrine models of depression, neurochemical models of depression, cellular models of depression, neuroimaging models of depression, psychosocial factors, psychological factors, psychodynamic theories of depression, interpersonal theory (ipt), the cognitive model, behavioral models.
Our academic experts are ready and waiting to assist with any writing project you may have. From simple essay plans, through to full dissertations, you can guarantee we have a service perfectly matched to your needs.
Subtypes of Depressive Disorders:
Major depressive disorder (mdd), unipolar and bipolar depression, melancholic depression, masked depression, seasonal depression, psychotic depression, dysthymic disorder, double depression, cite this work.
To export a reference to this article please select a referencing stye below:
Related Services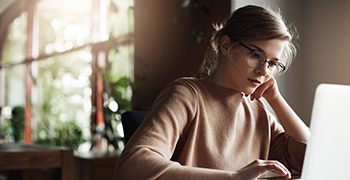 Essay Writing Service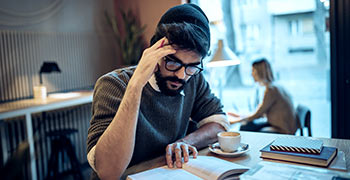 Dissertation Writing Service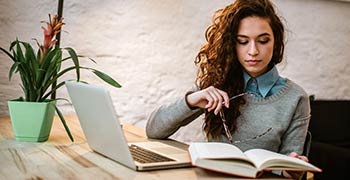 Assignment Writing Service
DMCA / Removal Request
If you are the original writer of this essay and no longer wish to have your work published on UKEssays.com then please:
Our academic writing and marking services can help you!
Find out more about our Essay Writing Service
Undergraduate 2:2
7 day delivery
Marking Service
Samples of our Service
Full Service Portfolio
Related Lectures
Study for free with our range of university lectures!

Freelance Writing Jobs
Looking for a flexible role? Do you have a 2:1 degree or higher?
Study Resources
Free resources to assist you with your university studies!
Dissertation Resources at UKDiss.com
How to Write an Essay
Essay Buyers Guide
Referencing Tools
Essay Writing Guides
Masters Writing Guides
Search Support Articles
*You can also browse our support articles here >
Change Region / Country
Here you can choose which regional hub you wish to view, providing you with the most relevant information we have for your specific region. If your specific country is not listed, please select the UK version of the site, as this is best suited to international visitors.
United Kingdom
United States
United Arab Emirates
Saudi Arabia
Purdue Online Writing Lab College of Liberal Arts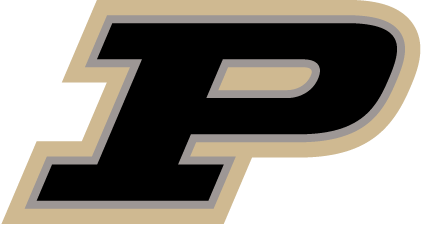 Writing a Literature Review

Welcome to the Purdue OWL
This page is brought to you by the OWL at Purdue University. When printing this page, you must include the entire legal notice.
Copyright ©1995-2018 by The Writing Lab & The OWL at Purdue and Purdue University. All rights reserved. This material may not be published, reproduced, broadcast, rewritten, or redistributed without permission. Use of this site constitutes acceptance of our terms and conditions of fair use.
A literature review is a document or section of a document that collects key sources on a topic and discusses those sources in conversation with each other (also called synthesis ). The lit review is an important genre in many disciplines, not just literature (i.e., the study of works of literature such as novels and plays). When we say "literature review" or refer to "the literature," we are talking about the research ( scholarship ) in a given field. You will often see the terms "the research," "the scholarship," and "the literature" used mostly interchangeably.
Where, when, and why would I write a lit review?
There are a number of different situations where you might write a literature review, each with slightly different expectations; different disciplines, too, have field-specific expectations for what a literature review is and does. For instance, in the humanities, authors might include more overt argumentation and interpretation of source material in their literature reviews, whereas in the sciences, authors are more likely to report study designs and results in their literature reviews; these differences reflect these disciplines' purposes and conventions in scholarship. You should always look at examples from your own discipline and talk to professors or mentors in your field to be sure you understand your discipline's conventions, for literature reviews as well as for any other genre.
A literature review can be a part of a research paper or scholarly article, usually falling after the introduction and before the research methods sections. In these cases, the lit review just needs to cover scholarship that is important to the issue you are writing about; sometimes it will also cover key sources that informed your research methodology.
Lit reviews can also be standalone pieces, either as assignments in a class or as publications. In a class, a lit review may be assigned to help students familiarize themselves with a topic and with scholarship in their field, get an idea of the other researchers working on the topic they're interested in, find gaps in existing research in order to propose new projects, and/or develop a theoretical framework and methodology for later research. As a publication, a lit review usually is meant to help make other scholars' lives easier by collecting and summarizing, synthesizing, and analyzing existing research on a topic. This can be especially helpful for students or scholars getting into a new research area, or for directing an entire community of scholars toward questions that have not yet been answered.
What are the parts of a lit review?
Most lit reviews use a basic introduction-body-conclusion structure; if your lit review is part of a larger paper, the introduction and conclusion pieces may be just a few sentences while you focus most of your attention on the body. If your lit review is a standalone piece, the introduction and conclusion take up more space and give you a place to discuss your goals, research methods, and conclusions separately from where you discuss the literature itself.
Introduction:
An introductory paragraph that explains what your working topic and thesis is
A forecast of key topics or texts that will appear in the review
Potentially, a description of how you found sources and how you analyzed them for inclusion and discussion in the review (more often found in published, standalone literature reviews than in lit review sections in an article or research paper)
Summarize and synthesize: Give an overview of the main points of each source and combine them into a coherent whole
Analyze and interpret: Don't just paraphrase other researchers – add your own interpretations where possible, discussing the significance of findings in relation to the literature as a whole
Critically Evaluate: Mention the strengths and weaknesses of your sources
Write in well-structured paragraphs: Use transition words and topic sentence to draw connections, comparisons, and contrasts.
Conclusion:
Summarize the key findings you have taken from the literature and emphasize their significance
Connect it back to your primary research question
How should I organize my lit review?
Lit reviews can take many different organizational patterns depending on what you are trying to accomplish with the review. Here are some examples:
Chronological : The simplest approach is to trace the development of the topic over time, which helps familiarize the audience with the topic (for instance if you are introducing something that is not commonly known in your field). If you choose this strategy, be careful to avoid simply listing and summarizing sources in order. Try to analyze the patterns, turning points, and key debates that have shaped the direction of the field. Give your interpretation of how and why certain developments occurred (as mentioned previously, this may not be appropriate in your discipline — check with a teacher or mentor if you're unsure).
Thematic : If you have found some recurring central themes that you will continue working with throughout your piece, you can organize your literature review into subsections that address different aspects of the topic. For example, if you are reviewing literature about women and religion, key themes can include the role of women in churches and the religious attitude towards women.
Qualitative versus quantitative research
Empirical versus theoretical scholarship
Divide the research by sociological, historical, or cultural sources
Theoretical : In many humanities articles, the literature review is the foundation for the theoretical framework. You can use it to discuss various theories, models, and definitions of key concepts. You can argue for the relevance of a specific theoretical approach or combine various theorical concepts to create a framework for your research.
What are some strategies or tips I can use while writing my lit review?
Any lit review is only as good as the research it discusses; make sure your sources are well-chosen and your research is thorough. Don't be afraid to do more research if you discover a new thread as you're writing. More info on the research process is available in our "Conducting Research" resources .
As you're doing your research, create an annotated bibliography ( see our page on the this type of document ). Much of the information used in an annotated bibliography can be used also in a literature review, so you'll be not only partially drafting your lit review as you research, but also developing your sense of the larger conversation going on among scholars, professionals, and any other stakeholders in your topic.
Usually you will need to synthesize research rather than just summarizing it. This means drawing connections between sources to create a picture of the scholarly conversation on a topic over time. Many student writers struggle to synthesize because they feel they don't have anything to add to the scholars they are citing; here are some strategies to help you:
It often helps to remember that the point of these kinds of syntheses is to show your readers how you understand your research, to help them read the rest of your paper.
Writing teachers often say synthesis is like hosting a dinner party: imagine all your sources are together in a room, discussing your topic. What are they saying to each other?
Look at the in-text citations in each paragraph. Are you citing just one source for each paragraph? This usually indicates summary only. When you have multiple sources cited in a paragraph, you are more likely to be synthesizing them (not always, but often
Read more about synthesis here.
The most interesting literature reviews are often written as arguments (again, as mentioned at the beginning of the page, this is discipline-specific and doesn't work for all situations). Often, the literature review is where you can establish your research as filling a particular gap or as relevant in a particular way. You have some chance to do this in your introduction in an article, but the literature review section gives a more extended opportunity to establish the conversation in the way you would like your readers to see it. You can choose the intellectual lineage you would like to be part of and whose definitions matter most to your thinking (mostly humanities-specific, but this goes for sciences as well). In addressing these points, you argue for your place in the conversation, which tends to make the lit review more compelling than a simple reporting of other sources.
Back to School Offer
Get 20% of Your First Order amount back in Reward Credits!
Get 20% of Your First Order back in Rewards
Undergraduate
High School
Architecture
American History
Asian History
Antique Literature
American Literature
Asian Literature
Classic English Literature
World Literature
Creative Writing
Linguistics
Criminal Justice
Legal Issues
Anthropology
Archaeology
Political Science
World Affairs
African-American Studies
East European Studies
Latin-American Studies
Native-American Studies
West European Studies
Family and Consumer Science
Social Issues
Women and Gender Studies
Social Work
Natural Sciences
Pharmacology
Earth science
Agriculture
Agricultural Studies
Computer Science
IT Management
Mathematics
Investments
Engineering and Technology
Engineering
Aeronautics
Medicine and Health
Alternative Medicine
Communications and Media
Advertising
Communication Strategies
Public Relations
Educational Theories
Teacher's Career
Chicago/Turabian
Company Analysis
Education Theories
Shakespeare
Canadian Studies
Food Safety
Relation of Global Warming and Extreme Weather Condition
Movie Review
Admission Essay
Annotated Bibliography
Application Essay
Article Critique
Article Review
Article Writing
Book Review
Business Plan
Business Proposal
Capstone Project
Cover Letter
Creative Essay
Dissertation
Dissertation - Abstract
Dissertation - Conclusion
Dissertation - Discussion
Dissertation - Hypothesis
Dissertation - Introduction
Dissertation - Literature
Dissertation - Methodology
Dissertation - Results
GCSE Coursework
Grant Proposal
Marketing Plan
Multiple Choice Quiz
Personal Statement
Power Point Presentation
Power Point Presentation With Speaker Notes
Questionnaire
Reaction Paper
Research Paper
Research Proposal
SWOT analysis
Thesis Paper
Online Quiz
Literature Review
Movie Analysis
Statistics problem
Math Problem
All papers examples
How It Works
Money Back Policy
Terms of Use
Privacy Policy
Donate Paper
We Are Hiring
Adolensce Teen Suicide and Depression, Literature Review Example
Pages: 8
Words: 2288
This Literature Review was written by one of our professional writers.
You are free to use it as an inspiration or a source for your own work.
Need a custom Literature Review written for you?
From depressive disorder numerous children and adolescents are struggling. Various even do not look for treatment or any kind a help due to the fact that their signs or symptoms are not realized as depression. Adolescents and children who suffer depression actually view their selves as weak person, and with that social stigma connected to mental illness they usually do not obtain needed treatment. Sometimes the symptoms of depression are very devastating that affected adolescents are not able reach for help. Signs sometimes are wrongly diagnosed.
Every year around 19 million individuals get effected from the Depression which a very critical mental disorder. Roughly 20% of youth have documented the experience of signs and symptoms of depression at some point of their lives and on the other hand the suicide is the third leading reason of adolescents' death. Approximately 70% children and adolescents who faces major depressive episode experience the recurrence within 5 years. The number of Adolescents with depressive disorder has been growing and few of them get the treatments needed. In children and adolescents depression is not unusual, for many outcomes it usually escapes diagnosis. Until 1980, it was not considered as a childhood disease by many professional psychiatric. It was believed that children could not suffer from a depressive disorder. Out teens are facing many challenges including constellations, violence, drugs that are available at every corner, economic meltdown and most importantly loosening community bonds.
"The National Institute for Mental Health (2000) has reported that in the United States as many as 3% of all children and 8% of all adolescents are diagnosed with depression. Statistics provided by the American Academy of Child and Adolescent Psychiatry state that once a young person has experienced an episode of major depression, he or she is at risk of experiencing another episode within the next five years"(Bailey, 2007 ).
Problem suicide
In the United States teens suicide is becoming critical problem. According to the data collected recently shows those approximately 7000 completions and 40000 attempts of suicide among the teens population in the United States. Suicide was 3 rd leading cause of death five years ago among 11 to 24 year age. While during 10 year period, suicide among white males jumped to 40 percent. It is very hard to quantify the full extent of adolescents suicide problem due to the fact that many suicide are reported as accidents because of religious believes , family embarrassment or community discomfort.
Suicidal ideation and behavior is closely link to depression which is psychiatric disorder. It is believed that most of suicide attempters and suicide completer have mood disorder. Before reaching to adulthood one in five teens will got through one depressive episode. The disorder is twice as common in females as well as one of the significant factor of disability for males. Adolescents who are depressed and remain untreated are more likely to have difficult time establishing and sustaining very close personal relationship and also stays behind academically as well as in occupational domains.
As we know that adolescent depression is the leading factor to recurrent or chronic depression in adults, therefore, managing depression properly during adolescents can make a big difference in handling adolescent's long term development. Depression runs in families and consider as an illness. Changes in depressed person's brain and the brain chemistry associated with depression which causes the irregularity of his or her mood and the negative emotions. If we leave these individuals untreated then a depression episode lasts four to eight months and continuously will have remaining symptoms afterwards.
Causes of depression more often comes from sleep disturbance, inferiority complex, blaming self, poor concentration, and getting away from normal social interactions. "Some researchers suggested that depression can be considered primarily.
Affective (characterized by worry and anxiety),
Cognitive (characterized by self-deprecation), and/or
Motivational (indicating withdrawal or decreased performance)" (Leschied, A. 2008).
In the United States, the rates for antisocial behaviors as well as maladaptive aggression have been on the rise in severity and frequency among adolescents and children over the past 50 years. Despite the fact that a majority of the youth population isn't seriously antisocial or aggressive, such an increase in these rates is alarming. A serious public health problem for society is created due to the consequences of youth violence and similar activities. Identifying, containing, referring, assessing and treating aggressive youth poses a challenge for community institutions such juvenile justice authorities and clinical mental health resources. Juvenile justice statistics on rates of both victimization and offenses are next considered" Then, the rates for teenage suicides are evaluated since suicide is viewed as the ultimate act of aggression against oneself and the risk of suicide is increased with violent behavior.
Current research explains that there is no connection between the use of alcohol and/or drugs and suicide. Drugs like that, are contributing factor of suicide but not the direct cause.
"Adolescents are particularly vulnerable to suicide actions; in fact, white males between 14 and 20 years old are the most likely to commit suicide in the United States. Furthermore, the teenage suicide rate has doubled since 1980. "Suicides among young people continue to be a serious problem. Each year in the U.S., thousands of teenagers commit suicide. Suicide is the third leading cause of death for 15-to-24- year's olds" (American Academy of Child and Adolescent Psychiatry, 2004).
The numbers of suicide victims who have alcohol abuse history are twenty to thirty percent. Treatment plan based on the assessment of depression and such treatments are recommended for different kind of mood disorders, for instance, bipolar disorder and seasonal affective disorder. "Differentiating among these mood disorder diagnoses requires careful differentiating among these mood disorder diagnoses requires careful assessment. Depressive disorders also share features with other classes of psychiatric conditions that require different treatment approaches, including anxiety disorders and attention-deficit/hyperactivity disorder. Depression also co-occurs with other disorders that affect the patient's functioning, suicidal risk and response to treatment for depression" (Evans, 2001). Finally it is very important to monitor whether the treatment is effective or not.
Most of the time teenagers are starting out their lives, and are very anxious and excited to plan for career or vocation and explore relationship with opposite sex. While on the other hand small minority plan suicidal career. It is very sad that child would find life so empty of hope and would prefer death. Most of adolescents have few psychic scars along the way to adulthood and can cope with daily life stress. "In an attempted to understand the contingencies which make some adolescents vulnerable to suicide, we will explore some factors: dysfunctional relationships, and societal provocations and pending catastrophes" (Goldney, 2000).
Dysfunctional Relationships
There is no evidence that suicide is genetically inheritance even most of the time there is no psychopathology within the family. Like mentioned before suicide does run in families and its cause is and emotional and sexual abuse. Based on research it has been proved that in societies where family ties are close, suicidal rates are low and if there is no close relation suicidal rates are high. Close relationship with parents inversely linked to depressive mood in adolescents.
Societal provocations and pending catastrophes
There is little evidence that link to problems that can be threat to human society to rise in adolescents suicides. On the other side negative social trends and frightening world events can engender feelings of despair in all of us. In an essay titled , the Adolescent Philosopher in a Nuclear World, Austin and Mack (1986) observed that traditionally the adolescent struggle has occurred in relation to a stable but progressive social order" (Capuzzi, et. al, 1988). In today's generation suicide is on the rise due to the fact that every teenager faces crisis. Therefore, a look at the formidable issues that loom large for our youth is worth taking.
Treating attempted suicide
Cognitive behavioral Therapy
Usually, suicidal teens hold irrational ideas about themselves and the world. The purpose of this theory is to teach teenage how to test the validity of these ideas. The objective of cognitive behavioral therapy is to teach them problem solving skills, and force them to consider alternative solutions for their problems. But on the other hand they can only see two alternatives: a total solution or a total cessation. It is also fact there is few of problems that yield to a total solution; total cessation of pain. While on the other hand it can be achieved by anyone with the means. Clearly, the objective is to make sure that the suicidal person's constricted perspective is broaden. "In a suicidal state, Shneidman (1987) believed, a person, "… cust his or her throat and cries out for help at the same time. The individual must learn how to separate these two acts; to get help without being self destructive. In an intervention called "stress-inoculation," solutions to difficult situations are role played and rehearsed" (Capuzzi, et. al, 1988).
Group Therapy
Suicidal teenagers are often socially isolated. In group therapy, clients know that they are not the only one and can share feelings with others. They learn social skills through role modeling and feedback. Group theory is like family therapy for the adolescent in florid rebellion against his or her parents. On the negative side, suicidal ideation and behavior could spread to all group members.
Family Therapy
According to system theory, any family member with a symptom maintained by faulty family structure. Therefore, the client is the family not the suicidal youngsters. Boundaries between families whether they were blurred or rigid can be examined. "Examples of boundary problems would be when individuation is stifled in the name of family loyalty, a child forms an alliance with one parent against another, or a child is forced to assume adult responsibilities" (Bailey, 2007). This theory can also consider the communication problems. Dysfunctional communication means when conflicts are ignored at the intimacy expense, productive interaction remains to minimum by excessive blaming, or because of powerful unspoken rules family secrets are kept.
If there is a family session then therapist would ask from each family member about the events that lead to suicide attempt. Generally, the suicidal member will be in a scapegoat role. Anger escalates and complaints are voiced. However, in a therapeutic setting such outburst are not dangerous than bottled up rage with a decline into depression. Indeed, in dysfunctional families relationships are very intensively ambivalent. Behind hate there is love. Parents are stuck in the middle of their two wishes. One to see their children succeeded and at the same time they fear their child autonomy. The therapists' job is to change the hopefulness and hateful situation in a new light. "For example, an angry outburst can be reframed as an attempt, albeit ineffectual, to communicate. Hope is the antidote to despair and the therapist's faith that a family can go beyond a suicidal crisis to renewed living is essential" (Leschied, 2008).
Methodology
Not a lot of information is known about the depressive disorders in adolescents. There is hardly any documented data about the feelings, experiences, call for help or other important areas in the school lives of school age children or adolescents even though the rate of depression among them has been on the rise. Although research regarding the effectiveness of counseling and psychopharmacological treatments for adolescent depression exists, the research is usually gathered from the reports of adults such as medical personnel, counselors, parents and clinicians and is mostly quantitative (Leschied, 2008).
Very few qualitative studies exist where depressed adolescents have been interviewed, and qualitative studies that explore the experiences of adolescents with depression in middle schools are basically nonexistent. According to qualitative researchers, a single, ultimate truth does not exist; instead, there is various point of views of different individuals with each point of view having equal truth or validity (Evans, 2001). Qualitative research supporters indicate that the greatest perspective and insight of any one experience comes directly from those who have experienced the experience (Goldney, et. al., 2000). Thus, the researcher decided to use a qualitative research design for the project after which he requested and received the Institutional Review Board at Texas A&M University's permission.
From case to case, childhood and adolescent depression's causes are uncertain and different. Adolescent depression can have its own causes. Usually, many researchers maintain that childhood and adolescent depressions manifest themselves in other behaviors or symptoms, for instance irritability, hyperactivity, aggressiveness, delinquency, somatic complaints, hypochondria, anorexia nervosa, substance abuse, obesity, poor school performance, school phobia, loss of initiative, social withdrawal, sleep disturbances, and attention deficit disorder.
Divorce also has negative effects which is connected to depression and to excessive anger, self destructive behavior, decreased academic achievement, juvenile delinquency, thoughts of suicide, and sexual promiscuity. Children of divorce usually go through feelings like death, shock, disbelief, and ignorance. They also feel like they are abandoned, feel guilty and inadequacy. On the other hand being aware of their feelings, being able to express them, giving and receiving positive feedback and knowing that others experience similar feelings had a positive impact on adolescents in group counseling.
American Academy of Child and Adolescent Psychiatry, (2004), Facts for Families: Conduct Disorder. Retrieved from http://www.aacap.org/galleries/FactsForFamilies/33_conduct_disorder.pdf
Bailey, C. L. (2007, October). Pharmacological treatment of childhood and adolescent depression: What school counselors and school psychologists need to know . Paper based on a program presented at the Association for Counselor Education and Supervision Conference, Columbus, OH.
Capuzzi, D.; Golden, L. B., (1988), Preventing Adolescent Suicide. Retrieved from Google Ebooks.
Evans, D. L., (2001), Bipolar Disorder: Diagnostic Challenges and Treatment Considerations. Retrieved from J Clin Psychiatry 2000; 61 (supple 13).
Goldney RD, Wilson D, DalGrande E, Fisher LJ, McFarlane AC. Suicidal ideation in a random community sample: attributable risk due to depression and psychosocial and traumatic events. Australian and New Zealand Journal of Mental Health Nursing. 2000;34:98–106
Leschied, A. (2008). Childhood Predictors of Adult Criminality: A Meta-Analysis Drawn from the Prospective Longitudinal Literature.  Canadian Journal Of Criminology & Criminal Justice ,  50 (4), 43
Stuck with your Literature Review?
Get in touch with one of our experts for instant help!
Onsite Childcare, Power Point Presentation With Speaker Notes Example
The Anne Frank Diaries, Research Paper Example
Time is precious
don't waste it!
It's a Free, No-Obligation Inquiry!
Plagiarism-free guarantee
Privacy guarantee
Secure checkout
Money back guarantee
Get a Free E-Book ($50 in value)
How To Write The Best Essay Ever!
Related Literature Review Samples & Examples
Federal budget, literature review example.
Pages: 30
Words: 8271
Medication Errors in Nursing, Literature Review Example
Pages: 4
Words: 1105
How Would the Use of Differentiated Instruction Improve Student Participation and Readiness to Learn, Literature Review Example
Pages: 2
Words: 514
Signs and Sources of My Personal Well-Being and Strategies to Enhance It, Literature Review Example
Words: 2278
Of Sexual Harassment and Gender Equality, Literature Review Example
Pages: 11
Words: 3026
Advancing Nursing Through Inquiry and Research, Literature Review Example
Pages: 10
Words: 2708
Need a professionally written Custom Essay?
We will write it for you, in any discipline! Starting at only
$9.45 a page
Wait, please!
Right now, you can get a professionally written essay in any discipline with a
10% discount!
Please, check your email for the offer!
We're now sending you a link to download your e-book, please check your e-mail. Thank you!
Thank you for the subscription!
You can receive the notifications now. It's pleasure to stay in touch!
Get a Free E-Book ($50 in value)
Javascript is currently disabled in your browser. Several features of this site will not function whilst javascript is disabled.
Why Publish With Us?
Editorial Policies
Author Guidelines
Peer Review Guidelines
Open Outlook
Submit New Manuscript
Sustainability
Press Center
Testimonials
Favored Author Program
Permissions
Pre-Submission
open access to scientific and medical research
Back to Journals » Psychology Research and Behavior Management » Volume 10
A narrative literature review of depression following traumatic brain injury: prevalence, impact, and management challenges
Get Permission
Cite this article
Authors Juengst SB , Kumar RG , Wagner AK
Received 22 February 2017
Accepted for publication 9 May 2017
Published 14 June 2017 Volume 2017:10 Pages 175—186
DOI https://doi.org/10.2147/PRBM.S113264
Checked for plagiarism Yes
Review by Single anonymous peer review
Peer reviewer comments 4
Editor who approved publication: Dr Igor Elman
Shannon B Juengst, 1,2 Raj G Kumar, 3 Amy K Wagner 3–5 1 Department of Physical Medicine and Rehabilitation, 2 Department of Rehabilitation Counseling, University of Texas Southwestern Medical Center, Dallas, TX, 3 Department of Physical Medicine and Rehabilitation, 4 Department of Neuroscience, 5 Safar Center for Resuscitation Research, University of Pittsburgh, Pittsburgh, PA, USA Abstract: Depression is one of the most common conditions to emerge after traumatic brain injury (TBI), and despite its potentially serious consequences it remains undertreated. Treatment for post-traumatic depression (PTD) is complicated due to the multifactorial etiology of PTD, ranging from biological pathways to psychosocial adjustment. Identifying the unique, personalized factors contributing to the development of PTD could improve long-term treatment and management for individuals with TBI. The purpose of this narrative literature review was to summarize the prevalence and impact of PTD among those with moderate to severe TBI and to discuss current challenges in its management. Overall, PTD has an estimated point prevalence of 30%, with 50% of individuals with moderate to severe TBI experiencing an episode of PTD in the first year after injury alone. PTD has significant implications for health, leading to more hospitalizations and greater caregiver burden, for participation, reducing rates of return to work and affecting social relationships, and for quality of life. PTD may develop directly or indirectly as a result of biological changes after injury, most notably post-injury inflammation, or through psychological and psychosocial factors, including pre injury personal characteristics and post-injury adjustment to disability. Current evidence for effective treatments is limited, although the strongest evidence supports antidepressants and cognitive behavioral interventions. More personalized approaches to treatment and further research into unique therapy combinations may improve the management of PTD and improve the health, functioning, and quality of life for individuals with TBI. Keywords: traumatic brain injury, depression, inflammation, antidepressants, rehabilitation
Introduction
Psychiatric disorders, including mood, anxiety, and substance-use disorders, are prevalent after traumatic brain injury (TBI), particularly when the injury is moderate to severe, and can have serious consequences for health, participation, and quality of life. Depression is the most common psychiatric condition to occur post-TBI, although comorbidity rates with other psychiatric and behavioral disorders are high. 1 , 2 Despite the potentially serious consequences of depression, the majority of adults with TBI who experienced depression in the first year post-TBI did not receive treatment. 3 Treatment for post-traumatic depression (PTD) is complicated, however, due to its uncertain and multifactorial etiology; that is, it can develop through multiple and multifaceted pathways that may or may not directly result from the primary brain injury. 4 Therefore, treatment development for depression must occur in well-defined subgroups having similar symptom clusters or risk factors to address the unique underlying risk factors (eg, neurobiological changes and major life stressors) and tailor treatment accordingly. 4 This multifactorial nature of PTD could at least partially explain why response to PTD treatment is often poor compared to the broader major depressive disorder (MDD) population and why PTD treatment studies yield such variable results. This narrative review presents the following: 1) an updated overview of the prevalence and symptom presentation of PTD after moderate to severe TBI; 2) the impact of PTD on other long-term outcomes after moderate to severe TBI; 3) an overview of the various underlying conditions and etiological elements – from neurobiology to life stressors – that contribute to depression post-TBI; and 4) a summary of the successes and challenges in clinical management of PTD.
For this narrative review, 5 defined as a well-structured synthesis of available evidence that conveys a clear message supported by existing data, 6 we selected articles through a multistep process. The first author (SBJ) has a web-based literature database that has been continuously updated from 2013 to late 2016 and reflects the author's research areas of interest, including TBI and depression. Articles included in this database were identified from several sources, including multiple PubMed searches (with weekly updates emailed to and reviewed by the first author to build the database), reference lists of relevant articles, database searches for other TBI-related publications and projects, and recommendations from other experts and collaborators. PubMed searches included the search term "brain injury" AND (alone and in combination): depression, affect, suicide, anxiety, fatigue, cytokine, biomarker, participation, treatment, systematic review. Within this database, we entered "depression" as a search term and reviewed abstracts of all resulting articles for relevance to TBI and depression and categorized articles into one or more of the following headings based on the relevant content: PTD symptoms and prevalence, PTD predictors, PTD impact, PTD treatment, mild TBI, and suicide. Articles published prior to 2000 or not published in English were excluded. Articles were then read to produce overall narrative summaries within each of the identified headings in the "Discussion" section, with priority given to previously published systematic reviews.
Prevalence and symptom presentation
Numerous studies have reported prevalence for psychiatric disorders, and specifically, for depression after TBI. Psychiatric diagnoses, including mood, anxiety, and substance abuse disorders, were reported in 75.2% of individuals across the first 5 years post-TBI, with the majority of these (77.7%) emerging in the first year, 7 similar to another study indicating clinically significant psychiatric symptoms in 42% of adults with TBI at 6 months post-injury. 8 The majority of all psychiatric disorders (56.5%) post-TBI, and two-thirds of PTD diagnoses specifically, 9 were first-time diagnoses. Point prevalence rates of psychiatric disorders up to 20 years post-TBI ranged from 17% to 31%, 2 , 10 – 14 with a systematic review from 2011 estimating a point prevalence of 30% across multiple time points post moderate to severe TBI. 15 Cumulative prevalence rates for PTD were higher, just over 50%, 3 , 9 , 16 indicating that more than half of individuals with TBI will experience a depressive episode after injury. Most individuals will experience their first post-injury major depressive episode within the first year after TBI. 3 In addition, individuals with TBI had an elevated risk of suicide attempt (5-fold increase in risk) and completion (3–4 times more likely to die from suicide) compared to the general population. 17 – 19
Depression and TBI share many common somatic symptoms, including fatigue, poor concentration, and sleep disruption. However, a study by Jorge et al 20 found that nearly all of the 66 adults with TBI in their cohort with notable depressive symptoms had depressed mood; that is, they found no evidence for "masked" depression. However, they did suggest that the symptoms that best differentiated those with and without depression also differed based on time post-injury, with symptoms related to sleep disruption and poor concentration only distinguishing between groups after 6 months post-injury. Seel et al 12 reported that the most common symptoms of depression across the first 10 years post-TBI included fatigue, distractibility, and rumination, and that rumination, self-criticism, and guilt were the symptoms that best differentiated those with depression from those without depression after TBI. 21 Furthermore, they found that depression post-TBI was characterized more by irritability, anger, and aggression than by sadness or tearfulness. 21
The impact of depression after TBI
PTD has implications for: 1) health, including higher re-hospitalization rates, greater suicide risk, and more caregiver burden; 2) participation, including return to work or school and social relationships; and 3) quality of life, including life satisfaction and overall well-being. Emotional changes, in particular, influenced long-term functional, psychosocial, and quality of life, especially as time since injury increased. 2 , 3 , 22 – 28 Psychiatric conditions, such as depression, accounted for a majority of all re-hospitalizations beyond the first year post-injury, 29 , 30 resulting in increased medical costs, and depression was among the strongest contributors to the high suicide risk reported after TBI. 19 , 31 Depression was also significantly associated with poor vocational, 32 , 33 psychosocial, 2 , 32 and functional independence outcomes. 32 , 34 A systematic review conducted by Garrelfs et al 33 reported a strong negative association between depression and return to work after acquired brain injury. Furthermore, depression was associated with poorer social functioning after TBI. 2 , 25 One potential pathway through which depression could lead to poor participation outcomes is through disrupted behavior, such as aggression, impulsivity, or poor decision making. Post-TBI depression was highly associated with disrupted behavior after TBI, 2 , 35 with some evidence indicating that depression preceded behavioral disruption, 36 , 37 and disrupted behavior was a significant predictor of poor participation outcomes. 38 Often, however, it is difficult to differentiate cause from effect with regard to the relationship between PTD and other TBI-related impairments (Unpublished Material. Kumar RG, Gao S, Juengst S, Wagner AK, Fabio A. Post-traumatic depression effects on cognitive and physical impairments after moderate to severe civilian traumatic brian injury: a thematic review). For example, Perrin et al 39 found that functional independence may be more of a cause than a consequence of PTD, though they concluded that there was likely reciprocal causation between the two. Other predictors of PTD are discussed in the "Predictors/etiology of depression" section. Finally, PTD up to and beyond 10 years post-injury was associated with lower and declining life satisfaction 40 – 42 and with poorer quality of life after TBI. 3 , 25 , 43 – 45 A study by Diaz et al 45 reported that those with depression after TBI had greater impairments in all domains of the Short Form Health Survey (SF-36), a health-related quality of life measure, compared to those without depression.
Predictors/etiology of depression
The presentation of PTD is a multifactorial response to a number of underlying factors associated with TBI rather than just the direct result of a primary pathology. 4 Therefore, one of the greatest challenges to managing PTD is identifying its unique etiology, which can differ from person to person. Strakowski et al 4 emphasized the importance of identifying underlying risk factors for PTD that should be managed first, prior to addressing depressive symptoms, to maximize the chances for a positive treatment response; this included employing focused treatments in well-defined subgroups. As an example, one subgroup may be those who experience fatigue after TBI. Recent evidence suggests that fatigue is directly caused by TBI and may lead to, rather than result from, PTD. 46 Therefore, a treatment approach to PTD among those with primary fatigue may include addressing fatigue first. The first step toward personalized treatment approaches to PTD is to understand the heterogeneity in its risk factors and its underlying causes after TBI.
Biological mechanisms of PTD: inflammatory- induced depression
There are numerous biological mechanisms through which depression can develop after TBI, 47 including through inflammation ( Figure 1 ). Inflammatory mediators, including cytokines and inflammatory cell surface markers, are elevated with central nervous system (CNS) injury, 48 , 49 including TBI, 50 , 51 and these markers have been linked to depression in neurologically intact adults, 52 – 54 older adults, 55 and individuals with chronic conditions associated with inflammation, 56 – 61 including TBI. 62 , 63 Acute cerebral spinal fluid (CSF) inflammation has been shown to be associated with PTD in the first year post-TBI. 62 Specifically, higher acute CSF levels of the cell surface markers such as sVCAM-1, sICAM-1, and sFAS were associated with a significant increase in risk for depression 6 months post-TBI, and higher acute CSF levels of IL-12 were associated with PTD at 12 months . 62 These markers are known to be associated with inflammation and white matter changes among older adults with depression. 55 , 64 Inflammation occurring early after TBI may contribute to long-term, chronic inflammation even several years post-injury, 65 and hence, to chronic risk for depression.
Acute inflammation post-TBI may also lead to depression via maladaptive "sickness behavior" ( Figure 1 ), which shares several symptoms (eg, lack of energy and interest and decreased appetite) with depression. 61 , 66 – 68 While sickness behavior is initially adaptive and helps the body respond to acute injury and/or infection, it becomes maladaptive if it persists for longer than 3–6 weeks. 61 , 69 This time frame marks a transition from acute, adaptive behavior to a chronic, maladaptive process that may develop into depression. 70 , 71 Cytokines such as IL-6 or tumor necrosis factor-α (TNF-α) are signaling molecules of the immune system that have been associated with MDD. 67 , 72 Elevated serum IL-6, which was significantly elevated up to 3 months after TBI, 73 , 74 is considered a reliable biomarker of MDD, 75 though whether it is a biomarker for PTD remains to be determined. While prospective studies are needed to validate this hypothesis, it is reasonable to consider that individuals whose inflammation remains high chronically after TBI may transition from an adaptive immune response (initial high inflammation with return to baseline) to a chronic, maladaptive response (sustained inflammation), leading to PTD and greater disability.
Another cytokine that has shown preliminary associations with PTD is IL-7, 62 which has been implicated in lymphoproliferative processes needed to generate an adaptive immune response. 76 This connection to generating an effective immune response may explain why low levels of CSF IL-7 in the first week post-injury were inversely related to PTD at 1 year post-injury (eg, levels "below" the 25th percentile in the sample of adults with severe TBI were associated with higher risk for PTD). 62 This finding in severe TBI was consistent with a study in MDD in which those in the lowest tertile for serum IL-7 levels had a 3.4-fold greater risk for depression, 77 supporting the hypothesis that lower levels of IL-7 among those with depression reflect disruption of T-cell homeostasis as a potential pathway for inflammation-mediated depression. 77
IL-6 and TNF-α may also affect brain-derived neurotrophic factor (BDNF) in the setting of chronic stress. Increases in proinflammatory cytokines resulting from chronic stress could potentially lead to dampening of BDNF expression, as evidenced in preclinical models, 78 which may then contribute to depression. 79 BDNF levels were decreased in untreated depression, but increased with antidepressant treatment. 80 – 82 Notably, in post-stroke depression, serum BDNF levels were higher during periods with no depressive symptoms, but lower in the presence of depressive symptoms. 83 BDNF levels in serum during the first week post-TBI may be indicative of risk for the development of PTD by 1 year. 84 Overall, BDNF represents a potential biomarker for risk stratification and a potential therapeutic target for both prevention and treatment of PTD.
Psychosocial risk factors for PTD
Pre-injury and comorbid personal factors, as well as changes in functional abilities and community-based participation after injury, could contribute to an adjustment-based, rather than biologically based, depression after TBI. 47 , 85 Adjustment-based depression is characterized more by low self-worth, feelings of guilt, agitation, and suicidal endorsement when compared to depression resulting from maladaptive sickness behavior, 69 , 70 suggesting not only distinct mechanisms for the development of PTD ( Figure 1 ) but also potentially different subtypes of PTD. This point has implications for treatment decisions, as particular subtypes of PTD, such as inflammatory-induced versus adjustment-based, may be more or less responsive to pharmacological versus behavioral interventions.
Age, 8 , 15 race, 8 , 86 less independence in functional tasks after injury, 11 , 15 , 87 – 89 engaging in maladaptive coping, 90 , 91 and sleep disturbance or fatigue 46 , 92 , 93 were all associated with PTD. Furthermore, being unemployed or impoverished at the time of injury or substance abuse before or at the time of injury also conferred a higher likelihood of developing PTD. 8 , 12 , 13 , 15 , 94 Personality characteristics and pre-injury psychiatric conditions that increase the risk of sustaining a TBI 95 , 96 may also put individuals at greater risk for developing PTD. 7 , 85 , 94 In fact, one of the biggest predictors of PTD was a pre-injury history of depression or other psychiatric disorder. 7 , 94 , 97 However, the extent to which pre-injury mental health conditions contribute to PTD development through biological versus psychological pathways is unknown.
The appraisal of post-injury abilities compared to the appraisal of pre-injury abilities was another underlying factor related directly to the adjustment to disability that contributes significantly to the development of psychiatric disorders after TBI. 87 , 98 – 101 Individuals with TBI often over-generalize the effects their injuries have on their abilities and daily lives. 102 , 103 These perceptions were strongly influenced by the individual's ability or failure to attain post-injury goals. 104 , 105 Individuals with cognitive impairment may have difficulty engaging in goal-directed, problem-solving behavior, 106 – 108 resulting in poor goal attainment and contributing to PTD. Individuals with TBI engaged less frequently in goal-directed problem-solving than individuals without injuries, 109 often as a result of associated impairments in executive functions. 90 , 110 Individuals who do engage in goal-directed problem-solving post-injury had higher self-efficacy, less perceived stress, less depression and anxiety, and overall better psychosocial functioning than those who engage in wishful thinking or avoidance behaviors after injury. 90 , 102 , 109 , 111 Therefore, goal-directed and problem-solving behaviors may represent one effective avenue of treatment for PTD.
Management challenges
A number of systematic reviews and meta-analyses have been conducted to examine the evidence for efficacious interventions to address PTD, with very limited evidence supporting any approach. 27 , 101 , 112 – 118 In addition to (and perhaps partly as a result of) the lack of clear recommendations and guidelines for treating PTD, studies have suggested that a relatively high proportion of individuals living in the community received limited or no treatment for PTD. 3 , 119 Given the long-term consequences of PTD, research to establish evidence-based rehabilitation interventions for depression should be a high priority in rehabilitation research. 120 – 122 Increasing priority should also be given to investigating personalized treatment approaches based on factors ranging from genetic variation to mental health history. Rehabilomics is a rehabilitation-centered conceptual framework that adapts the World Health Organization's International Classification of Function, Disability, and Health to outline a personalized biopsychosocial approach to rehabilitation research and care, 123 – 126 and it could serve as a contemporary framework from which to conduct innovative and effective research into personalized risk assessment and personalized rehabilitation interventions, where treatment assignment is delineated based on personal biology and other individual factors hypothesized to contribute to PTD.
Current evidence for effective treatment for PTD
The current literature does not support any gold standard for PTD treatment. Antidepressant treatment – specifically serotonergic drugs – and psychotherapeutic approaches – particularly cognitive behavioral approaches – have the best levels of evidence. To date, however, studies on effective treatments for PTD have not differentiated potential subgroups that may have differential responses to treatment.
Pharmacological interventions: Antidepressants have yielded mixed results in studies of depression treatment after neurological injury, such as TBI, 112 , 113 and there is growing evidence that some antidepressants may be less effective among individuals with TBI compared to those without TBI. 113 The reduced treatment effectiveness of selective serotonin reuptake inhibitors (SSRIs) after TBI may be due to the high levels of inflammation post-injury. An animal model of postepilepsy depression, another condition associated with high levels of inflammation, revealed that treatment with fluoxetine alone yielded no antidepressant effects, but when paired with an IL-1Ra (an IL-1 antagonist), nearly all depressive indicators were eradicated. 127 Currently, treatment with SSRIs is still one of the most evidence-based approaches to PTD treatment, 27 , 113 , 128 and recent evidence suggested that one such antidepressant (sertraline) may be a promising preventative treatment for PTD. 129 Combination therapy with an SSRI and anti-inflammatory agent is also promising, and further study is warranted. However, it is important to note that side effects of newer-generation antidepressant drugs often overlap with and may compound symptoms after TBI. 130 Thus, careful consideration should be given to the relative benefits and risks of using these pharmacological agents, particularly where little is known about how they will interact with other TBI-related medical sequelae to cause adverse side effects.
Behavioral/psychological interventions : Cognitive behavioral interventions also have a growing body of evidence to support their efficacy for treating PTD, 131 – 136 though to what extent any specific approach (eg, cognitive behavioral therapy 27 , 134 , 135 and problem-solving treatments 137 ) was better than another or better than traditional psychotherapy (eg, talk therapy and psychodynamic therapy) still remains to be determined. 117 , 131 Isolating the "active ingredients" of behavioral interventions, particularly if different components are more or less effective for specific subtypes or subgroups of individuals with PTD, will inform clinical triage, training for practitioners, and systems of care.
One meta-analysis suggested that behavioral activation approaches, specifically activity scheduling, showed promise and could be integrated into holistic treatment programs to improve mood in addition to functional and community-based outcomes. 138 Problem-solving characterized another class of behavioral intervention that has the potential to improve mood, in addition to other rehabilitation-relevant outcomes such as goal attainment and executive function. 27 , 114 Setting and attaining goals are critical components of the rehabilitation process and may be compromised by executive impairment after TBI. 139 – 141 If goal attainment after TBI is compromised, it may further contribute to the discrepancy between the appraisal of one's pre- and post-injury abilities, leading to depression. Therefore, interventions that promote goal attainment and address impairments in executive functions may prevent or improve PTD, 34 , 135 particularly if it has more of an adjustment-based etiology.
A review of the literature conducted by the Brain Injury Special Interest Group of the American Congress of Rehabilitation Medicine (ACRM BI-ISIG) recommended metacognitive strategy training, a problem-solving-based approach, as a treatment guideline for executive dysfunction, which often manifests in disrupted behavior, after TBI. 142 Impairment in problem-solving mechanisms was at the core of executive dysfunction, and problem-solving was both supported and impeded by emotion after TBI. 143 The ACRM BI-ISIG recommended incorporating training in formal problem-solving strategies applied to everyday activities as a cornerstone of cognitive rehabilitation. 144 It was also recommended that treatment should be provided in a top-down manner, that is to focus on functional and activity-based goals rather than improvement of symptoms or bodily functions, to ensure generalization to non-trained goals and activities. 143 While these strategy-training, self-management approaches are a recommended guideline for treating executive impairments after TBI, the extent to which they improve PTD and its impact on other outcomes remains unclear. Huckans et al 145 conducted a pilot study examining a 6- to 8-week group-based cognitive strategy training program for veterans with a history of TBI and found increased life satisfaction and decreased depressive symptoms and cognitive complaints among those who completed the intervention. However, despite evidence that combining cognitive and emotional interventions yielded more positive outcomes than addressing cognition and emotion in isolation, 146 , 147 there is little research assessing the direct effect of problem-solving approaches on PTD.
Other potential pharmacological and non-pharmacological approaches to effectively treat PTD have shown some promise, but require further study. As mentioned earlier, targeting inflammation and/or BDNF levels may help to improve depressive symptoms or prevent the transition from adaptive to maladaptive sickness behavior. There is emerging evidence for agents that selectively enhance BDNF improving depressive symptoms in MDD. 115 Exercise-based interventions 148 , 149 may also improve depressive symptoms partially by enhancing BDNF. Targeting inflammation through transcranial photobiomodulation 150 was found to improve mood in MDD and through an anti-inflammatory diet 58 was found to improve mood in spinal cord injury. Other potential avenues for research that may reveal effective treatments for PTD include methylphenidate 118 , 151 and mindfulness-based interventions. 152 , 153 Recommendations for non-pharmacological treatments of PTD, based on evidence from a systematic review conducted by the French Society of Physical Medicine and Rehabilitation, included structured holistic approaches and family and systemic therapies, though the authors note that this was based on low levels of evidence. 136 Finally, further research is required to assess the efficacy of interventions employed in clinical practice that demonstrate anecdotal success for treating PTD, but lack a sufficient evidence base.
Challenges and considerations
In addition to a lack of clear PTD treatment guidelines, there are other challenges and considerations when managing PTD. During the initial hospitalization after TBI, 95% of patients were prescribed a psychotropic medication, with over half of the medications classified as antidepressants. 154 Many of these antidepressants, however, were used more for sedation (eg, mirtazapine and trazodone) than for depression. 155 Often reasons for prescribing antidepressants in the hospital are not well documented, and patients with TBI may continue to take these antidepressants after discharge from the hospital without a clear indication as to the reason for continued use. Further, while an antidepressant may be effective in addressing other symptoms, the drug class and/or dose may not be effective in reducing depressive symptoms. Polypharmacy is also a significant concern, as individuals with TBI are prescribed multiple medications for several conditions or symptoms. In a large study of adults admitted to inpatient rehabilitation after TBI, 31.8% of patients were receiving ≥6 psychotropic medications. Similarly, a study on polypharmacy in veterans indicated that those with comorbid TBI, anxiety, and mood disorders had the highest odds (adjusted odds ratios [AOR] 15.30) of psychotropic polypharmacy (≥5 medications), and after controlling for these comorbid conditions, polypharmacy was associated with greater risk of overdose and suicidality. 156 Polypharmacy is also a problem when combining psychotropic medications with medications for other active medical conditions, such as preexisting chronic disease or other secondary conditions post-TBI (eg, seizures and migraine). Particular consideration should be given to drug interactions that may increase the risk of intracranial bleeds, such as that associated with combined use of antidepressants and nonsteroid anti-inflammatory drugs in the general population, 157 though no studies have investigated this interaction after TBI specifically. Physicians may be reluctant to prescribe antidepressants in these cases due to risk for unwanted side effects, especially if an individual had previously not responded to an initial depression treatment.
Individuals with TBI experience many barriers to care, which may be particularly compounded when seeking care for PTD. A study by Matarazzo et al 158 that solicited feedback from clinical providers treating veterans with a history of TBI and comorbid mental health conditions presented an illustrative example of these compounded barriers. The clinician-perceived barriers preventing veterans with TBI from seeking care included a lack of knowledge of where to go for treatment, cost of treatment, embarrassment or concern about how they would be perceived by others, and fear of it having a negative impact on their careers. Traditional mental health practitioners may not understand or know how to manage behaviors or unique emotional regulation difficulties of individuals with TBI; similarly, community-based physicians and other medical providers may not feel equipped to treat PTD or may not be aware of the unique considerations (eg, polypharmacy, contraindicated medications after TBI, and differential response to antidepressants) required when considering how to treat adults with TBI. In addition, some interventions may require modifications, 132 , 135 such as pacing or presenting information in different formats, and clinicians may not know how to appropriately adapt these interventions for adults with TBI. 158
Other clinical considerations for PTD management include: 1) cultural values, both with regard to how they contribute to depression and how they impact perceptions about treatment; 159 2) pain, which co-occurs frequently with depression 160 and should be managed as part of prevention and treatment of mental health conditions; 114 3) personalized risk and treatment response, based on personal biology and/or personal genetics, 161 , 162 an emerging field that requires further study.
The evidence to support PTD treatment continues to grow, with multiple avenues to explore further. However, even the most evidence-based treatments are only effective for certain individuals. Overall, no single PTD treatment is likely to be universally effective and, therefore, personalized approaches to the research and management of PTD are necessary. The Rehabilomics framework is one tool to operationalize the multifactorial nature of PTD and provides the necessary theoretical groundwork to advance our understanding and management of PTD in the emerging practice of personalized medicine.
The authors report no conflicts of interest in this work.
Contact Us • Privacy Policy • Associations & Partners • Testimonials • Terms & Conditions • Recommend this site • Top
Contact Us • Privacy Policy
In order to provide our website visitors and registered users with a service tailored to their individual preferences we use cookies to analyse visitor traffic and personalise content. You can learn about our use of cookies by reading our Privacy Policy . We also retain data in relation to our visitors and registered users for internal purposes and for sharing information with our business partners. You can learn about what data of yours we retain, how it is processed, who it is shared with and your right to have your data deleted by reading our Privacy Policy .
If you agree to our use of cookies and the contents of our Privacy Policy please click 'accept'.
DOI: 10.4172/2167-7182.1000446
Corpus ID: 55293383
Integrated Literature Review of Depression in Elderly People
Y. Ku , L. Chung
Published 11 September 2017
Psychology, Medicine
Journal of gerontology and geriatric research
5 Citations
The evidences based protocol of depression in the elderly people.
Medicine, Education
View 1 excerpt, cites background
Prevalence of geriatric depression in the Kavre district, Nepal: Findings from a cross sectional community survey
K. Manandhar , A. Risal , +4 authors A. Holen
Medicine, Psychology BMC Psychiatry
View 2 excerpts, cites background and results
Developing a Mini-3D (Delirium, Dementia, and Depression) Assessment Scale for the Elderly
Y. Ku , L. Chuang , S. Chen , Hui Ling Wang
View 1 excerpt, cites methods
An exploratory: Descriptive study to assess factors contributing to depression among elderly from selected community areas of Pune city
S. Apte , Nagesh Dolas , Shubham Choubisa , Preeti Jadhav , M. Bhaskar
The effect of progressive muscle relaxation on the adaptation of elderly women to depression and old age: a randomised clinical trial
İlknur Gökşin , Guler Duru Asiret
Psychology, Medicine Psychogeriatrics : the official journal of the Japanese Psychogeriatric Society
SHOWING 1-10 OF 27 REFERENCES
Association of depressive symptoms with recurrent falls: A cross-sectional elderly population based study and a systematic review
C. Launay , L. Decker , C. Annweiler , A. Kabeshova , B. Fantino , O. Beauchet
Medicine, Psychology The journal of nutrition, health & aging
View 2 excerpts, references background
Tests for the evaluation of depression in the elderly: a systematic review.
V. Colasanti , M. Marianetti , F. Micacchi , G. Amabile , C. Mina
Psychology, Medicine Archives of gerontology and geriatrics
Highly Influential
View 14 excerpts, references background
[Systematic review of yoga for depression and quality of sleep in the elderly].
Youkui Wang , Hsiao-Yun Chang , Chen-Yu Lin
Medicine Hu li za zhi The journal of nursing
View 4 excerpts, references background
Prevalence of minor depression in elderly persons with and without mild cognitive impairment: a systematic review.
M. Polyakova , N. Sonnabend , +4 authors P. Schönknecht
Psychology, Medicine Journal of affective disorders
View 3 excerpts, references methods and background
Geriatric depression and cognitive impairment
D. Steffens , G. Potter
Psychology, Medicine Psychological Medicine
Efficacy and tolerability of antidepressants in people aged 65 years or older with major depressive disorder - A systematic review and a meta-analysis.
A. Tham , U. Jonsson , G. Andersson , A. Söderlund , P. Allard , G. Bertilsson
Medicine, Psychology Journal of affective disorders
View 1 excerpt, references background
Regular Exercise and Depressive Symptoms in Community-Dwelling Elders in Northern Taiwan
Shu-Hung Chang , Nai-Hui Chien , Miao-Chuan Chen
Medicine, Psychology The journal of nursing research : JNR
Effects of exercise programs on depressive symptoms, quality of life, and self-esteem in older people: a systematic review of randomized controlled trials.
Seong-Hi Park , Kuem-Sun Han , Chang-Bum kang
Medicine Applied nursing research : ANR
Depression in Older Residents With Stroke Living in Long-Term Care Facilities
Hui-Tzu Huang , Y. Chuang , Yi-Hua Hsueh , Pao-Chen Lin , Bih-O Lee , Ching-Huey Chen
The Effects of Psychotherapy on Reducing Depression in Residential Aged Care: A Meta-Analytic Review
R. Cody , Karen A Drysdale
View 1 excerpt
Related Papers
Showing 1 through 3 of 0 Related Papers
We use cookies to enhance our website for you. Proceed if you agree to this policy or learn more about it.
Essay Database >
Essays Samples >
Essay Types >
Literature Review Example
Yellow Literature Reviews Samples For Students
18 samples of this type
During studying in college, you will definitely have to write a bunch of Literature Reviews on Yellow. Lucky you if linking words together and turning them into meaningful content comes easy to you; if it's not the case, you can save the day by finding an already written Yellow Literature Review example and using it as a model to follow.
This is when you will definitely find WowEssays' free samples database extremely helpful as it contains numerous expertly written works on most various Yellow Literature Reviews topics. Ideally, you should be able to find a piece that meets your requirements and use it as a template to compose your own Literature Review. Alternatively, our expert essay writers can deliver you a unique Yellow Literature Review model crafted from scratch according to your custom instructions.
The Sanity Of Insanity Literature Review Examples
The yellow wallpaper: post partum depression, hysteria and gender literature review sample, free literature review on a literary analysis of the story the yellow wallpaper.
Don't waste your time searching for a sample.
Get your literature review done by professional writers!
Just from $10/page
Literature Review On Culture And Identity
Literature analysis of the yellow wallpaper by charlotte perkins gilman.
"The yellow Wallpaper" is a cut throat short story by Charlotte Perkins Gilman and it tries to reconstruct the nature of American women lives and their roles in the nineteenth century society .During the era, women were treated as mere objects and men tried as much as possible to use their skills, power and ability to dominate and limit women.
Literature Review On The Road Not Taken And Eudora Weltys A Worn Path
Compare and contrast robert frost's.
Robert Frost and Eudora Welty both writers, lived thirty years apart; whereas Frost writes poetry and Welty writes novel and short story, a comparison and contrast of these two works will show that the setting of their writings is nature.
Literature Review On Color Psychology
Symbolism literature review example, the yellow wallpaper literature review sample.
During the 19th Century, the society confined women in homes as housewives and mothers. Men were allowed to venture outside the home to fend for the family. Men were considered authoritative; they made decisions on behalf of their families. Charlotte Gilman explores the mind of a woman who struggles to tear the layers of wallpaper placed by the society. She struggles after giving birth to her child to liberate the opinionated and intellectual woman within her from the societal myth of male superiority.
Meaning From Color And Sound In The Novella, The Hour Of The Star, By Clarice Lispector Literature Reviews Examples
Good example of alliteration in the raven literature review, violence of colors in "the raven" and "lenore", example of literature review on peach: i see how you linger, sample literature review on what does the word home means is it hometown or is it place where a person feels, free literature review on the yellow wallpaper, young children's color preferences in the interior environment literature review examples, ts eliot's the love song of j. alfred prufrock literature review, classic english literature, literature review on a century ends and new millennium begins part 3, discussion board answers, ts eliots the love song of j alfred prufrock literature review example.
Password recovery email has been sent to [email protected]
Use your new password to log in
You are not register!
Short on a deadline?
Don't waste time. Get help with 11% off using code - GETWOWED
No, thanks! I'm fine with missing my deadline
Case Examples
Examples of recommended interventions in the treatment of depression across the lifespan.

Children/Adolescents
A 15-year-old Puerto Rican female
The adolescent was previously diagnosed with major depressive disorder and treated intermittently with supportive psychotherapy and antidepressants. Her more recent episodes related to her parents' marital problems and her academic/social difficulties at school. She was treated using cognitive-behavioral therapy (CBT).
Chafey, M.I.J., Bernal, G., & Rossello, J. (2009). Clinical Case Study: CBT for Depression in A Puerto Rican Adolescent. Challenges and Variability in Treatment Response. Depression and Anxiety , 26, 98-103.   https://doi.org/10.1002/da.20457
Sam, a 15-year-old adolescent
Sam was team captain of his soccer team, but an unexpected fight with another teammate prompted his parents to meet with a clinical psychologist. Sam was diagnosed with major depressive disorder after showing an increase in symptoms over the previous three months. Several recent challenges in his family and romantic life led the therapist to recommend interpersonal psychotherapy for adolescents (IPT-A).
Hall, E.B., & Mufson, L. (2009). Interpersonal Psychotherapy for Depressed Adolescents (IPT-A): A Case Illustration. Journal of Clinical Child & Adolescent Psychology, 38 (4), 582-593. https://doi.org/10.1080/15374410902976338
© Society of Clinical Child and Adolescent Psychology (Div. 53) APA, https://sccap53.org/ , reprinted by permission of Taylor & Francis Ltd, http://www.tandfonline.com on behalf of the Society of Clinical Child and Adolescent Psychology (Div. 53) APA.
General Adults
Mark, a 43-year-old male (PDF, 821KB)
Mark had a history of depression and sought treatment after his second marriage ended. His depression was characterized as being "controlled by a pattern of interpersonal avoidance." The behavior/activation therapist asked Mark to complete an activity record to help steer the treatment sessions.
Dimidjian, S., Martell, C.R., Addis, M.E., & Herman-Dunn, R. (2008). Chapter 8: Behavioral activation for depression. In D.H. Barlow (Ed.) Clinical handbook of psychological disorders: A step-by-step treatment manual (4th ed., pp. 343-362). New York: Guilford Press.
Reprinted with permission from Guilford Press.
Denise, a 59-year-old widow (PDF, 711KB)
Denise is described as having "nonchronic depression" which appeared most recently at the onset of her husband's diagnosis with brain cancer. Her symptoms were loneliness, difficulty coping with daily life, and sadness. Treatment included filling out a weekly activity log and identifying/reconstructing automatic thoughts.
Young, J.E., Rygh, J.L., Weinberger, A.D., & Beck, A.T. (2008). Chapter 6: Cognitive therapy for depression. In D.H. Barlow (Ed.) Clinical handbook of psychological disorders: A step-by-step treatment manual (4th ed., pp. 278-287). New York, NY: Guilford Press.
Nancy, a 25-year-old single, white female (PDF, 4MB)
Nancy described herself as being "trapped by her relationships." Her intake interview confirmed symptoms of major depressive disorder and the clinician recommended cognitive-behavioral therapy. 
Persons, J.B., Davidson, J. & Tompkins, M.A. (2001). A Case Example: Nancy. In Essential Components of Cognitive-Behavior Therapy For Depression (pp. 205-242). Washington, D.C.: American Psychological Association. http://dx.doi.org/10.1037/10389-007
While APA owns the rights to this text, some exhibits are property of the San Francisco Bay Area Center for Cognitive Therapy, which has granted the APA permission for use.
Luke, a 34-year-old male graduate student (PDF, 227KB)
Luke is described as having treatment-resistant depression and while not suicidal, hoped that a fatal illness would take his life or that he would just disappear. His treatment involved mindfulness-based cognitive therapy, which helps participants become aware of and recharacterize their overwhelming negative thoughts. It involves regular practice of mindfulness techniques and exercises as one component of therapy.
Sipe, W.E.B., & Eisendrath, S.J. (2014). Chapter 3 — Mindfulness-Based Cognitive Therapy For Treatment-Resistant Depression. In R.A. Baer (Ed.), Mindfulness-Based Treatment Approaches (2nd ed., pp. 66-70). San Diego: Academic Press.
Reprinted with permission from Elsevier.
Sara, a 35-year-old married female (PDF, 704KB)
Sara was referred to treatment after having a stillbirth. Sara showed symptoms of grief, or complicated bereavement, and was diagnosed with major depression, recurrent. The clinician recommended interpersonal psychotherapy (IPT) for a duration of 12 weeks.
Bleiberg, K.L., & Markowitz, J.C. (2008). Chapter 7: Interpersonal psychotherapy for depression. In D.H. Barlow (Ed.) Clinical handbook of psychological disorders: a treatment manual (4th ed., pp. 315-323). New York, NY: Guilford Press.
Peggy, a 52-year-old white, Italian-American widow
Peggy had a history of chronic depression, which flared during her husband's illness and ultimate death. Guilt was a driving factor of her depressive symptoms, which lasted six months after his death. The clinician treated Peggy with psychodynamic therapy over a period of two years.
Bishop, J., & Lane , R.C. (2003). Psychodynamic Treatment of a Case of Grief Superimposed On Melancholia. Clinical Case Studies , 2(1), 3-19. https://doi.org/10.1177/1534650102239085
Several case examples of supportive therapy
Winston, A., Rosenthal, R.N., & Pinsker, H. (2004). Introduction to Supportive Psychotherapy . Arlington, VA : American Psychiatric Publishing.
Older Adults
Several case examples of interpersonal psychotherapy & pharmacotherapy
Miller, M. D., Wolfson, L., Frank, E., Cornes, C., Silberman, R., Ehrenpreis, L.…Reynolds, C. F., III. (1998). Using Interpersonal Psychotherapy (IPT) in a Combined Psychotherapy/Medication Research Protocol with Depressed Elders: A Descriptive Report With Case Vignettes. Journal of Psychotherapy Practice and Research , 7(1), 47-55. Literature Review Of Literature On Depression
Major depression research paper.
Depression is on the rise in today's society, especially in teens millennials, therefore steps must be taken to combat this issue. How people get depression depends on their bodies chemistry, but usually causes are by genetics, living environment, sudden changes in a person's life, hormones, and cognitive habits. However sometimes depression can occur for no reason. Depression can affect anyone and everyone but studies have shown an increase in millennials and teens being diagnosed. Those who have a depressive disorder feel sad and uninterest all the time. If people don't treat depression the symptoms continue to get worse. Fortunately, there are many way to treat depression so long as the person struggling is willing to accept treatment.
Psychodynamic Depression Research Paper
Psychotic depression occurs when a depressive illness also includes hallucinations, delusions or the patient feeling removed from reality. Psychotic depression affects approximately one in four people admitted to the hospital for depression.
Depression Annotated Bibliography
Clinical depression is an illness that significantly affects the way someone feels; causing a persistent pessimistic mood. There are two main types of depression; post trauma and clinical deposition. This medical condition is often accompanied by a range of other physical and psychological symptoms that can interfere with a person's everyday life; affecting 6% of Australian adults every year. Symptoms for depression include sleeping pattern disturbances, loss of motivation and interest, feeling worthless or guilty, anxiety and impaired concentration. There are a few ways that this depressive illness can be caused: reaction to a distressing situation like loss or stress; part of an illness such
Clinical Depression: Annotated Bibliography
"A New Focus on Depression." Well a New Focus on Depression Comments. The New York Times, 23 Dec. 2013. Web. 10 Nov. 2015.
Field, Tiffany, et al. "Depression and related problems in university students." College Student Journal, vol. 46, no. 1, 2012, p. 193+. Student Resources In Context, http://link.galegroup.com/apps/doc/A285532033/SUIC?u=tel_a_beaman&sid=SUIC&xid=7c414f9c. Accessed 17 Apr. 2018.
Mood Disorder Essay
As many as 19 million Americans million are affected by mood disorders ( The two main types of mood disorders are bipolar disorder and major depressive disorder which are described as disturbances in mood, behavior and emotion." Bipolar disorder is a complex disorder in which the core feature is pathological disturbance in mood ranging from extreme elation, or mania, to severe depression usually accompanied by disturbances in thinking and behavior, which may include psychotic symptoms, such as delusions and hallucinations" (Craddock, Jones 1999). Major depressive disorder or unipolar depression is characterized by a consistent low mood and lack of interest in things typically enjoyed .A second classification of major depressive disorder,
Abstract On Depression
Depression have become a major problem in our society today. People who haven't experience depression will not understand how it feel and what it can do to a person. Many people also doesn't understand what depression is, or how it can related to suicidal ideation. In fact, studies have documented that the majority of young suicide victims had depression at the time of death and most suicide survivors were diagnosed with symptoms of clinical depression at the time of their attempt (Mojs, Biederman, Głowacka, Strzelecki, Ziemska, Samborski 2015). It can affect anyone, from young adolescents to college students to the elderly people. There are many reasons that can make someone have major depression. Such as financial problems, family problems, social problems, school, work, etc. These stressors in our daily life can cause anxiety which can increase our stress level significantly, which then can lead to depression. A research said that anxiety disorder have a high comorbidity with depression and that anxiety occur prior to the onset of depressive disorders in many individuals (Batterham, Christensen, Calear 2013). People who experience depression must find way to cope with depression and know how to get help in order to prevent suicidal ideation. The people surroundings, friends and family, must also find ways to recognize the symptoms of depression, and show understandings in order to help those suffering. This research project will help people understand more about
Depression Counselor Research Paper
Insight, depression counselor Plano, TX understands that life can sometimes bring you down. We have been there and fought the fight you may be finding yourself in. This is why we have developed a way for you to fight too. Through dealing with your depression in a constructive manner, you will be able to find your inner warrior. Keep reading to find out how to rise in the daily battle in order to win the war.
Major depression is a mood disorder with many biological and psychological explanations. Mood disorders are kind of self-explanatory. They are different disorders that effect your mood either through your behavior or your mental state. Some of the facts stated about psychological features and biological features of major depression overlap, but there are also major differences as well. Different articles, such as the Harvard Medical School, Harvard Health Publishing's "What Causes Depression?," go into the different biological and environmental factors that contribute to this disease. In addition to this, the Intro to Applied Psychology: Lecture Four—Mood Disorders: Depression, Bipolar Disorder, Suicide, play a large factor in the facts
Major depression is when a person is in a depressed state for most of the day, especially in the morning, and loses interest in relationships and normal activities. If these symptoms persist for more than two weeks, major depression may be the cause.
"It's more than just a bout of the blues, depression isn't a weakness and you can't simply 'snap out of it'" (Mayo Clinic Staff 1). One of the most common mental disorders in the United States is Major Depression. It typically ends up with significant impairments that can interfere with one's daily activities ("Major Depression" 1). Depression is a mental disorder that drastically can change the affected person's outlook on life and how they handle the world around them. Depression rates have consistently increased worldwide, but, luckily, there are methods to help with the symptoms. This disorder has been made more well known over the years, leading to an increase in preventative measures.The following paper will discuss the rising rates,
Imagine if you had to watch someone you love so much go through a depressive episode. You may think you have depression, but with depression you should at least experience five symptoms. "Depression last a long time - at least two weeks. It affects emotions and everyday life" ("Major Depression "1). With that being said, there are a lot of people who experience symptoms and see signs in other people with depression. Despite the fact that the percentage of people with depression have escalated, the amount of treatment has also changed dramatically. There are so many types of depression that any person would be able to go through.
Outline For Depression Research Paper
Have you ever wondered what really causes depression? Or how people are even depressed and not just sad? The reason I chose this topic is because I have depression. Not only that but I only know a limited amount of this disorder, and also considering the fact that depression runs along side both of my mom's and dad's side of the family. My curiosity grows as I wonder, what does this really mean? Why was i diagnosed with depression? Is depression permanent or can it be cured? How? Where does depression come from? On this journey as i take you into the world of mental health knowledge, you will also get to know a little bit about depression, and maybe answer some of your questions.
Literature Review On Mental Health
Mental health issues such depression, anxiety is a health burden that negatively affects many people's quality of life, especially older adults. In this Literature review we will use the terms older adults, elderly, baby boomer when referring to people ages 65 and older. "The rate of suicide in those aged 65 years and over has been increasing over the past three decades in most industrialized countries, with marked increases in both attempted suicides and death by suicide in the late 1980s" (Deuter, 2016). Older adults in the United States and many countries around the world die by suicide at elevated rates compared with younger adults (Conwell, and Van Orden, 2016). In addition to the age different, suicide seem to affect man and women differently with the baby boomer population. Men die more from suicide compare to women, even though females suicide attempt rate is higher (Heisel, 2006). Deuter reports that, in 2013, 7215 people aged 65 years and over died by suicide the USA, which accounts for 17.5% of the national total of suicide deaths (2016). The elevation of suicide in the elder is not only limited to the United States. According to Conwell (2013), the number of adults 65 year and older who died in the US is 6000 and 20,000 died worldwide, in 2010. The elderly population have become increasing prone to committing suicide and considered to be a population at risk. We will focus on the cause, challenges/controversy, and solutions that were used to address the issue of
Related Topics
Schizophrenia
Major depressive disorder
Selective serotonin reuptake inhibitor
Quantitative Research: Literature Review 
Archer Library
Locating Books
Library eBook Collections
A to Z Database List
Research & Statistics
Literature Review Resources
Citations & Reference
Exploring the literature review 
Literature review model: 6 steps.
Adapted from The Literature Review , Machi & McEvoy (2009, p. 13).
Your Literature Review
Step 2: search, boolean search strategies, search limiters, ★ ebsco & google drive.
1. Select a Topic
"All research begins with curiosity" (Machi & McEvoy, 2009, p. 14)
Selection of a topic, and fully defined research interest and question, is supervised (and approved) by your professor. Tips for crafting your topic include:
Be specific. Take time to define your interest.
Topic Focus. Fully describe and sufficiently narrow the focus for research.
Academic Discipline. Learn more about your area of research & refine the scope.
Avoid Bias. Be aware of bias that you (as a researcher) may have.
Document your research. Use Google Docs to track your research process.
Research apps. Consider using Evernote or Zotero to track your research.
Consider Purpose
What will your topic and research address?
In The Literature Review: A Step-by-Step Guide for Students , Ridley presents that literature reviews serve several purposes (2008, p. 16-17). Included are the following points:
Historical background for the research;
Overview of current field provided by "contemporary debates, issues, and questions;"
Theories and concepts related to your research;
Introduce "relevant terminology" - or academic language - being used it the field;
Connect to existing research - does your work "extend or challenge [this] or address a gap;"
Provide "supporting evidence for a practical problem or issue" that your research addresses.
★ Schedule a research appointment
At this point in your literature review, take time to meet with a librarian. Why? Understanding the subject terminology used in databases can be challenging. Archer Librarians can help you structure a search, preparing you for step two. How? Contact a librarian directly or use the online form to schedule an appointment. Details are provided in the adjacent Schedule an Appointment box.
2. Search the Literature
Collect & Select Data: Preview, select, and organize
Archer Library is your go-to resource for this step in your literature review process. The literature search will include books and ebooks, scholarly and practitioner journals, theses and dissertations, and indexes. You may also choose to include web sites, blogs, open access resources, and newspapers. This library guide provides access to resources needed to complete a literature review.
Books & eBooks: Archer Library & OhioLINK
Databases: scholarly & practitioner journals.
Review the Library Databases tab on this library guide, it provides links to recommended databases for Education & Psychology, Business, and General & Social Sciences.
Expand your journal search; a complete listing of available AU Library and OhioLINK databases is available on the Databases A to Z list . Search the database by subject, type, name, or do use the search box for a general title search. The A to Z list also includes open access resources and select internet sites.
Databases: Theses & Dissertations
Review the Library Databases tab on this guide, it includes Theses & Dissertation resources. AU library also has AU student authored theses and dissertations available in print, search the library catalog for these titles.
Did you know? If you are looking for particular chapters within a dissertation that is not fully available online, it is possible to submit an ILL article request . Do this instead of requesting the entire dissertation.
Newspapers: Databases & Internet
Consider current literature in your academic field. AU Library's database collection includes The Chronicle of Higher Education and The Wall Street Journal . The Internet Resources tab in this guide provides links to newspapers and online journals such as Inside Higher Ed , COABE Journal , and Education Week .
Search Strategies & Boolean Operators
There are three basic boolean operators: AND, OR, and NOT.
Used with your search terms, boolean operators will either expand or limit results. What purpose do they serve? They help to define the relationship between your search terms. For example, using the operator AND will combine the terms expanding the search. When searching some databases, and Google, the operator AND may be implied.
Overview of boolean terms
About the example: Boolean searches were conducted on November 4, 2019; result numbers may vary at a later date. No additional database limiters were set to further narrow search returns.
Database Search Limiters
Database strategies for targeted search results.
Most databases include limiters, or additional parameters, you may use to strategically focus search results. EBSCO databases, such as Education Research Complete & Academic Search Complete provide options to:
Limit results to full text;
Limit results to scholarly journals, and reference available;
Select results source type to journals, magazines, conference papers, reviews, and newspapers
Publication date
Keep in mind that these tools are defined as limiters for a reason; adding them to a search will limit the number of results returned. This can be a double-edged sword. How?
If limiting results to full-text only, you may miss an important piece of research that could change the direction of your research. Interlibrary loan is available to students, free of charge. Request articles that are not available in full-text; they will be sent to you via email.
If narrowing publication date, you may eliminate significant historical - or recent - research conducted on your topic.
Limiting resource type to a specific type of material may cause bias in the research results.
Use limiters with care. When starting a search, consider opting out of limiters until the initial literature screening is complete. The second or third time through your research may be the ideal time to focus on specific time periods or material (scholarly vs newspaper).
★ Truncating Search Terms
Expanding your search term at the root.
Truncating is often referred to as 'wildcard' searching. Databases may have their own specific wildcard elements however, the most commonly used are the asterisk (*) or question mark (?). When used within your search. they will expand returned results.
Asterisk (*) Wildcard
Using the asterisk wildcard will return varied spellings of the truncated word. In the following example, the search term education was truncated after the letter "t."
Explore these database help pages for additional information on crafting search terms.
EBSCO Connect: Basic Searching with EBSCO
EBSCO Connect: Searching with Boolean Operators
EBSCO Connect: Searching with Wildcards and Truncation Symbols
ProQuest Help: Search Tips
ERIC: How does ERIC search work?
★ EBSCO Databases & Google Drive
Tips for saving research directly to Google drive.
Researching in an EBSCO database?
It is possible to save articles (PDF and HTML) and abstracts in EBSCOhost databases directly to Google drive. Select the Google Drive icon, authenticate using a Google account, and an EBSCO folder will be created in your account. This is a great option for managing your research. If documenting your research in a Google Doc, consider linking the information to actual articles saved in drive.
EBSCO Databases & Google Drive
EBSCOHost Databases & Google Drive: Managing your Research
This video features an overview of how to use Google Drive with EBSCO databases to help manage your research. It presents information for connecting an active Google account to EBSCO and steps needed to provide permission for EBSCO to manage a folder in Drive.
About the Video: Closed captioning is available, select CC from the video menu. If you need to review a specific area on the video, view on YouTube and expand the video description for access to topic time stamps. A video transcript is provided below.
EBSCOhost Databases & Google Scholar
Defining Literature Review
What is a literature review.
A definition from the Online Dictionary for Library and Information Sciences .
A literature review is "a comprehensive survey of the works published in a particular field of study or line of research, usually over a specific period of time, in the form of an in-depth, critical bibliographic essay or annotated list in which attention is drawn to the most significant works" (Reitz, 2014).
A systemic review is "a literature review focused on a specific research question, which uses explicit methods to minimize bias in the identification, appraisal, selection, and synthesis of all the high-quality evidence pertinent to the question" (Reitz, 2014).
Recommended Reading
About this page
EBSCO Connect [Discovery and Search]. (2022). Searching with boolean operators. Retrieved May, 3, 2022 from https://connect.ebsco.com/s/?language=en_US
EBSCO Connect [Discover and Search]. (2022). Searching with wildcards and truncation symbols. Retrieved May 3, 2022; https://connect.ebsco.com/s/?language=en_US
Machi, L.A. & McEvoy, B.T. (2009). The literature review . Thousand Oaks, CA: Corwin Press:
Reitz, J.M. (2014). Online dictionary for library and information science. ABC-CLIO, Libraries Unlimited . Retrieved from https://www.abc-clio.com/ODLIS/odlis_A.aspx
Ridley, D. (2008). The literature review: A step-by-step guide for students . Thousand Oaks, CA: Sage Publications, Inc.
Archer Librarians
Schedule an appointment.
Contact a librarian directly (email), or submit a request form. If you have worked with someone before, you can request them on the form.
★ Archer Library Help • Online Reqest Form
Carrie Halquist • Reference & Instruction
Jessica Byers • Reference & Curation
Don Reams • Corrections Education & Reference
Diane Schrecker • Education & Head of the IRC
Tanaya Silcox • Technical Services & Business
Sarah Thomas • Acquisitions & ATS Librarian
<< Previous: Research & Statistics
Next: Literature Review Resources >>
Last Updated: Feb 18, 2023 2:47 PM
URL: https://libguides.ashland.edu/quantitative
Archer Library • Ashland University © Copyright 2022. An Equal Opportunity/Equal Access Institution.
Please note that Internet Explorer version 8.x is not supported as of January 1, 2016. Please refer to this support page for more information.
Mental Health & Prevention
The impact of social support on postpartum depression in asia: a systematic literature review.
Postpartum depression (PPD) is a major public health problem. Consolidated evidence of the impact of social support on PPD has been well documented especially, in high-income countries. There is no recent comprehensively synthesized evidence of the same solely concentrated in the Asian continent.
This review aimed to identify the impact of social support on PPD in Asian countries from the current available evidence.
An electronic database search of CINAHL, Cochrane Library, Embase, and MEDLINE from 2012 to 2022 was conducted according to the PRISMA statement through September 2022. Disease search terms included "Postpartum depression", "postnatal depression", "perinatal depression", "peripartum depression".
The prevalence of PPD ranged from 3.9% in Turkey to 67.3% in Iran. The study demonstrated the importance of social support in reducing the risk of PPD, especially from partners. Immigrant women had a higher prevalence of PPD than local citizens. The study demonstrated that postpartum cultural practices buffered for PPD by giving adequate support and care. The negative sides of these practices were evident in the studies that mentioned women's relationships with their mothers-in-law.
Conclusions
The prevalence of PPD and cultural practices differ across the Asian continent. Social support, especially from close relatives is a protective factor against PPD. Health professionals should be able to provide informational support to new mothers and their families. Postpartum cultural practices can either increase or decrease PPD risk depending on whom they stay with.
Previous article in issue
Next article in issue
Cited by (0)